Ireland's mountain rescue volunteers have revealed that they responded to 371 incidents throughout 2018, marking a 36% rise in rescue activity.
Emergency responders with 11 squads nationwide, including Donegal Mountain Rescue, responded to 281 daytime and 83 night time call-outs on rough terrain last year.
Teams provide assistance and carry out search and rescue missions on a 24/7 basis, 365 days a year.
The main incidents of 2018 were call-outs to find lost walkers (75 cases), assisting searches (79) attending people with serious injuries (73) and minor injuries (97).
There were 22 fatalities in 2018.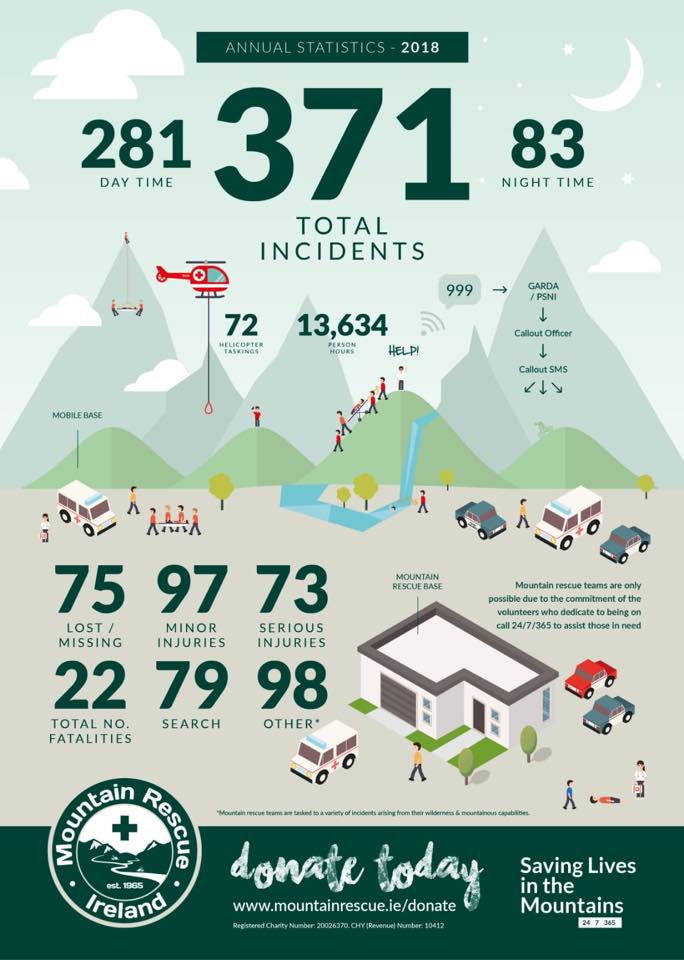 Extreme weather has had an impact on the rise in incidents in 2018, according to the organisation.
A spokesperson said: "A significant proportion of this increase is due to extreme weather events where the capacities of mountain rescue teams in all terrains were called on to assist the emergency services during and after the snowfall.
"This represents a challenge going into the future with the expected increase in extreme weather events arising from climate change."
Following the release of the annual statistics, questions have been raised over the continued reliance on volunteers.
The spokesperson added: "Mountain rescue teams capabilities in search and rescue, rendering humanitarian assistance, and extraction from snowbound environments is being recognised and depended on more, can a voluntary organisation cope with this increased demand/ requirements?"