Eclipse Cinemas Lifford/Strabane are bringing a classic rom-com back to the big screen next month – and we have a fantastic ticket package to give away to a lucky Donegal Daily reader!
The iconic 1990 hit starring Richard Gere and Julia Roberts will be shown at the luxury Lifford cinema on two dates only – 2nd and 3rd February at 6pm and 8.30pm on both nights.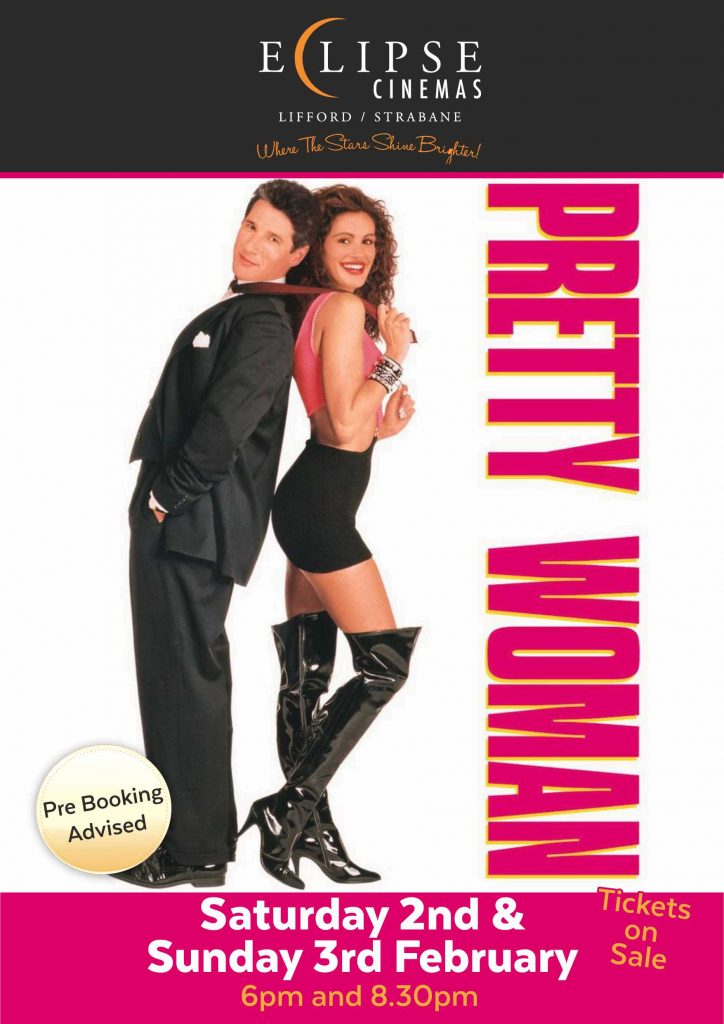 Competition
Tickets are on sale now for these exclusive screenings. And we have FOUR to giveaway on our Facebook giveaway!
That's not all! The competition winner will receive FOUR complimentary wines – one for each ticketholder – as part of Eclipse Cinemas' 'Pour @ the Pictures' deal.
To enter the competition, simply click the link here to like and share the Facebook post: https://www.facebook.com/donegaldaily
Pretty Woman
Academy Award nominee Julia Roberts (Steel Magnolias) and charismatic leading man Richard Gere (An Officer and a Gentlemen) light up the screen of this lovable rom-com.
Edward is a rich, ruthless businessman who specialises in taking over companies and then selling them off piece by piece. He travels to Los Angeles for a business trip and decides to hire a prostitute. They take a liking to each other and he offers her money if she'll stay with him for an entire week while he makes the "rich and famous" scene (since it doesn't do for a man of his stature to be alone at society parties and polo matches). Romantic comedy (and complications) ensue.
Get your tickets for this special screening now online at: https://liffordcp.admit-one.eu/?p=details&eventCode=16561
Pour @ the Pictures
Wine can be enjoyed by cinema-goers at selected movie screenings at Eclipse, available from the new Extras food and drink counter. For more info see: http://www.eclipsecinemas.net/article.php?sec=Home&_aid=12883
For full cinema listings and more at Eclipse Cinemas Lifford/Strabane, check out http://www.eclipsecinemas.net/index.php?__site=LIFFORDCP
Competition T&Cs apply.
Tags: