The Donegal Women in Business Network are marking a milestone year in 2019, celebrating 20 years of success for the voluntary, not-for-profit, peer-support group for local women.
The network will officially launch their calendar of 20th anniversary celebrations this Thursday night, 24th January at 7.30pm in the Silver Tassie Hotel.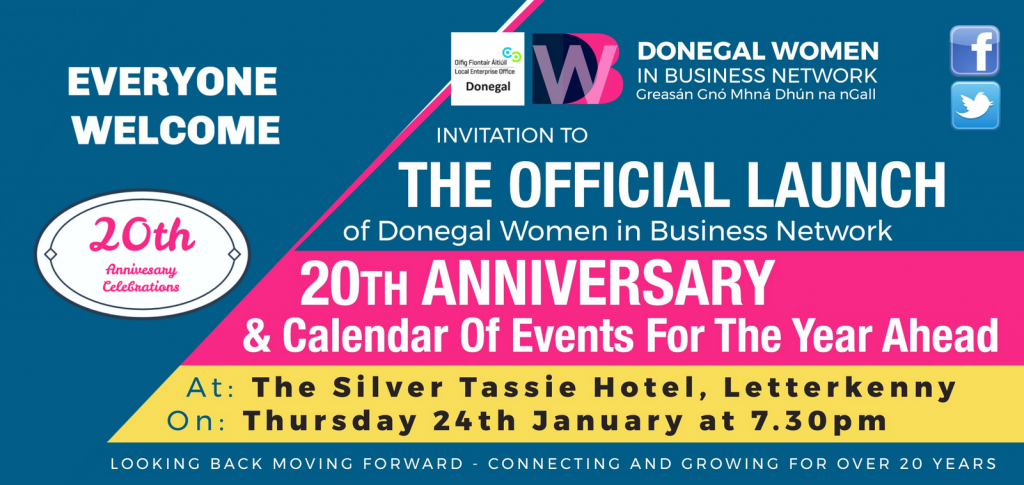 The Network 2019 calendar of events will also be unveiled on the night revealing some unique plans that will see Donegal Women in Business Network partnering with many great businesses and industries in the county, celebrating with pride the county of Donegal and women in business throughout the years.
The theme for this year's celebration is "Looking Back Moving Forward" acknowledging the role that Donegal women have played in business throughout the decades.
Trends and society have changed and women have moved forward from a supporting role in business in the county, to being front stage and centre of new start-ups, creative industries and in fact every business sector in the county.
This year will celebrate the women throughout the decades who were the pillars of business for women in Donegal – the women in fisheries, farming, and cottage industries who did not receive the praise or acknowledgement in their day that was deserved.
Originally, the Donegal Women in Business Network was set up through the County Enterprise Board (now the Donegal Local Enterprise Office) in 1999 and it still retains a strong connection with them.
Especially in their 20th year, the Network has received funding from Donegal Local Enterprise Office to help towards funding an e-book, hard copy book, a conference: Looking Back Moving Forward in October, and updating their website donegalwomeninbusiness.com.
The current committee has sent a call-out for any photographs, memorabilia, press cuttings or member's stories from throughout the years, as they would like to include all these in the celebration books and media. They also want to connect with any committee members from the early years to compare stories of their common roles.
The Network also invite all women with an interest in business to join the Network, whether you are the owner of the business, involved in running a business either as a partner, family member or manager, a student, or you just have a creative business idea and a desire that one day you might like to be self-employed.
In this special 20th anniversary year, this is the time to join and avail of the many unique opportunities that the voluntary, not-for-profit, peer-support group Network brings.
We invite everyone to join us for this very special celebration launch in the Silver Tassie Hotel on Thursday, 24th January at 7.30pm. 
Register for the free event here: https://www.eventbrite.ie/e/20th-anniversary-celebrations-launch-donegal-women-in-business-network-tickets-54639060902
Tags: