Suffering from thinning or fine hair? Why not talk to expert hair careologist Kiera Galbraith from Patrick Gildea Hairdressing Letterkenny for some great advice on restoring your locks for the New Year.
Here, Kiera explains the causes and treatments for thinning hair in men and women.
Did you know that 40% of women have visible hair loss by the time they are 40! On average, women dealing with thinning hair are between the ages of 25 and 35. There is no single cause of thinning hair, there are many.
Every week we see guests who want thicker, fuller hair and especially now in the New Year where individuals like to make a change for the better. Irish Hairdressing Federation Icon Patrick has asked Kiera one of our Careologists and Nioxin Hair and Scalp specialists to share some valuable information with you.
Kiera says, "Thinning hair affects men and women of all ages. The cause is often genetic, and can also be triggered by certain life stages. Hair cells reproduce at a faster rate than any other in our bodies, so they are also sensitive to changes in our health or environment. Addressing thinning hair begins with understanding what causes and contributes to it, and the early warning signs to look out for. Here are some reasons why you might be experiencing thinning hair".
Discover the reasons you might be experiencing thinning hair.
Genetics
A common family predisposition involves natural, age-related hormonal changes that can trigger hair loss. This is caused by the conversion of testosterone into the toxin Dihydrotestosterone (DHT) and can be inherited from either your mother or your father.
Stress and Trauma
Stress can produce increased levels of testosterone, which converts to DHT and interrupts the hair's growth cycle. Stress also constricts blood supply through the capillaries, restricting oxygen and nutrient uptake and vitamins to the hair follicle.
Nutrition and Diet
What you eat can play a significant role in hair thinning. A high consumption of animal fats, rapid weight loss and liquid protein diets can result in a lack of amino acids, biotin, iron, protein and zinc — all of which are essential for healthy-looking hair. Special Nioxin supplements are available to purchase which will help to combat any dietary issues and give your hair the boost it needs.
Health Issues
Several underlying health issues can cause hair thinning, including a malfunctioning of the hormone-producing thyroid gland and the natural hormonal changes women experience after pregnancy and during the menopause.
Environmental Factors
Air and water pollutants, chlorine, metals and minerals may be left on the scalp and hair as we wash with water every day, contributing to thinning. Pollutants such as pseudo-estrogens and toxins from within our bodies are also a factor.
Medication
The hair follicle is incredibly sensitive to changes in the body. Any hormone therapy (including birth control) can contribute to hair thinning, as can steroids, specific chemotherapies, and medication for blood pressure, diabetes, heart disease and acne.
---
How Can We Help?
Making the most of the hair you have begins with a consultation with one of our fully-qualified Hair & Scalp Specialists who will be able to introduce you to the benefits of NIOXIN, talk through your needs and recommend a fully personalised solution.
Kiera recommends a Complete Renewal Service which includes
Consultation

This is where it all starts: a conversation about the causes of thinning hair and an assessment of your individual needs.

Nioxin Supplements –

One per day and with a special offer of buy 2 months' supply get the third free of charge, there has never been a better time to  treat your hair and scalp.

Scalp Renew Dermabrasion Treatment

This in-salon service is a great introduction to Nioxin, and you will instantly feel the effects. The Dermabrasion Treatment works like a facial for the scalp and with our expert camera we will be able to show you the before and after effects of the Dermabrasion on your scalp health.

Diameter Boost Therapy:

Increases the diameter of your hair instantly and thickens hair from the roots so that it feels as if you have 11000 more hairs. You can avail of the Diaboost Diameter boost in salon or as a take home hair care product and use with each blow-dry.

NIOXIN 3-Part System –

After consultation, your Nioxin Specialist will recommend a personal 3-Part System to cleanse, optimise and treat scalp and hair and will be yours to take home.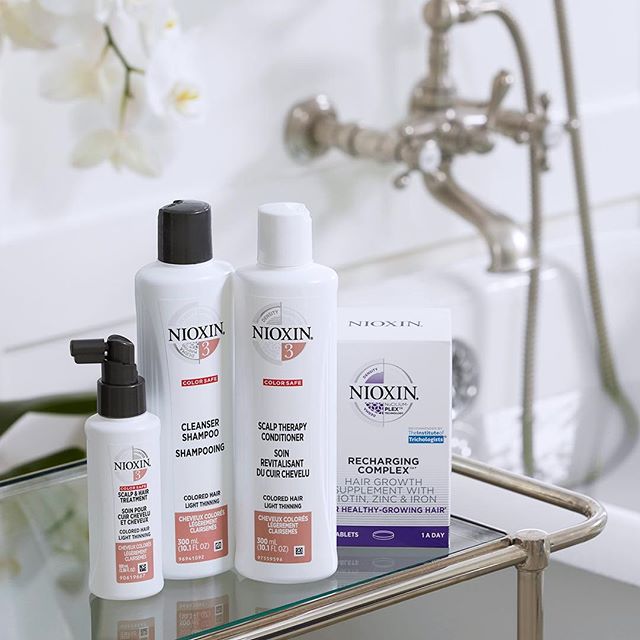 For more information on fine or thinning hair contact us for an in-depth consultation on 0749125476 or book online http://www.patrickgildea.ie/book-online/
Tags: