We have all been there, you go in the door of the barbershop and you give him a vague description of what you'd like.
With your confidence brought down a peg or two, let it be the terminology we barbers throw about that you don't understand, the fear of asking for something different, or even the fear of looking like a bit of a sissy if you get too particular with your requests in front of other lads in the barbershop.
But without saying a lot we are just hoping we will come out with something resembling what we had in mind.
Unfortunately after a bit of aye, yep, batter on, okay and some head nodding you end up coming out with the same mediocre haircut as everyone else who has darkened the door of your barber. It might be the limitations of your barber or the interest they have in you as a customer, or, the lack of accurate communication just may be the culprit here?
Today gents we are going to put you in a position to identify the first two and eliminate the later!
Don't be afraid to ask your barber exactly what you would like. Believe me, a good barber will welcome it, as clear directions will ensure he knows what YOU would like him to achieve.
So the next time your barber asks "Now sir, what can we do for you today?" this is what is going to happen….
Inform your barber how long it has been since your last hair cut and if you would like to get it back to that length. Your barber will get the first indication of how short you would like your hair.
Explain to your barber the general style you would like to go for, don't slap a name on it, explain the direction and texture of your hairstyle. Names = lost in translation, you'd be surprised how many men call their hairstyle a crew cut, and they are all different.
Explain how much you would like to get cut off the top. A bit, a trim, a tad is all relevant to each barber and the mood they are in. Know in inches or centimetres how much you would like taken off.
Likewise do the same for the sides and back, know what number you get. Become familiar with the numbers on the trimmers ranging from 1- 4, 1 being very short 3mm, 4 being longer at 13mm.
Inform him where you would like the sides and back to fade into the hair at the top, low/medium/high fade.
If you want your hair textured, or choppy or thinned explain this too. Be careful of over thinning, I couldn't tell you the amount haircuts we had to fixed from guys getting their hair thinned every time they would go for a haircut. Some barbers just go ahead and do it because they are asked to without realising the damage they are doing.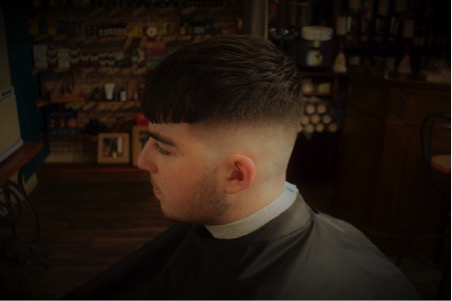 Describe how you would like your neckline finished. You don't see the back of your head, but everyone else does and it can be the making or breaking of a bad haircut, you can either box it off with a sharp strong line – blocked, or you can have it getting shorter and shorter into the neck using the natural hair line – tapered.
Best of all show him a picture on your phone, let it be of you with a previous haircut that you really liked or George Clooney (yes we have had "The George" requested several times), it is a great way to explain your request. Loads of guys do it now, barbers are visual people and a picture paints a thousand words!
Listen…….Once you've told him what you'd like, if you have a good barber, he will tell you if it is possible to for fill your requests, a range of variables dictate wither you can achieve a particular hairstyle or not, hair thickness, texture, length, hairline, colour, growth direction, head shape to name but a few.
We hope this will make your next visit to your barber a better one with improved results. If you're still not getting good results maybe it is because of your barbers' limitations or their interest in you as a customer. If so, then it's time to change barber. Your barber should be consistently good, delivering a good quality service. Loyalty to your barber should be earned and re-earned through craftsmanship not created out of habit or convenience.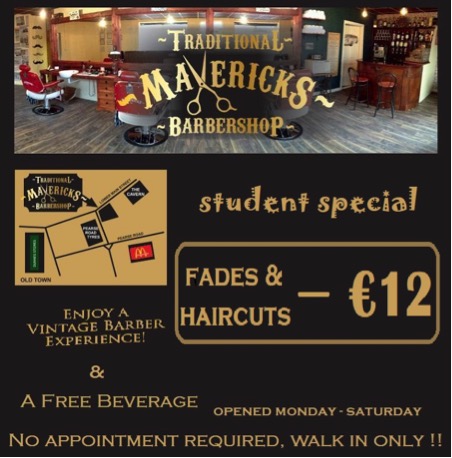 Remember this is your hair and you are paying good money to get it looking sharp.
Also, you can catch up with us on Facebook  (www.facebook.com/Maverickstraditionalbarbershop) and follow us on Instagram (maverickstraditionalbarbershop) Snapchat @MAVERICKSTBS or Twitter www.twitter.com/mavericksbaber…or better still call in and treat yourself to the haircut you deserve!
Tags: