Donna Barr made sure to watch, to listen and to learn to their every move.
Barr had the world in her fists in 2016.
Although beaten by Edenderry's Lauren Hogan in an Irish Elite final in November 2015, Barr was selected as Ireland's light-flyweight representative for the 2016 AIBA Women's World Championships in Kazakhstan.
Barr was on a team including Katie Taylor and Kellie Harrington, who won bronze and silver in Astana.
That's three years ago now and the world stopped spinning for Barr in between times.
As she gears up for her latest crack at an Irish Elite crown, her first since that loss to Hogan 39 months ago, Barr goes back to her former team-mates.
"You just focus on what's in front of you," says Barr, now boxing out of the Illies Golden Gloves.
"Those girls never look very far ahead. They take care of the next goal next and that's all they worry about.
"Look at Katie – she has the blinkers on full time.
"You can't cut corners. I can't have any more missed opportunities because I'm feeling sorry for myself."
After losing to Kim Clavel from Canada in the Worlds, injury forced Barr's withdrawal from the 2016 European Championships. Until last month, she was shrouded in uncertainty.
She finally had surgery to correct an ongoing hip problem in late 2018.
It was only when she took to the ring at the Ulster Elites in Belfast that she felt the old magic return again.
Barr lost a 3-2 split decision to Chloe Fleck at the Ulster Hall. This weekend, the two cross paths again in the opening bout of the Irish Elite finals night.
For Barr, competing again was the culmination of a couple of years of worry, frustration and agony.
"Mentally, it was horrific," she says.
"I don't know how many times I'd come home to Michael (McMenamin, her boyfriend) and say: 'Boxing isn't for me'; 'I hate this'; 'My body can't stick this'."
Barr is drawing a lot from the experiences of Astana and Sofia (Barr was in camp with the Irish team for the 2016 Europeans) as she goes in search of glory.
"This week I've taken myself off social media and have the blinkers on," she says.
"I don't want or don't need any distractions. I want to stay in control.
"Everyone bigs themselves up these days on social media and fair play to them – I just want to go in and show what I can do.
"No-one at the end of the day cares…I know boxing is an individual sport. I have three unbelievable coaches and they're my team but, outside of the immediate team, no-one else really cares what happens."
Barr was already seasoned in the ways of the world when she began to cut her teeth in boxing.
At first, she headed to Mourne Golden Gloves in Strabane to 'keep fit'.
Barr had been playing Gaelic football with Strabane Sigersons and went, with friends Ruth Duddy and Nicole McDaid, for some extra work in the off-season.
She was 20 at the time.
"I was the only who stayed on at the boxing," she says.
"I went in at the deep end and had to learn my trade at a high level. I'm not really experienced. I have less fights than most girls I fight. I didn't learn at a young age, girl 1, girl 2, or anything like that. I've had to learn in bigger fights. I learned the trade on the go and that does stand to me."
Even when she did get back and went on a December trip to Portugal with her club, Barr contracted the flu.
It meant she was below par in Ulster, but she overcame Emma Feeney in a semi-final at the Dockers Club before being edged by Fleck in a close call at the UIlster Hall.
Barr says: "I was never going to go in there, six weeks after surgery, and be perfect. I have to look at the positives from it.
"I wasn't fit in the Ulsters. I used the Ulsters to get fit. It was very tough, but it put up my fitness massively.
"I have the ring rust now off now
"I'm feeling good. My training is 100 per cent and now my performance needs to be at 100 per cent. I'm not sick anymore. I don't want to take away from Chloe, but I'm a lot better now than I was in the Ulster final."
Barr is keen not to come across as abrasive, but her desire is quite clear.
"I want this elite title," she insists.
"That's all I care about. Nothing matters to me now only this elite title. I don't have an elite title and I want one so badly.
"When you put in the work, all you can do is hope for a good performance and control the controllables. I have the belief that I can do it. I know it's going to be tough; of course, it's not going to be a walk in the park."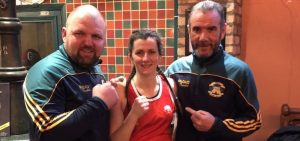 It is telling that she describes herself as 'an inexperienced person who has big experience'.
When she emerges from the darkened bowels of the National Stadium on Saturday night and goes under those bright, imposing, nauseating lights, it won't be new, even if it has felt like she's had to start from scratch again.
Barr has seen the harsh realities of how brutal this sport can be and is determined to, finally, make her mark where it counts.
She says: "Time waits for no-one. I have to grab this with both hands.
"If I have to leave my whole body in the ring on Saturday night, I'll happily do that."
It's all she's thinking about.
The here.
And the now.
TG4 will provide extensive coverage of Saturday evening' IABA Irish National Senior Elite Boxing Finals from the National Stadium in Dublin.
All 18 fights will be broadcast on TG4's YouTube site. Coverage of the finals will also be available on TG4's main channel from 8.45pm.

LIFFEY CRANE NATIONAL MEN'S AND WOMEN'S SENIOR ELITE CHAMPIONSHIPS 2019  –  NATIONAL STADIUM DUBLIN –  SATURDAY 23rd FEBRUARY

5.45pm  Ring parade & National Anthem

48kg – Light flyweight – Chloe Fleck (Canal) V Donna Barr (Iliies Golden Gloves)

49kg – Light flyweight Regan Buckley (St Teresa's) V Sean Mari (Monkstown Dublin)

75kg – Middleweight – Aoife O'Rourke (Castlerea) V Cheyanne O'Neill (Athlone)

57kg – Featherweight – Michaela Walsh (Monkstown Antrim) V Dearbhla Duffy (Crumlin)

57kg – Featherweight – Christian Cekiso (Portlaoise) V Patryk Adamus (Drimnagh)

60kg – Lightweight – Dominic Bradley (Errigal) V David Oliver Joyce (Ballymun)

64kg – Light welterweight – Moira McElligot (St Michaels Athy) V Amy Broadhurst (Dealgan)

52kg – Flyweight – Evan Metcalf (Hyland BA) V Adam Hession (Monivea)

75kg – Middleweight Gabriel Dossen (Olympic Galway) V Emmett Brennan (Glasnevin)

80kg – Light heavyweight – Leona Houlihan (Crumlin) V Lisa Browne (Aglish)

91kg – Heavyweight – Anthony Browne (St Michaels Dublin) V Kenneth Okungbowa Athlone)

51kg – Flyweight – Carly McNaul (Holy Family Golden Gloves) V Niamh Early (Ryston)

63kg – Light welterweight –  James McGivern (St Georges) V George Bates (St Marys Dublin)

69kg – Welterweight – Christina Desmond (Fr Horgans) V Grainne Walsh (Spartacus)

81kg – Light heavyweight – Thomas O'Toole (Celtic Eagles) V Tommy Hyde (Mayfield)

69kg – Welterweight –  Kieran Molloy (Ougterard) V Patrick Donovan (Our Lady of Lourdes)

60kg – Lightweight – Kelly Harrington (St Mary's) V Jelena Jelic (Sweden)  (International bout)

91+kg – Super heavyweight – Dean Gardiner (Clonmel) V Martin Keenan (Rathkeale)
Tags: