Mark English won a brilliant bronze medal at the European Indoor Athletics Championships. 
By Chris McNulty, at the Emirates Arena, Glasgow
He had to fight to, first, get into the race and, then, fought some more to cling dearly to a bronze medal – his third European medal.
A superb display by English saw the Donegal man finish in third.
With a time of 1:47.39, English was behind winner Álvaro de Arriba from Spain (1:46.83), while Great Britain's Jamie Webb took the silver with a personal best of 1:47.13.
English was in the mix from the start and was third at the bell.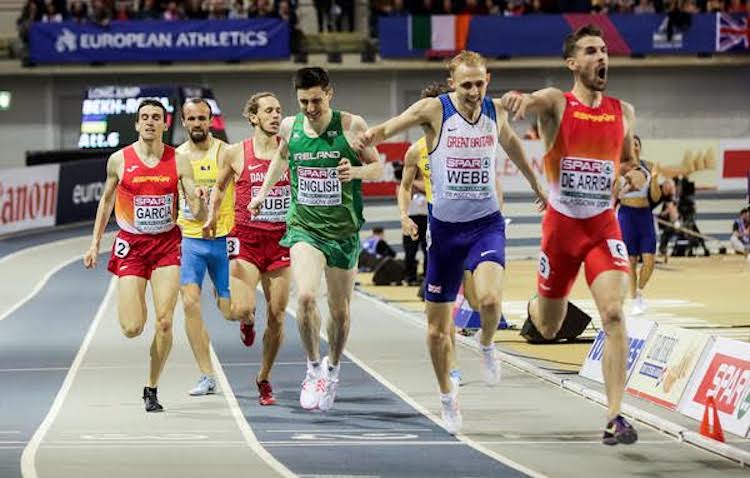 Under strong pressure around the final lap, English reached deep into his reservoir to clinch a bronze.
English won silver at these Championships in Prague four years ago, when he finished behind Marcin Lewandowski of Poland and ahead of Dutch runner Thijmen Kupers.
His medal four years ago, he said last week, was proof that he wasn't a 'one-trick pony' having won a bronze at the 2014 European Championships seven months previously.
"Having two European medals was important. It was proof to myself, never mind anyone else," he said in a pre-Glasgow interview.
Now, he has another to add to his collection.
English was reinstated following an appeal last night having been, in the view of the track referee, unfairly impeded in his semi-final. English was impinged by Great Britain's Guy Learmonth on the third lap of four in his semi-final.
English had cruised through his heat on Friday evening, cantering home in 1:49.38 – and the big question here was of a mindset and a tactic.
English shared a lane – lane 3 – with Dutchman Andreas Bube as Championship chiefs went with a seven-man final and was out sharp. Over the four laps, English was never outside the medal positions.
English becomes only the second Irishman, after David Gillick, to become a multiple European Indoor medallist.
Tags: