Letterkenny groups and businesses are putting the final touches to their displays and performances for their big moment in the local St. Patrick's Day parade this Sunday.
Up to 10,000 people are expected to line Main Street for the spectacle, which begins at 3pm sharp.
This year's theme is Celebrating Letterkenny Together – and no community initiative has shown this more than the support given to local boy Conall Shiels. Four-year-old Conall, who loves a party, will be the Grand Marshall of the Parade this year.
Conall and his family have benefitted from incredible support from friends who recently set up a 'High Five for Conall' campaign to raise money to adapt his home for his complex needs. The fundraiser has captured the hearts of many community groups as they lend a helping hand to raise €55,555 – all the fives for Conall.
The Letterkenny parade is one of the biggest in the County and this year The Chamber is seeing entries coming in from a wide range of businesses, community organisations, sports clubs and bands.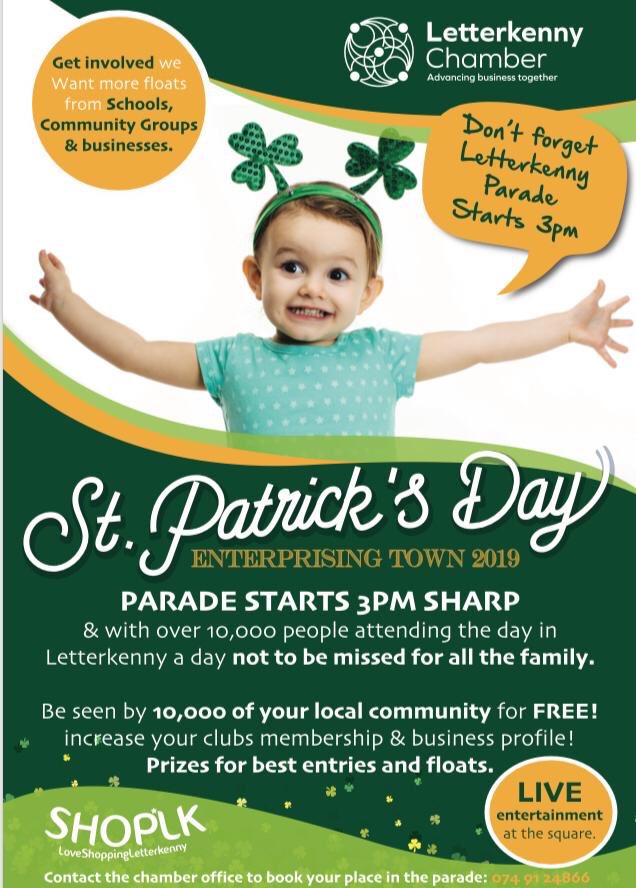 Letterkenny Chamber President Leonard Watson said: "Letterkenny Chamber is the sole organiser of the Parade and each year it is only through the voluntary effort of members of the Chamber and financial contributions from businesses that enables it to happen.  We are proud to play our part in this important day and we have been all over the town with our banner to acknowledge the support of all the businesses.
"St. Patrick's Day marks the start of the Spring season. This year it falls once again at a weekend so we are expecting a large entry and a high number of spectators. The Letterkenny Parade is a great family event in Letterkenny, young and old come out to see the traditional parade work its way through the town centre.
"This year to celebrate Letterkenny winning the Most Enterprising Town in Ireland we have a theme of Celebrating Letterkenny Together and we hope that lots of the entries will reflect this."
Toni Forrester CEO, Letterkenny Chamber is encouraging spectators to come along early. "This year we have dancing at the Market Square from the Quigley School of Irish Dancing, Keith Fletcher will keep us entertained not just with his loud suit but his great banter and music and we once again have Katie McCarthy leading us in the National Anthem.
"We are also delighted that Conall Shiels will be the Grand Marshall of the Parade, a fantastic opportunity to show support for the "High 5 for Conall" campaign and to celebrate the life if this special little boy."
The Parade starts at 3pm on Sunday 17th March and in a change this year walking entries are being asked to gather at An Grianan Theatre while motorised entries line up as usual along Pearse Road.
The parade will go along Port Road, through Main Street past the viewing platform at Market Square to finish in Old Town.
Leonard Watson urges everyone to come out and enjoy the festivities: "The St.Patrick's Day parade is always a great family day out. It would be great to see lots of people out to support the many groups, businesses and band members that take part in the Parade. Let's hope the weather plays ball."
Tags: