A Letterkenny schoolboy has revealed that he will be celebrating World Down Syndrome Day 2019 in style tomorrow – by eating cake!
Not only will Christopher Grant be enjoying a treat, but he'll be sharing his cake with all his friends at school. In this way, the clever 11-year-old will be sending an important message about celebration and inclusion on World Down Syndrome Day, which is what it's all about.
This video taken by Christopher's mum Gina Grant is sure to make you smile:
Gina, who is a member of the Donegal Down Syndrome Association, is encouraging everyone in Donegal to get involved in the special celebrations this Thursday 21st March.
Events are taking place around the county to promote the awareness of what Down syndrome is, what it means to have Down syndrome, and how people with Down syndrome play a vital role in our lives and communities.
School coffee mornings and raffles are planned locally in aid of Donegal Down Syndrome, while the association is promoting a simple message of inclusion.
For Christopher's school event, Gina has ordered the largest cake that O'Hehirs bakery can make!
Gina told Donegal Daily: "We would like people to be aware and think about what they could do to make their community more inclusive – in school, in the workplace and at colleges.
"Maybe just talk to somebody with Down syndrome tomorrow at work or school.
"Down Syndrome is just one part of a person, it's not who the person is. But it can sometimes be a barrier to people striking up a conversation with a person.
"People don't have to do anything hugely elaborate. They can hold fundraisers for Donegal Down Syndrome if they want to. A simple hello is a great start."
Donegal Down Syndrome Association provides support and activities for around 160 families locally. Their work is focussed on supporting members with Down Syndrome and their families to have as much independence as possible, while encouraging communities/schools and businesses to be fully inclusive.
Gina said: "We are also inviting people to contact us for more information if they have any questions, if they have a family member or somebody in the workplace or school with Down syndrome and they want to learn more about inclusion."
Another goal of Donegal Down Syndrome is the campaign for better career and education options for young people after they leave post-primary education.
"Those with Down Syndrome are very limited after school. We celebrate all job opportunities but we are campaigning for more choices to become available. Many limitations are caused by society, not by the syndrome," Gina said.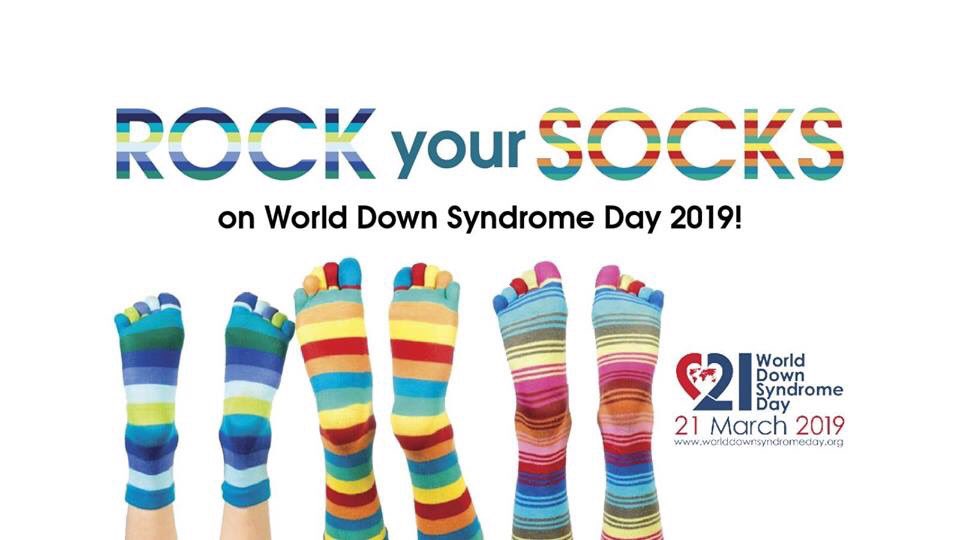 Something else that everyone can do on Thursday is wear #LotsOfSocks! People around the world are invited to wear brightly coloured mismatched socks (even three!) to celebrate differences and to signify the extra chromosome that people with Down Syndrome usually carry.
The Donegal Minor Ladies are a step ahead with this fun challenge, as they wore odd socks to training last week and raised €100 for DDS.
If you would like to find out more about Down syndrome, find out about supports or fundraising please contact the Donegal Down Syndrome Association on Facebook
How are you celebrating the day? If you wish to share photos or videos from events, send them to info@donegaldaily.com
Tags: