A local woman will be aiming to be quick on her toes this Wednesday as Home Store + More in Letterkenny hosts its first trolley dash.
Rosaleen Connolly from Letterkenny will have a big shopping list ready as she takes part in the unique competition this Wednesday 10th April at 12noon. The event is sure to attract a large crowd to cheer Rosaleen on during her dash through the homeware store.
She will have just 4 minutes to run around the store as quickly as possible and pile as many items as she can into her trolley. Whatever is in their trolley at the end of the four minutes, Rosaleen will get to take home. With such a wide variety of great items for kitchens, bedrooms, bathrooms and more, Rosaleen will have her pick of products!
Rosaleen was the lucky grand prizewinner of a recent contest carried out on Highland Radio. Five daily winners won a €100 gift voucher for Home Store + More and were entered into a draw for the chance to take part in the exciting shopping spree.
This is the third trolley dash to be held across the Irish branches of Home Store + More. Previous winners have picked up trolley loads worth €638 and a whopping €870, so Rosaleen can look forward to scooping a small fortune in stock this week!
Watch Diane Kenny bag an impressive €870 worth of stock last month: 
Home Store + More opened in Letterkenny on 21st of September 2018 and currently employs a team of 22 colleagues, headed up by the store manager Sheila.
There should be a great buzz about the store this Wednesday and everyone is welcome to come down and watch Rosaleen's dash from the entrance.
Plus, Home Store + More currently have half price offers across all Rattan garden furniture, all gazebos and all towels for the month of April!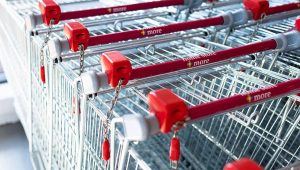 Home Store + More Letterkenny is located on the Paddy Harte Road in the retail park, beside LIDL and is open 9am-9pm Monday – Friday, Saturday 9am – 7pm and Sunday 11am-6:30pm
For more updates and offers visit: www.facebook.com/homestoreandmore
Instagram @homestoreandmore.ie
Customers can get in touch by phone on 076 888 6662 or at info@homestoreandmore.ie
Tags: