Pinehill Studios at Mountain Top Letterkenny have launched an exciting season of summer camps to make this summer go by in a whirl of fun and activity.
As summer holidays come ever closer, why not find a great camp for your child at Pinehill Studios?
It's hard to believe, but that time of year is almost upon us again: in a matter of weeks, the children will be off school.
With eight weeks to fill, many parents will be looking for some way to entertain their energetic tiny humans which doesn't involve breaking the bank or indeed breaking a sweat as the constant refrain of 'I'm bored' threatens to reach saturation.
To help alleviate parental stress and childish boredom, Pinehill Studios have a variety of action-packed summer camps that are sure to entertain, amuse and tire out your little darlings over the upcoming holidays starting from 2nd of July until 3rd of August.
Incorporating singing, hip-hop dance, acting, fun, games, self-esteem and confidence-building in a non-competitive, fun-filled and safe environment, Pinehill Studios camps are suitable for both boys and girls aged between 4 and 9. No experience is required and often it is the shy child who finds their inner diva whilst hitting stage for the first time.
Here's your guide to camps dates & details: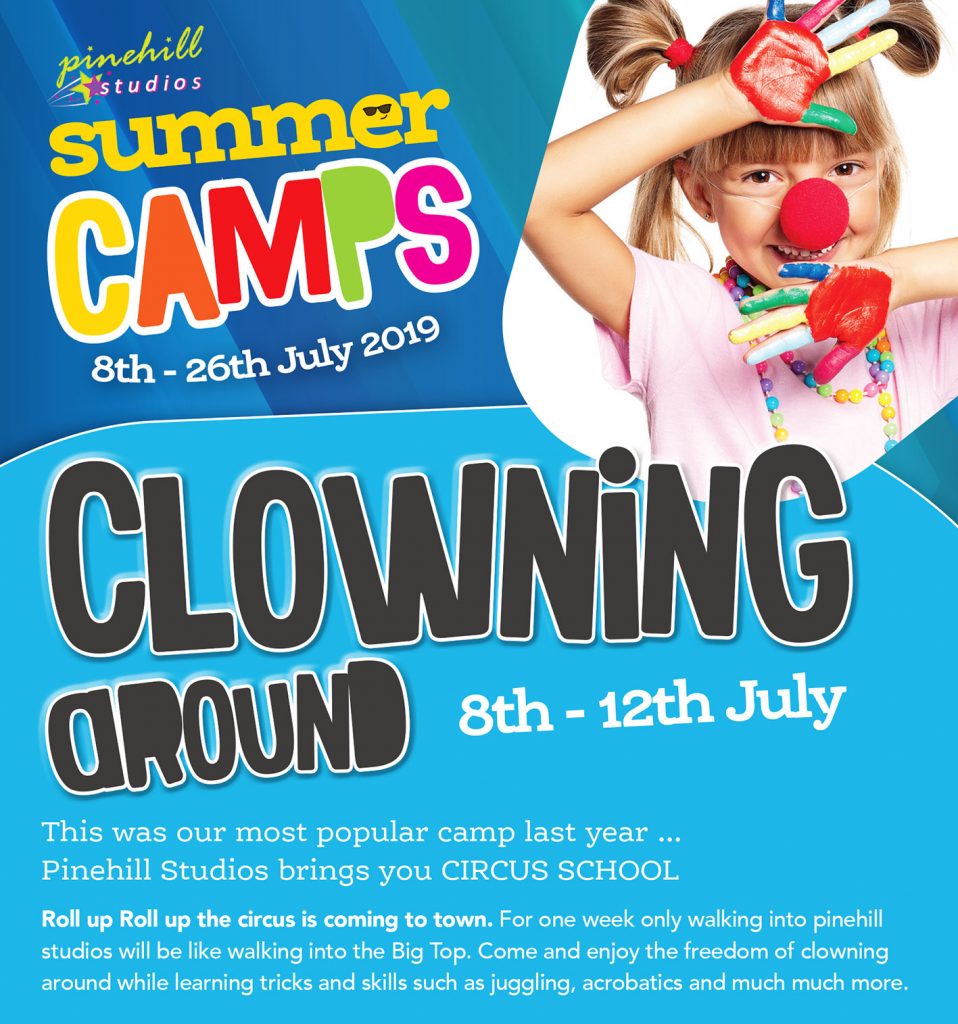 8th – 12th July CLOWNING AROUND
This was our most popular camp last year…
Pinehill Studios brings you CIRCUS SCHOOL
Roll up Roll up the circus is coming to town! For one week only walking into Pinehill Studios will be like walking into the Big Top. Come and enjoy the freedom of clowning around while learning tricks and skills such as juggling, acrobatics and much much more. Your children will be engaging in a variety of activities to challenge and improve their fitness levels, balance and co-ordination along with promoting self-confidence, self-awareness and gaining an understanding and acceptance of difference.
This year's popular fantasy adventure film Dumbo will also be a main feature of this week's activities as we use Dumbo's experience of saving the circus to help children celebrate difference, cherish family and make their dreams take flight.
Book online at: www.pinehillstudios.ie/camps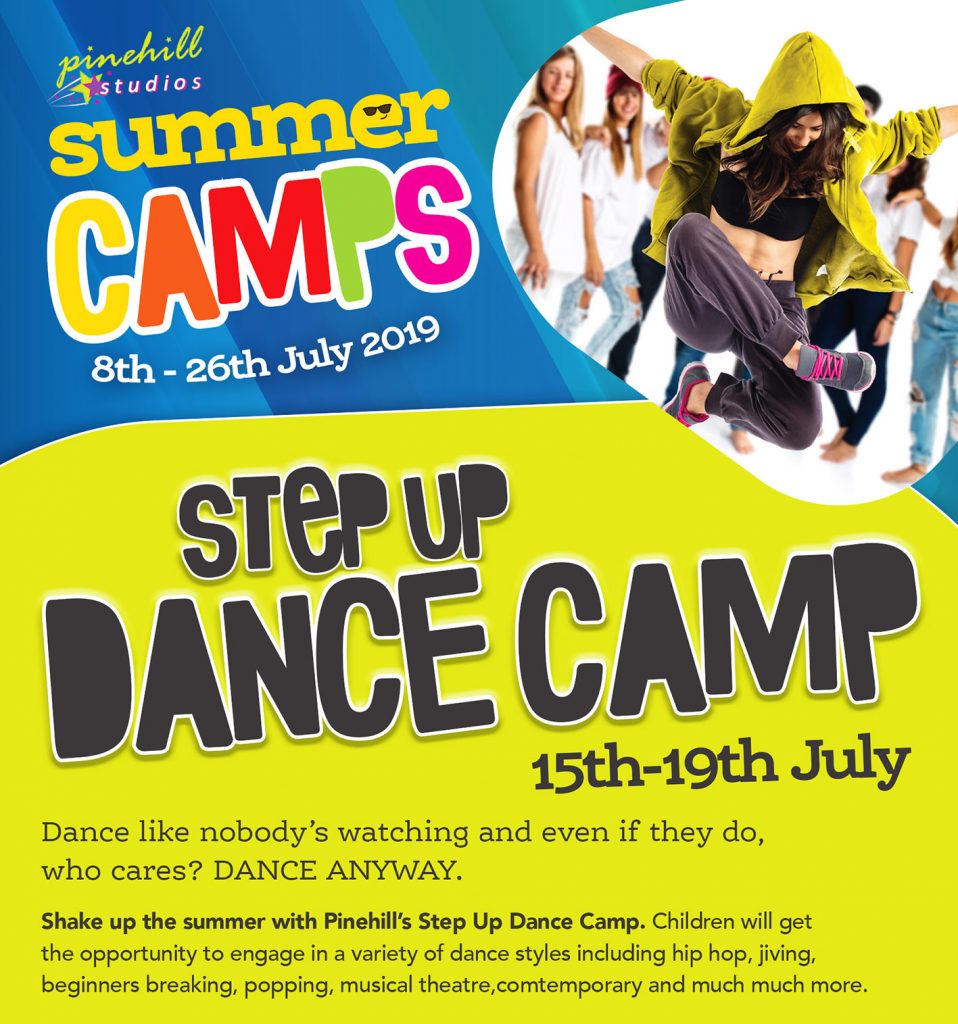 15th – 19th July Step Up Dance Camp
Dance like nobody's watching and even if they do, who cares?  DANCE ANYWAY. Shake up the summer with Pinehill's Step Up Dance Camp. Children will get the opportunity to engage in a variety of dance styles including hip hop, jiving, beginners breaking, popping, musical theatre, contemporary and much much more. This camp will give your children the opportunity to express themselves through the art of dance while exercising and increasing their fitness levels in a fun filled way. They will also be introduced to different genres of music and explore concepts such as rhythm, body awareness, timing and improvisation.
Book online at:  www.pinehillstudios.ie/camps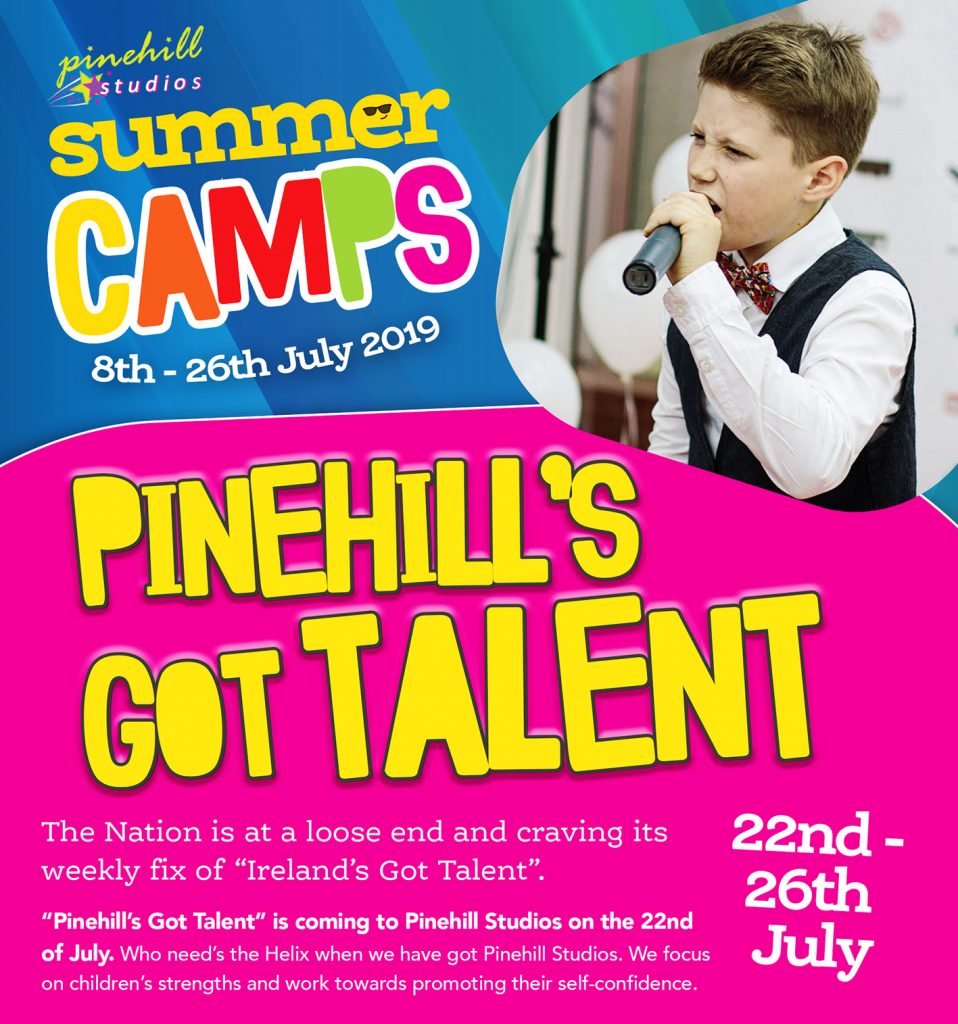 22nd –  26th July Pinehill's Got Talent
The nation is at a loose end and craving its weekly fix of "Ireland's Got Talent". Well they don't have to wait much longer.
"Pinehill's Got Talent" is coming to Pinehill Studios on the 22nd of July. Who needs the Helix when we have got Pinehill Studios!
Whether your child wants to try their hand at presenting like Mrs Lucy Kennedy, sit in the hot seat like judge Louis Walsh or take to the stage like the thousands of this year's contestants to showcase their talent, there is an opportunity for everyone at Pinehill. We focus on children's strengths and work towards promoting their self-confidence.  The end of week show is sure to give the children and parents a laugh and a giggle while evoking a sense of pride in everyone's achievements. Although we don't have a €50,000 cash prize, everyone at Pinehill Studios goes home a WINNER!
Book online at:  www.pinehillstudios.ie/camps
Each Camp will run from 10am-3pm each day.  2 groups 4-6yrs & 7-9yrs. (groups will be divided by age and ability)
Children should bring a packed lunch and plenty to drink. They should wear comfortable clothing such as leggings or tracksuit, and soft shoes or runners.
The week-long courses cost €80. BOOK ONLINE NOW www.pinehillstudios.ie/camps
Sibling discounts also available. T & C's apply *one discount per family.
Tags: