Letterkenny style blogger J'Style is hosting a fashion night out in Letterkenny this weekend in aid of Donegal Down Syndrome.
This fun and fabulous event will be held in the Radisson Blu Hotel on Saturday 17th August from 6.20pm.
Guests will enjoy a drinks reception, a fashion show from local boutiques, style tips, music and lots of prizes, all in aid of Donegal families.
Jae Sook Lee of J'Style is leading the event, which was inspired by her beautiful daughter Chloe, aged 7, who has Down Syndrome. Jae and her husband received such great support from the Donegal Down Syndrome group that they want to raise money as a thank you.
"When Chloe was born we got so much support and help from them so we just want to give back to them," Jae said.
Jae is well-known from her J'style Facebook page, where she shares her styling skills and daily outfits.
And she has been busy organising a very stylish night out for all the women of Donegal. Remaining tickets are €20 (or €50 for three) and they are available at Pure Boutique, Clare Clothing, Donegal Down Syndrome Office in Letterkenny and also on Eventbrite at https://www.eventbrite.com/e/fashion-night-out-with-jstyle-…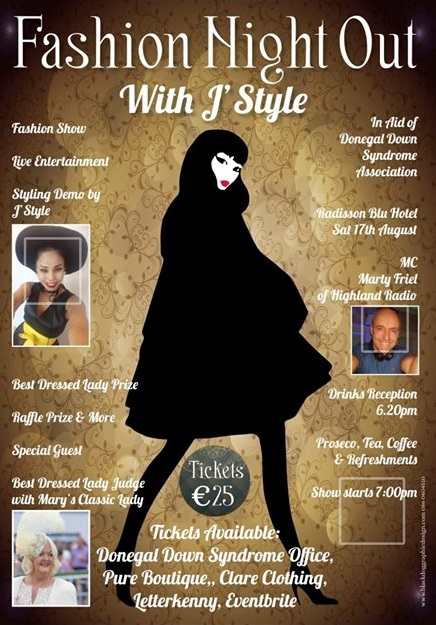 The M.C on the night is Marty Friel from Highland Radio. There will be live entertainment and a styling demo by J'Style herself and also a fashion show from local boutiques and shops.  Local comedian Andy McGranaghan will be providing the laughs!
The fashion show will be a mix of pre-autumn occasion wear for the upcoming wedding season for a wedding guest look and any special occasion to the latest trendy look. 
Through the styling session, you will get plenty of styling tips on how to create your own style that makes you feel comfortable, confident and of course stylish and fabulous. 
J'Style is also so delighted to announce that Mary's Classic Style will be a judge of the best-dressed lady prize!
All proceeds from this event go to Donegal Down Syndrome so make sure to get your ticket to this fabulous event at https://www.eventbrite.com/e/fashion-night-out-with-jstyle-…or in Pure Boutique, Clare Clothing and the Donegal Down Syndrome Office.
If anyone is interested in getting involved in the event send on a message to J'Style.
Tags: