IT HAS all felt like a bit of a whirlwind for Rachael Darragh.

Last week, the Raphoe woman competed in the European Games for the second time.
Darragh is just 21 and has also been to the Commonwealth Games and all sorts of tournaments in between times.
Four years ago, the day she finished her Leaving Cert at the Royal and Prior, she boarded a plane to Baku for the first edition of the European Games, where she competed in the women's doubles with Sara Boyle.
In Minsk last week, Darragh was in the women's singles – and turned in some encouraging displays.
Although she lost her three games, there were more than enough positive signs.
Agnes Korosi of Hungary has the better of Darragh 21-11 22-20, she lost 21-17 21-9 to Yvonne Li from Germany, while Finland's Airi Mikkela scores a 21-16 21-19 win.
"I knew before I came here that the girls in my group were a lot higher ranked," Darragh says.
"I knew I was in for a tough week. I just came to leave everything on the court and I did that.
"I'm happy with that, but disappointed that I didn't get a win. I did exactly what I came here to do.
"I feel like I've gained an experience.
"If anything, it makes me want to go for more and come back for the next one. I want to come back and get wins and I've this experience behind me to know what it feels like.
"I felt like I left my best badminton on the court. I gave it everything. It was more about getting out there and getting the feel of being in a big tournament."
Darragh proudly watched as her aunt and uncle, Chloe and Sam Magee, collected mixed doubles bronze.
Darragh was always destined to follow in the family ways.
In a feature for Badminton Ireland three years ago she detailed how she started in badminton by 'picking up shuttles as a child for Sam and Chloe'.
But there's a steely focus and a real resolve to make her own name in the sport.
Darragh says: "I do like to be Rachael Darragh. It's not that I don't like it, but I want to be more than 'another Magee'.
"I'm my own player. I want to make my own mark on the sport and make a name for myself."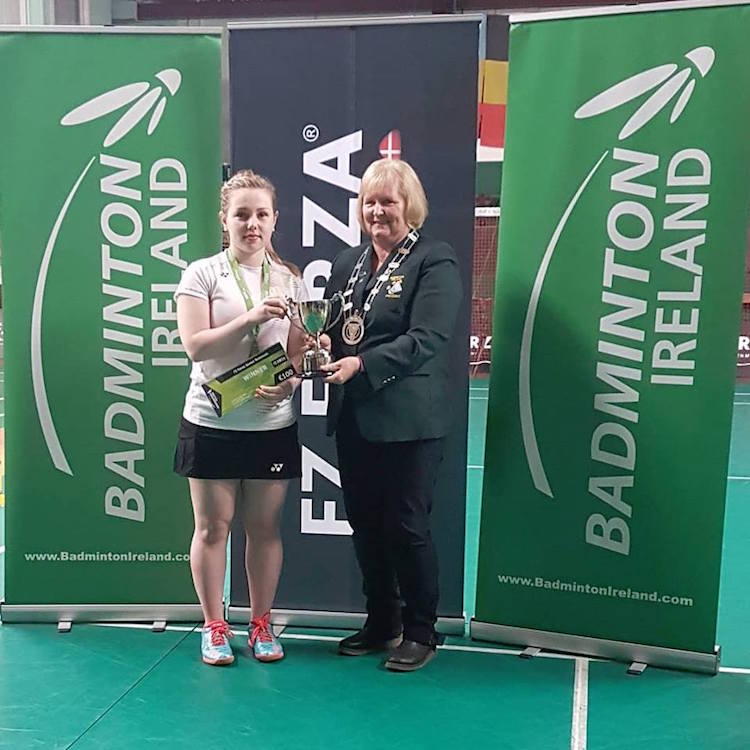 She has certainly been doing that, having already won two Irish National women's singles titles.
Last April, she competed in the Commonwealth Games. Alongside Sinead Chambers, they beat Elise Dixon and Emily Temple Redshaw 21-9 21-10 in the round of 32 before losing out to by Malaysian duo Soniia Cheah and Jemie Shevon Lai in the Commonwealth Games last week 21-19 21-7.
Darragh also had a win at the Carrara Sports Arena in the women's singles, overcoming Tella Ngadjui from Cameroon 21-6 21-3 in just 19 minutes, before bowing out to Soniia Cheah.
"The Commonwealth Games was massive. It was a really big experience.
"I'm just coming into the senior world of badminton. My next time around I'll be wanting more."
Last year, Darragh won bronze at the Bulgarian Open, competing with Paul Reynolds and, alongside Sara Boyle, won the women's doubles at the Irish Nationals this year.
Before going to Minsk, Darragh was part of a five-person Irish team that reached the final of the Sudirman Cup in China.
The sport can be lonely at times.
She says: "You need to be very motivated and driven. You need to know there'll be bad times.
"Chloe has been Ireland's number one singles player for so long.
"She knows how these things go. She helps me every day in training and I also live with her. It's a massive help for me and it's such an advantage.
"It's nice to have the guys there. It's a comfort that other players don't have. I can always go to Chloe or Sam for anything I need.
"Minsk was a great opportunity for me to get the experience, to see what it feels like and see what I have to do.
"Seeing Sam, Chloe and Josh doing so well above me made me want to do the same. Me and Josh played a lot and trained a lot together. "
Based in Dublin and training in the national badminton centre, she studies management at TU Dublin and has the mind firmly on the future.
She says: "I think I'd like to go for the Olympics in 2024 and work from that. I don't think it'll be for me in Tokyo, but you never know. I just want to keep improving. I know now what I have to do to be as good as these girls who'll be at the Olympics.
"I feel like this has been one of the best performances that I've put out against the best players. I'm coming away feeling happy and feeling motivated. "
Tags: