Leading Donegal learning consultant Avril McMonagle is set to launch a new app for an environmentally friendly approach to early childhood care.
MOSAIC: A Portrait of Early Learning has been designed to streamline the recording of children's learning and development in early childhood services. The app is set to hit the ground running in September 2019.
MOSAIC is the brainchild of Avril McMonagle, who is also the founder of Meantóir, a professional support service for early childhood education based in Inishowen.
Developed specifically for the Irish market, MOSAIC is an online and mobile App that will allow educators to record, compile a progressive record of children's learning and development under the themes of Aistear, the Irish early childhood curriculum framework. 
By compiling observations, photographs, audio recordings and samples of work; an informative picture of the child will build up over time in the form of an individual online Leabhar Scéalta (Storybook) unique to each child. The information is then shared with parents in real-time.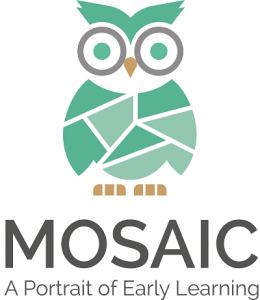 In designing the concept for MOSAIC, Avril had a number of prerequisites – she wanted the app to not only to be environmentally and cost effective, she wanted to keep the needs of the child to the forefront of the education tool. 
"Childcare services are now so pressurised by cumbersome administration duties, that I wanted to develop a tool for educators that was solely about the child as opposed to a one size fits all administration system for outside bodies," she said. 
Avril believes that among the key strengths of MOSAIC is its simplicity. She commented: "At the development phase of the App, I was very aware of the need for MOSAIC to be accessible for educators of varying levels of IT skill and experience. 
"I am delighted that we have been successful in creating a seamless and uncomplicated system that I challenge anyone not to be able to use!"
MOSAIC is also a win-win development for early childhood services and for parents.  It promotes an environmentally friendly approach to record keeping thereby enabling huge cost and staff time efficiencies for early childhood services. 
Parents will be able to download the Parents App from Google Play and receive timely communications and learning updates on their child in real time on their mobile phone.
The first round of demonstration events is almost complete with Avril heading to Monaghan this week to deliver a presentation to a group of Monaghan County Childcare Committee clients. 
Avril is delighted with the response so far saying: "I am overwhelmed with the way Mosaic has been received so far. Everyone who has attended demonstration events were highly impressed with the way it functions and can't wait to get started in September."
The option of training on documenting and planning for children's learning will also be provided by Meantóir starting in September to ensure that early childhood service staff can use the app with maximum efficiency. 
See the Mosaic App here:
For more information on MOSAIC – see www.meantoir.ie or email info@meantoir.ie
Tags: