LEAH GALLEN says she is 'over the moon' after some new obstacles had to be overcome on her way to a fifth Irish title at the weekend.
Gallen won the Irish U18 welterweight title on Saturday as she overcame Mary Enright from Kildare.
Picture: Leah Gallen with Raphoe ABC coaches Gary McCullagh and Gerard Keaveney.
Gallen's performance was much more emphatic than the 3-2 verdict suggested, but the Raphoe ABC woman was just happy to get her hands on the prize.
"It's unreal, I'm just over the moon," Gallen said.
"That was only my second time ever to box against a southpaw. It was a big adjustment, but Gary (McCullagh) and Gerard (Keaveney) had me well prepared for it.
"It's awkward to box against a southpaw, you have to be ready for anything and it's so different to go in against them."
The final was also Gallen's first taster of three three-minute rounds.
Previously, the Raphoe puncher fought over two-minute stanzas.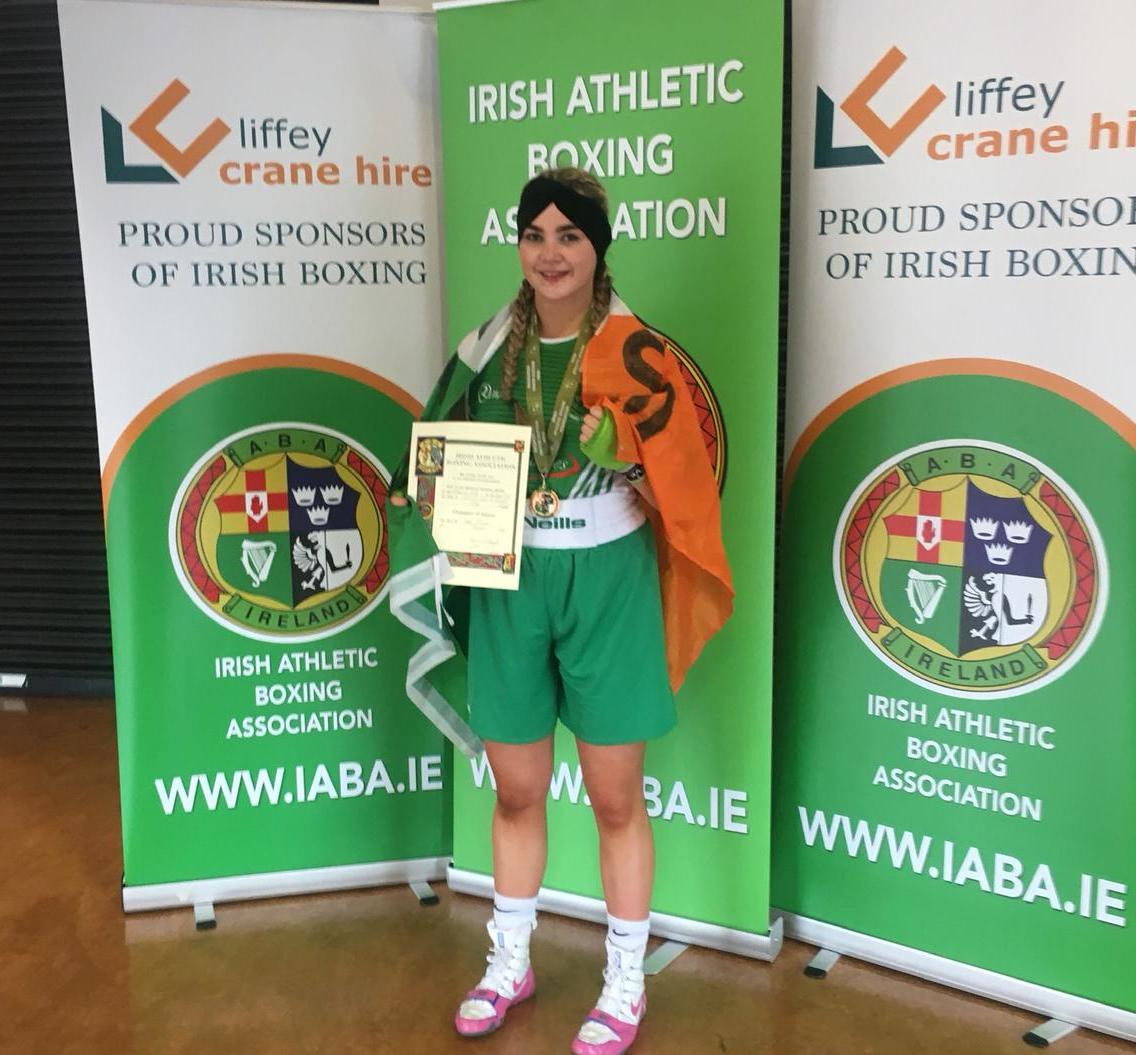 She said: "It's a massive difference. An extra three minutes for a fight is huge. The extra training definitely helped me get through it, but it was tough."
Gallen is an Irish champ for the fifth time. Her first title was won at Finn Valley ABC and her last four have been in the Raphoe trunks, while last year she was a bronze medalist at the European Junior Championships in Russia.
Now, after her latest victory in Dublin, Gallen will head for Bulgaria and the European Youths.
She said: "I can't wait for the Europeans again. Getting on the team for them is a big reward from the weekend. I was so happy to get the chance last year and I wasn't happy to just come back with the bronze.
"I want to go again and get a different medal back this time."
Gallen admits that she had a wave of anxiety when she heard Saturday's final was a 3-2 split decision.
"You just never know then what way it'll go," she said. "When the fight was over, I felt I had won it well, but when you hear 3-2 it just takes another one person to go against you and you've lost.
"I was worried for a wee while, but it was just brilliant to hear that I had won.
"It was a tough, awkward fight. I can do better, but I was happy to win it. I didn't know much about that girl before I fought her so we didn't really know what to expect in the fight.
"It's brilliant to get the win. I couldn't have done it without Gary and Gerard. I owe them so much and I say it all the time – I wouldn't be anywhere without them two boys and wee Peter O'Donnell. They do so, so much for me and I'm grateful for everything."
Gallen admits that she struggles with a lack of confidence before fights.
She said: "Maybe it's a fear of not winning, I don't know. But the boys are always saying that I should be more confident in myself. I do struggle with my self confidence coming into fights."
The European bronze and the five Irish medals are the evidence of a boxer who should be supreme in her own confidence.
Tags: