MARK ENGLISH is in seventh heaven after claiming the Irish 800m title for the seventh time this evening.
By Chris McNulty at Morton Stadium
English came with a customary late burst over the final 100 metres to win in 1:48.15 – the quickest time of all of his wins here.
English edged out John Fitzsimons of Kildare AC (1:48.24) with Blarney/Inniscara's Dean Cronin third in 1:49.24.
"It's such a relief to get it," English told Donegal Daily/Donegal Sport Hub.
"It was more like a pace race that I've been doing in Europe, so it worked out nicely. You get a lot of ranking points for winning a national title, so that's good. I didn't want to hit the wind on the back straight, so I just tucked in and kicked on over the last 100 metres.
Two years of injury woe were ended in March when he won bronze at the European Indoor Championships in Glasgow.
The old magic was back in the heels at the Emirates Arena as English took third spot, behind Alvaro de Arriba of Spain and Great Britain's Jamie Webb, in 1:47.39.
And now English is the Irish king again with designs on qualifying for the 2019 World Championships in Doha.
Yesterday, the Letterkeny man breezed through his heat in 1:53.60 and he had to work a little for gold here, but still came out on top.
🌟 Mark English takes the Men's 800m title in a tight finish 👏🏻

➡️ https://t.co/raTXnSBffR pic.twitter.com/hjQHh0eIkn

— Athletics Ireland (@irishathletics) July 28, 2019
He added: "I'm getting older and those lads are in their prime. Hopefully this will stand me in good stead.
"I probably got more nervous for that than the European Indoors. I'm so expected to win this and it would be a massive shock if I didn't win it."
Meanwhile, Sommer Lecky was disappointed with a silver in the women's high jump.
The Finn Valley AC woman – the 2018 World U20 silver medalist – cleared 1.80m, but Philippa Rogan of Sli Cualann took gold at 1.85. Lecky couldn't get over at 1.85m and had to settle for silver.
"I'm pretty disappointed," Lecky admitted.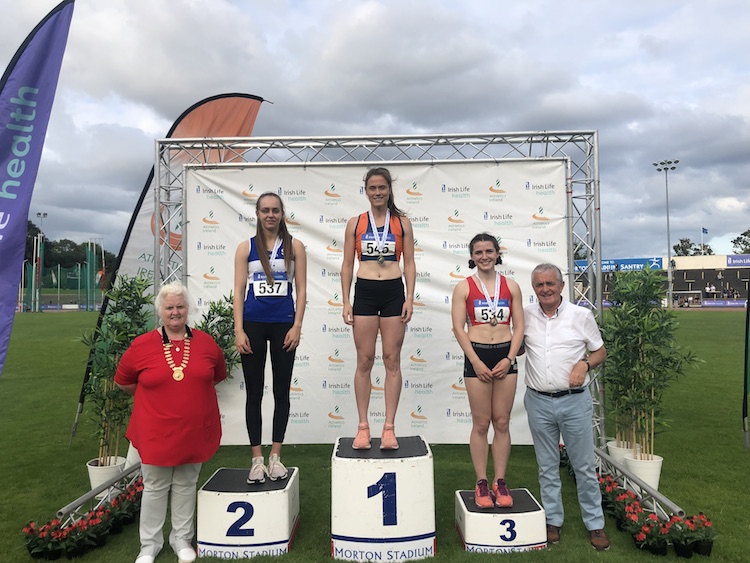 It didn't happen again, but you just have to take it on the chin and move on. My jumps felt really smooth, but it just didn't happen at 1.85m and I need to go back and see why.
"There are a lot of positives and I'll definitely come back fighting."
Elsewhere, Finn Valley AC's Simon Archer was seventh in the 200m final in 21.95 seconds while Shane Irwin came eighth in the 400m final in 48.37 seconds.
And Oisin Gallen, also of Finn Valley AC, ran a superb 1500m final to finish seventh in 3:51.58.
Gallen, a scholarship student based in the University of Tennessee at Martin, recently set a new club record of 3:46.39 for the 1500m when competing in Nashvlle.
Gallen caught the eye with a fine run on Saturday afternoon to finish third in his heat. Gallen finished then in 3:56.88.
Tags: