NINE WEEKS out from the 2019 World Championships, Mark English remains hopeful – and confident – of making it to Doha.
By Chris McNulty at Morton Stadium, Santry
The Letterkenny man won his seventh Irish 800m title on Sunday, his sixth in succession, and has his immediate sights set on booking a place on the plane to Doha in September.
English, competing in the colours of UCD AC, saw off a strong challenge from John Fitzsimons to win at Morton Stadium and his winning time of 1:48.15 was his fastest winning time.
English's big aim, now that he has completed his medical studies in UCD and is a full-time athlete for the foreseeable future, is the 2020 Olympic Games in Tokyo, but Doha remains a live option.
"The immediate aim is to get the time for Doha and I've three chances, maybe four, left to do," says English, who has still to make the qualification time of 1:45.80, and who is likely to base himself abroad for his Tokyo preparations.
"I've ran a second of a season's best. I started off at 1;48, then 1:47 and 1:46. If I can keep that trend up, I'll do it. I'm feeling good so hopefully I can get there now."
English will compete at the Cork City Sports, the Diamond League in Birmingham and the Morton Games over the coming weeks after securing gold on Sunday.
A surge over the final 200m saw English retain his crown.
He said: "It's such a relief to get it. It was tight over the last 100 metres, but I expected that.
"I'm getting older and those lads are in their prime. It was a good competition and hopefully that will stand me in good stead for, hopefully, Doha and then Tokyo."
Dean Cronin, who finished in third, set the pace, with English holding himself to make a trademark shift of gear from the penultimate bend.
He said: "I didn't want to hit the wind on the back straight. I saw the flags blowing before the race so I just tucked in and kicked on over the last 100 metres.
"It was a quick first lap. Dean took it out by the scruff of the neck and we all had to go.
"It was more like a pace race that I've been doing in Europe. I've been used to that and some of the others wouldn't be used to it, so it worked out nicely.
"You get a lot of ranking points for winning a national title, so that'll get me a good few points."
Fitzsimons was only 0.09 seconds behind as they crossed the line with English keeping his title.
English won the first of his Irish titles eight years ago, in 2011.
After a couple of gap years – when Cronin and Paul Robinson took the wins – English has dominated the race and came into this one having taken the previous five crowns with ease.
Just once in those wins – his 1:49.91 in 2014 – had English needed to dip below 1:50 territory before this weekend.
In his recently-released memoir, Relentless, Patsy McGonagle, the former Irish athletics team manager, was in no doubt about English's rank.
McGonagle, indeed, was emphatic about English's worth to the sport.
'Mark English is and was the most talented athlete that we have ever produced in the north west of Ireland. Ever,' McGonagle wrote.
English ended two years of injury woe were ended in March when he won bronze at the European Indoor Championships in Glasgow.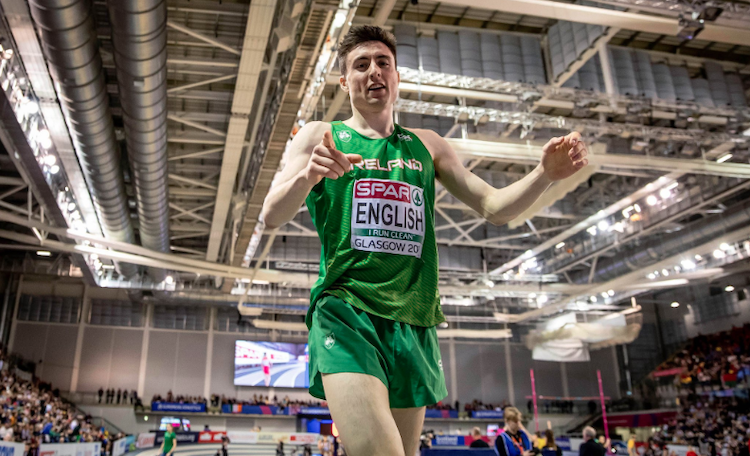 The old magic was back in the heels at the Emirates Arena as English took third spot, behind Alvaro de Arriba of Spain and Great Britain's Jamie Webb, in 1:47.39.
After an bronze in 2014 and an indoor silver in 2015, it was English's third European medal and the latest proof of his standing in the sport.
English exuded real confidence in Glasgow, but on Sunday admitted: "I got more nervous for that than the European Indoors.
"I'm so expected to actually win it and if I didn't win it would be a massive shock. I did feel that bit of pressure."
Tags: