The tents are up, the exhibitors are stocked up and the chefs are prepping their ingredients – it's time for A Taste of Donegal Food Festival 2019.
Now in its 11th year, the event attracts thousands of food and drink enthusiasts to Donegal Town.
The event kicks off from 4pm on Friday 23rd August, with the official opening at 7pm and a fireworks display at 10pm (weather permitting).
From Friday 23rd – Sunday 25th August you can discover, dine and delight in the exciting culinary scene of Donegal by visiting this unique festival.
Donegal Daily will be offering you a sample of events all weekend on a Live Blog at : https://www.donegaldaily.com/2019/08/20/live-the-full-menu-a-taste-of-donegal-food-festival-2019/
This year's event is set to be the best yet, with 130 food and drink exhibitors and some exciting new additions.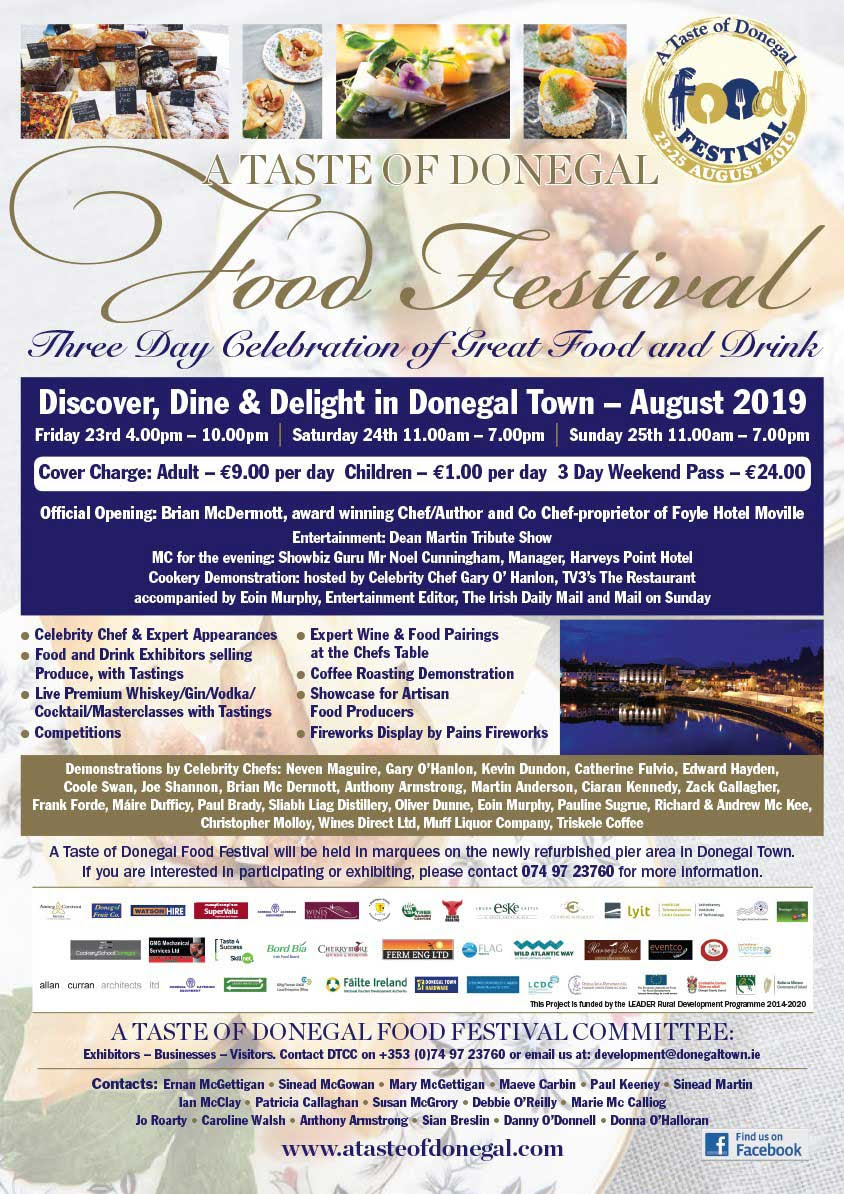 A new Cherrymore Kitchens children's marquee will be open from Saturday to Sunday, with a special kitchen, interactive workshops, cookery demonstrations by award winning celebrity chefs, experts on Education, Sustainability, & Biodiversity with some balloon magic and an Agri Aware Open Farm.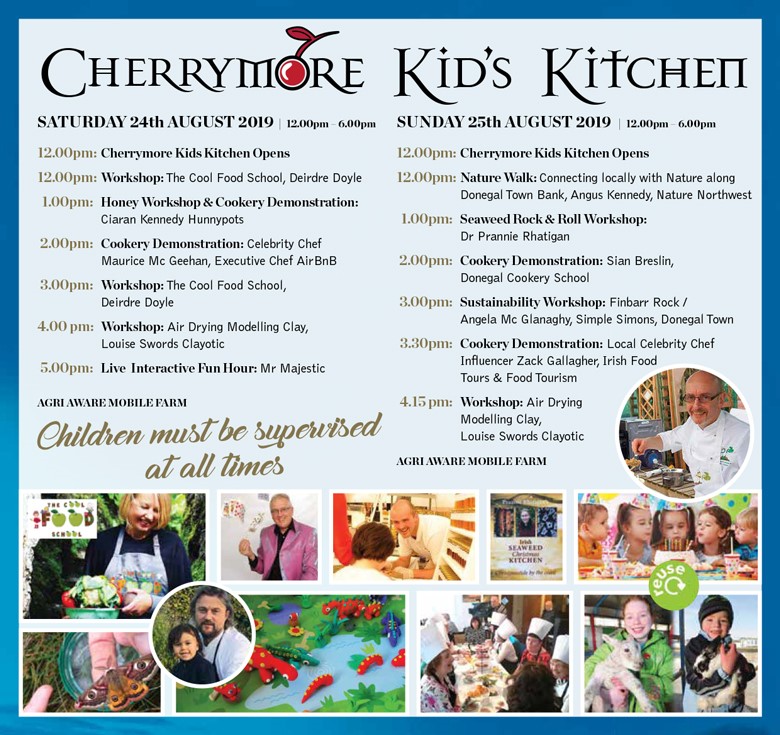 The Food Festival will stretch beyond the pier this year too, with a walk taking place around the River Bank as part of Heritage Week.
And there's non-stop cooking and entertainment in the festival village. Attendees will be entertained by celebrity chefs, wine and beer masterclasses, music and much more.
You can plan your visit over the three days by browsing the full festival programme below or at: https://www.atasteofdonegal.com/2019-programme
Programme and Exhibitors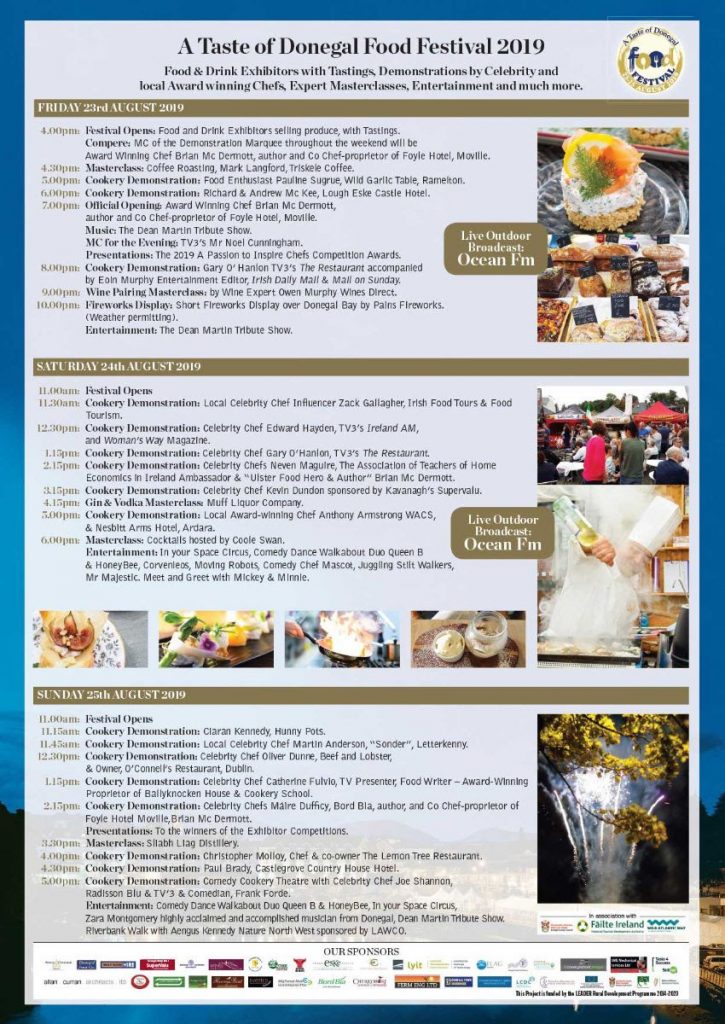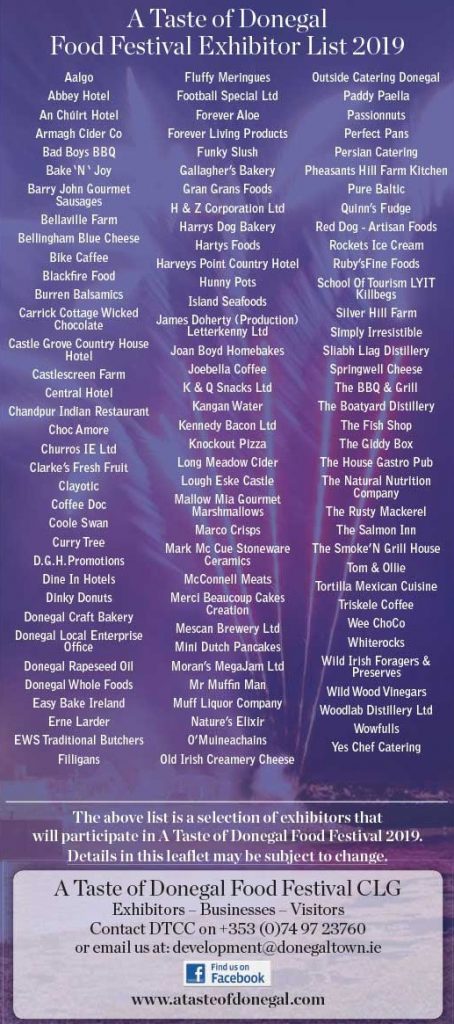 Parking
There will be plenty of parking available in Donegal Town – but it helps to know where they are.
The festival committee has arranged additional parking areas for the Festival and a map indicating their location along with the normal Town Car Parks. If you are mobile they are all within a pleasant short walk to the Festival Site on the Pier.
Please follow directional signs to additional car parking locations
Additional car parking available at the following locations:
The Glebe National School: The Glebe Donegal Town.
Abbey Vocational School: The Glebe Donegal Town.
Saint John Bosco Centre: The Mullin's Donegal Town
Donegal Livestock Mart: (behind the Saint John Bosco Centre)
Magee of Donegal: New Row Donegal Town
Four Masters GAA Pitch: Revlin Mountcharles Road Donegal Town.
Public Services Offices: Drumlonagher Donegal Town.
Public Car Parks: Behind Main Street, Bank Walk, and any other designated Parking Areas available.
There is also street parking in almost all areas of the town: visit www.atasteofdonegal.com for more information and see the parking map below: