A LAST-GASP point by Hugh McFadden saw Killybegs edge the frenetic race for the second promotion spot in Division 2.
McFadden arched over the winning score as Killybegs overcame Termon 0-9 to 0-8 at The Burn Road.
While Aodh Ruadh and St Naul's – who were both in the mix to join Ardara in elevating themselves to Division 1 – both won their games, McFadden's big score meant they just missed out.
In Ballyshannon, Aodh Ruadh defeated the Division 2 winners Ardara 2-11 to 0-8.
Philip Patton riffled in an early penalty and he turned provider for Shane McGrath to net the second goal for the Ballyshannon men eight minutes into the second half.
At Pairc na nGael, Naomh Columba led St Naul's 0-6 to 0-4 at half-time, but St Naul's were ignited by a Cathal Lowther goal in the opening minutes of part two.
However, Ronan Gillespie inched Glen in front again only for Stephen Griffin's pair of late frees to earn St Naul's a 1-8 to 0-10 win.
Both Aodh Ruadh and St Naul's were left glued for the update from Termon.
There, the teams were level at 0-5 apiece at half-time.
Termon pushed Killybegs right until the final blow of the whistle, but a long-range McFadden point sealed the win – and Killybegs' place back in the top flight.
It's a second promotion in a row for the Fishermen, who were the Division 3 winners last year.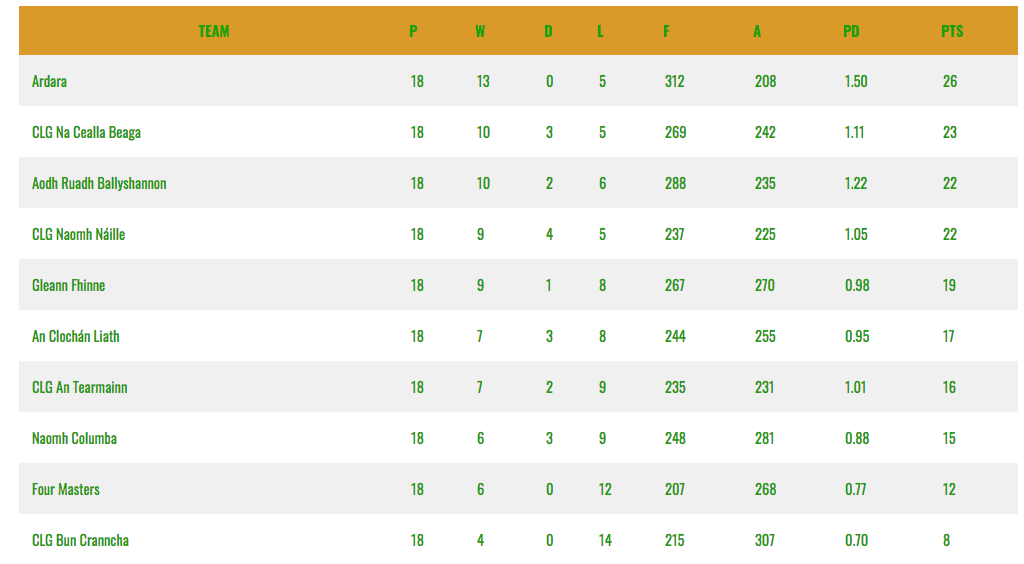 Tags: