THE MARGINS at either end of the Division 3 standings were so thin they went to score difference.
Downings were crowned winners of Division 3 as they defeated Burt 1-10 to 0-8, while St Mary's, Convoy booked the second promotion spot and Naomh Colmcille managed to avoid relegation to Division 4.
Downings had to avoid a heavy loss to Burt – whose own superb form fell apart in recent weeks – in order to win Division 3.
Keelin McGroddy netted a goal late in the first half to put Downings 1-6 to 0-4 ahead.
Eric Roberts (3), James Lee McBride, Gary McClafferty and Connor also pointed for Downings in the opening half.
In part two, Connor swung over a brace with McGroddy and Aaron McClafferty on the mark as Downings toasted glory.
St Mary's, Convoy squeezed into the second promotion spot as they defeated Gaeil Fhánada 1-12 to 1-4.
The teams were level 1-1 to 0-5 at the break, with Joe McGill hitting all five of the St Mary's scores.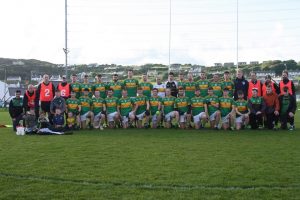 McGill arched over another three after the break before Donegal U20 ace Paddy Dolan rattled in a goal and Peter Blake kicked a late insurance score.
Malin defeated Naomh Bríd 0-14 to 0-9 in Trummon to finish level on points with St Mary's, but it is the Convoy outfit who go up. In May, Malin defeated Convoy by three points (3-10 to 0-16), but in July the tables were turned as St Mary's won by four points (2-12 to 3-5), a result that proved decisive.
It was a similar tale at the bottom of Division 3.
Naomh Ultan overcame the already-relegated Naomh Muire 1-14 to 1-12, but it wasn't enough for the Dunkineely side to be saved.
Naomh Colmcille – who had to play the majority of their League games away from Pairc Colmcille following a controversial punishment – came from eight points down to earn a 1-13 to 2-10 draw away to Red Hughs, with Matthew Crossan hitting the goal for Naomh Colmcille.
Naomh Colmcille won the two meetings with Naomh Ultan, including a 2-13 to 1-11 home win last weekend, so they survive on the head-to-head scenario.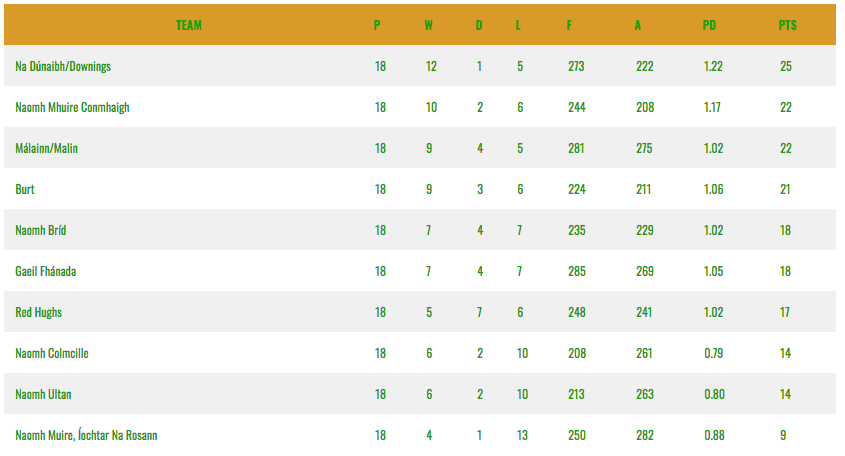 Tags: