THIS SATURDAY, September 14, from 12 noon, Full Tilt Studios is celebrating 10 years in Business with an Open Day – and all are welcome. 
It's the perfect opportunity to call to the studio say hello and have a look at the newly renovated facilities. There will be music and Live acts performing throughout the day which will be streamed Live through the Full Tilt Studios Facebook page.
This will include performances from Deirdre McLaughlin, Joseph Gibson (Sailor Bill) and also one of the most talked about Artists in Donegal at the moment Michael Maloney, who will be doing a live performance of his single 'What Do You Want To Know'.
Later in the evening there will be a Live stream featuring some of the DJs and Producers from Full Tilt and Full Tec recordings including Darren McMenamin Whoriskey, CMCK, Belmar & MAC-D.
If it's freebies your after, there is a competition running all week on the Full Tilt Studios Facebook page with the top prize of a place on one of the courses run at the facility.
Second prize is a day's recording and production with in house engineer & producer Tommy Conway and third prize a voucher for a vocal booth package.
Comment on the video on the page to enter its that easy.
Check out Full Tilt Studios Facebook page for more information. http://www.facebook.com/fulltiltstudios
Light refreshments served throughout the day.
Call, say hello and check out the facilities!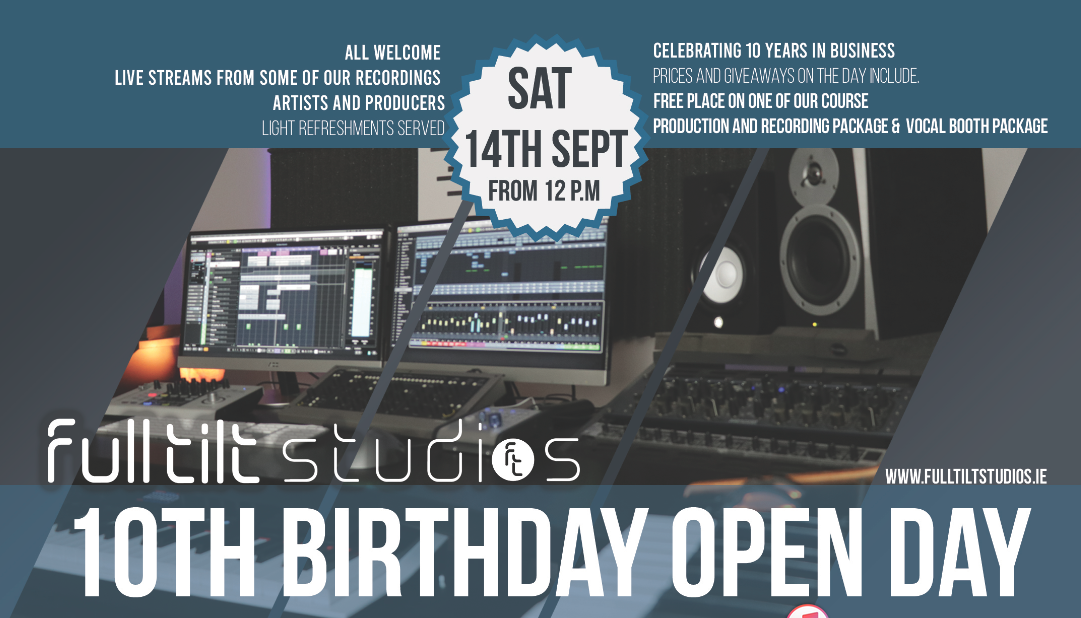 Tags: