There were poignant scenes in the halls of Deele College this afternoon as the school community paid tribute to former science teacher, Mrs Grainne O'Donnell, who passed away last February after a brave battle against cancer.
Former staff, students and current teachers at the school were joined by Grainne's family for a special mass, which was concelebrated by Father Eamon Kelly, Canon Dinny McGettigan and Reverend Wilson.
Though eight months have passed since Grainne's untimely death, the tears and sadness evident at the mass today is testament to the esteem in which she was held by everyone at the school. The school choir gave a wonderful performance and added to the solemnity of the occasion.
There were prayers for Grainne's family, including her father, Michael, her husband Kevin and her twin daughters, Kaila and Dara.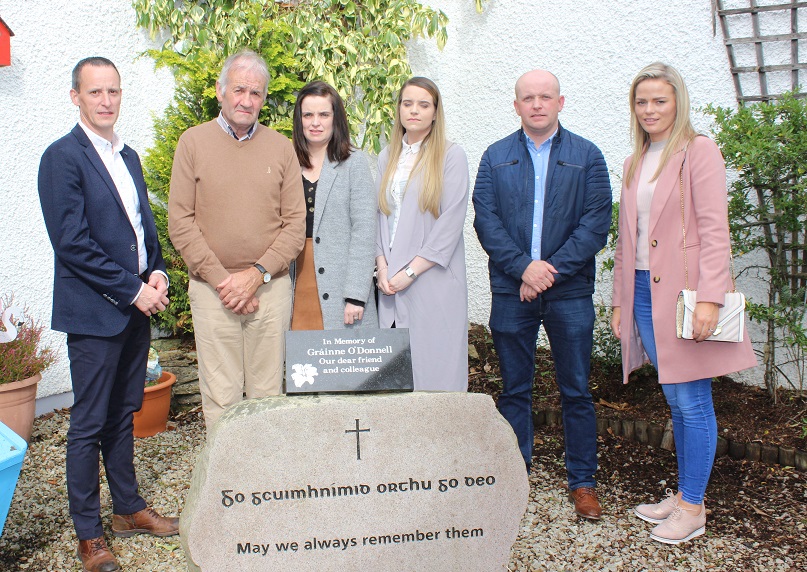 After the mass, a plaque was unveiled in the school's 'Remembrance Garden,' which was revamped by both staff and students in recent months.
The plaque in memory of Grainne takes pride of place in the garden and will ensure that her memory lives on in the school that was so close to her heart. The garden offers everyone in the school a quiet place to take time out and it is fitting that it is here that the school community will remember a teacher that gave so much to the students of the local area.
Grainne, who had taught in the school for 12 years, was extremely popular with both students and staff and her hearty laugh and bubbly demeanour are sorely missed by everyone connected to the school, especially amongst the science department, of which she was an integral member.
She will be remembered as a special person, who always put others first and her kindness and generosity will not be forgotten by the many friends she has left behind.
Speaking at the unveiling of the plaque, Deputy Principal, Mr Danny McFadden paid tribute to Grainne and highlighted what a caring and considerate teacher she was.
"It's still hard to come to terms with the fact that Grainne is no longer with us. We didn't just lose a very valued colleague, the students in the school lost a very kind, caring and considerate teacher, who always had the best interests of the students at heart.
"She will always be remembered here at the school and the plaque we unveiled today will ensure her memory is enshrined here at Deele College," he said.
Principal of Deele College, Mr Joe Boyle, echoed the sentiments expressed by Mr McFadden and said that it was important that Grainne would be remembered by everyone at the school.
"Today was a tough day but a special day. It's eight months since Grainne passed away and yet it feels like it was yesterday. Life in secondary schools moves fast and it's important that we take the time to reflect and remember those special people who are no longer and with us and Grainne was certainly one of those.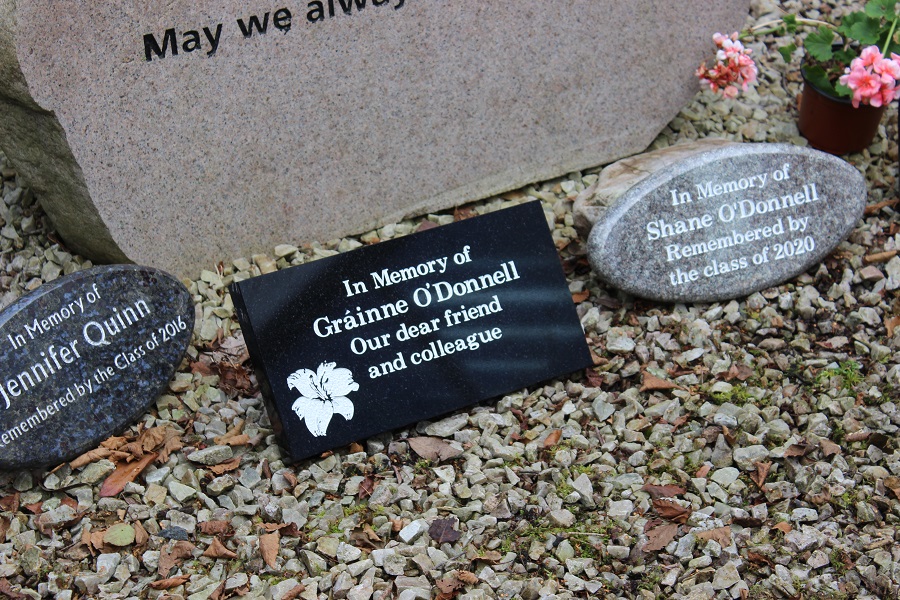 "I'd like to thank Kevin and all the family for coming here today and I hope that this day will give the family some measure of comfort as they try to cope with the loss of a wife, a mother, a daughter, a sister and a friend.
"Grainne's memory will live on in the hearts of those of us who worked with her at the school but today we ensured that her memory will be forever be associated with Deele College in Raphoe."
Tags: