A MEMORIAL Trust has been set up in memory of the late Manus Kelly.
The 41-year-old was killed while competing on day three of the Donegal International Rally in June.
The sportsman, politician and businessman was one of Donegal's most-loved personalities.
Manus – who had won the event in each of the three previous years – lost his life when the Hyundai i20 R5 left the road on special stage 15, Fanad Head.
Three months on from his passing, some of his close friends and members of the MK Rallying Team have set up a website, www.manuskellytribute.ie, and a Memorial Trust has been established.
"Our goals are to keep Manus' legacy and memory alive, and also to assist Manus's wife Bernie and their children in their future, which is what was at the heart of what Manus lived for," the Trust says.
"Over this past few months we have been inundated with calls and messages from people looking to help in any way to make sure that Manus' wife Bernie and their five children are looked after well into the future.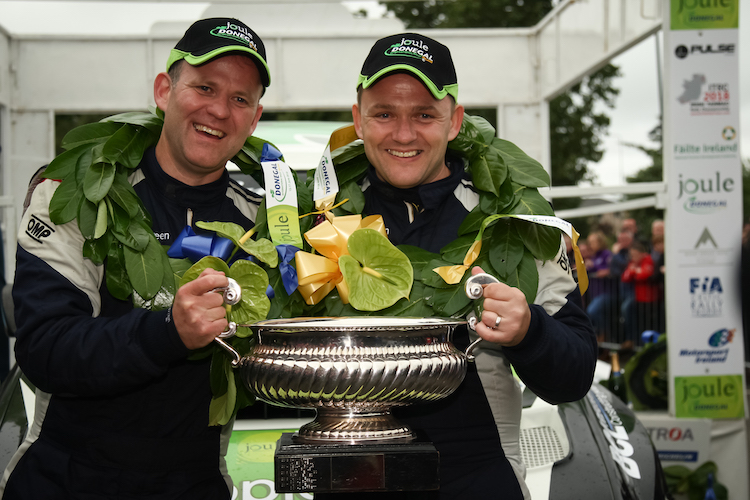 "With this in mind we have set up the Trust to establish and create a fund which will go solely to the assistance of Bernie and the children."
The proceeds raised will have a phased distribution and the Trust has four trustees – Donall Barrett, Paul Doyle, Seamus Doherty and Damian Doherty.
Barrett was Kelly's long-time friend and navigator who was injured in the crash.
Tens of thousands turned out to pay their respects at the wake and funeral on a week that rocked Donegal to the core.
The Trust members said: "Manus was a devoted family man to his wife Bernie, his children Annie, Mandy, Charlie, Conan and Bella, his parents Donal and Jacquline, his sisters Bridgin, Kelda, Ciara and Shannagh and his brothers Donal, Caolan, Teighearnan and Leon, as well as extended family.
"By now the realisation of Manus' death is as hard as ever – it doesn't at all seem fair. Our hearts go out to Manus' family, for their loss is hard for us to comprehend.
"For his friends and followers we have to remind ourselves of the reality but are continuously taken aback by the legacy that Manus has left behind."
A tribute night to Manus Kelly is being organised for Saturday, November 23, in the Mount Errigal Hotel, Letterkenny. Further details of this night will be announced in due course.
Tags: