The iconic footbridge over the Glen River in Carrick suffered significant damage as a result of the extreme rain that accompanied the passing of Storm Lorenzo last night.
In the early morning it became clear that the flooding in the Glen River had reached unprecedented levels.
At its highest, the water level was actually above the bridge's surface, and flowing onto the adjacent road. A large amount of debris, mainly consisting of branches collected by the swollen river, had backed up against the bridge.
The protective railings have suffered significant damage, with only short sections at either end still remaining. It is still unclear what damage has been done to other sections of the bridge.
The bridge links the Carrick River Walk to the picnic area and fishing spot at the Salmon Leap. The walk is a very valuable amenity and has now even got its own listing on TripAdvisor. "Walking in Paradise", "Lovely Evening Stroll" and "Refreshing" are some of the comments used in the reviews.
Agnes Cunningham, secretary of Coiste Forbartha na Carraige (Carrick Development Committee) said the area is concerned following the damage.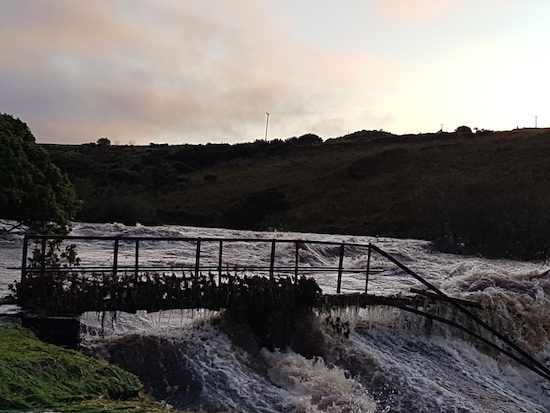 She said "We were very saddened this morning that the 'wee' bridge was severely damaged by the floods last night, making it unsafe for public use. The bridge serves as the lower access point to the Riverwalk which is very popular with locals from surrounding areas, visitors and fishermen alike. It is a huge loss to our community and it is viatal that it be repaired by the authorities as soon as possible."
The bridge, which was erected by the Fisheries Board, is used by anglers to access several of the best fishing spots on either side of the river.
Paddy Maloney, of Sliabh Liag Angler's Association, said "The bridge was useful to anglers, tourists and locals alike and will prove a major loss to everyone in the locality".
Assessment of the extent of the damage will now need to be undertaken. It is hoped by everyone locally that repairs can be carried out and that it will be open again before long.