A Donegal County Councillor has called for the closure of two Donegal islands in the interests of health and safety fears. 
Local county councillor Micheal Mac Giolla Easbuig said damage to roads and walkways on Gola and Owey Island was going to cause serious harm to visitors if emergency funding was not allocated in the next week.
The issue was raised at a meeting of Glenties Municipal District on Tuesday.
It is understood that funding has not been sanctioned from the Department of Culture, Heritage and the Gaeltacht for the islands in 2019.
In 2017, over €600,000 was allocated to all of the islands, while last year €359,000 had been allocated – a 25% reduction in funding.
However, Mac Giolla Easbuig said while the government spent money promoting the islands every year, the lack of proper infrastructure being implemented was 'alarming'.
Speaking to Donegal Daily, Cllr Mac Giolla Easbuig said: "Not one red cent has been allocated for roads on any of the Donegal islands this year.
"And recognising that money has been sanctioned in the past, which is fine, but I now have roads that are not safe to walk on never mind drive."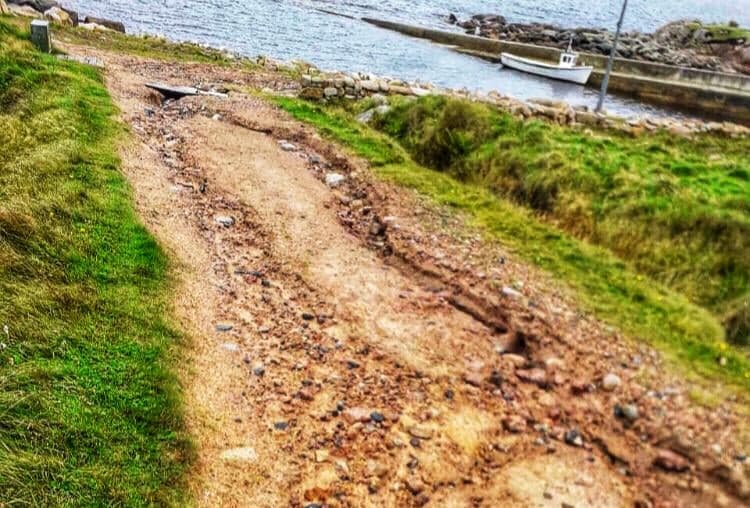 He added: "There is a huge contradiction here because the government will promote the Wild Atlantic Way and the Islands' but fails to put any proper infrastructure in place.
"So, without money being allocated very soon, some of the smaller islands need to be closed in the interest of health and safety.
"Gola and Owey Island are not fit for purpose, you cannot even walk on the island, it is that dangerous.
"And the last floods in August have done a lot of damage.
"I have been out on the Islands' recently and we need to get the government to announce proper funding so that we can fix the roads up to an acceptable level.
"We have businesses that are doing a huge amount of work to promote our islands, the likes of Selkie Sailing, Ian Miller, Rapid Kayaking.
"They are doing a colossal amount of work and the islanders themselves try to better their own community, but we are at a stage now were two of the islands that I mentioned are unfit to walk on. That is not even an exaggeration," he added.
"How can the state be telling people to come and visit the beautiful islands' of west Donegal if they are not fit for purpose?
"If a tourist asked me about going on Owey Island, I would tell them not too because it is not safe. It's sad.
"People can get seriously hurt because there are holes on the ground.
"There are literal holes on the ground and someone could break a leg very easily.
"We should be making these islands accessible to people of all abilities because a lot happens on them.
"Even over the summer, there were summer camps and festivals and the state continues to fail it.
"These issues shouldn't have to be highlighted like this, it should be done because the community deserve better."
Tags: