Looking for a rewarding past-time that will bring you to places you've never seen before?
Or how about getting an unparalleled view of underwater life and discovering incredible shipwrecks?
The Sheephaven Sub Aqua Club is seeking new club members to join them in their thrilling dives around Donegal.
The adventurous group is about to let everyone see what scuba diving is all about when they host a  Try A Dive on Tuesday 15th October in the Mevagh Dive Centre, Carrigart at 8.00pm. 
Entering this sport brings a host of benefits – you will gain the skills to meet the challenges of learning to dive and receive a world-recognised qualification.
And this upcoming event is your opportunity to sign up and join a friendly community that is so valuable to Donegal.
The Try A Dive event is free and all the participants need to bring is their swim gear, the club will supply the rest.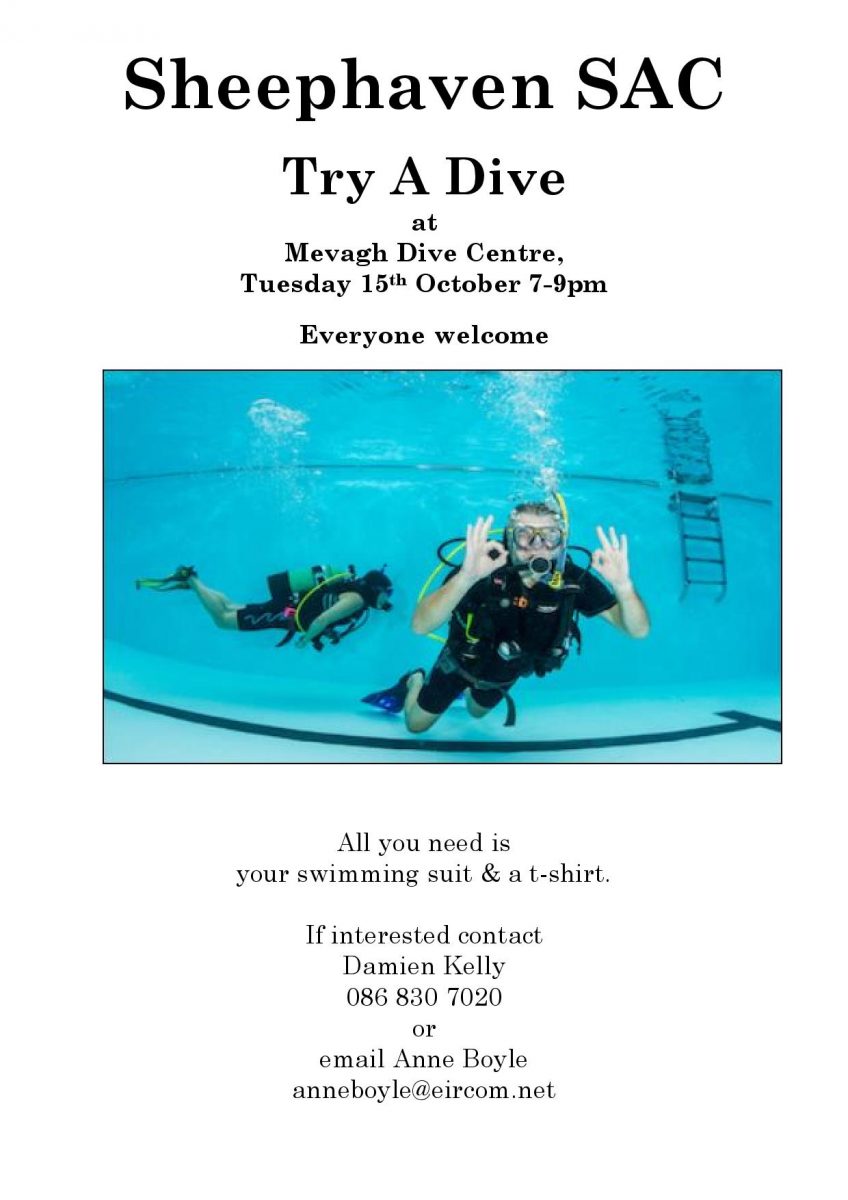 In home waters around Donegal, scuba divers are treated to pristine waters that contain reefs which have abundant and diverse marine life and shipwrecks that chart both Irish and European history on our doorstep. 
In summer time, the waters around Donegal rise in temperature to 16 degrees Celsius and in-water visibility can extend to 20 metres at locations such as Arranmore, Tory Island and Horn Head. 
In the winter time when sea conditions are too rough Sheephaven divers have access to the shelter waters of Mulroy Bay and dives at Dunloan Rock, Pan Rock and Campbells Bed are available. 
Club members with Sheephaven SAC will have access to a purpose built clubhouse, dive boats and air bank, backed up by the Irish Underwater Council grade structure delivered by the clubs instructors. 
Starting as a Trainee a new entrant into diving will be coached in the theory and skills of scuba diving in the safety and comfort of a pool setting before taking to the open water, after which they can progress through the grades to whatever level they are comfortable with. 
There is always some form of a Sheephaven activity 52 weeks of the year.
Snorkelling is a big part of the Sheephaven diving scene and every Sunday morning there is snorkel in Portnablagh, followed by a social chat and cup of tea.
Sheephaven club members have toured the world, from Scotland, Malta, Spain, Cuba, The Maldives, Galapagos Islands and numerous times to the Red Sea, all on the back of the qualifications achieved diving with the club. 
Club members give back to the community through their Search and Recovery Unit, where qualified divers who volunteer can receive additional training to provide assistance to the Civil authorities, should be they be called upon.  
So for anyone interested in taking up a challenge that will reward them physically and literally take them to places they have never seen before – then their journey begins with the Sheephaven Try A Dive. 
For further information Anne Boyle can be contacted at anneboyle@eircom.net or Damien Kelly 086 8307020 and club activities can be followed on our Facebook page Sheephaven SAC. 
Tags: