The Local Link public transport service is to expand its services across Donegal.
Most of the Donegal public will now be familiar with the bus service which operates in most towns across the county.
Now Local Link Donegal Sligo Leitrim is delighted to announce extra services within Inishowen and new connecting services to Letterkenny.
All of a sudden Donegal is becoming a much smaller place thanks to this reliable, clean and friendly service.
From Monday, 14th October 2019, Local Link will commence the following additional transport services in Inishowen: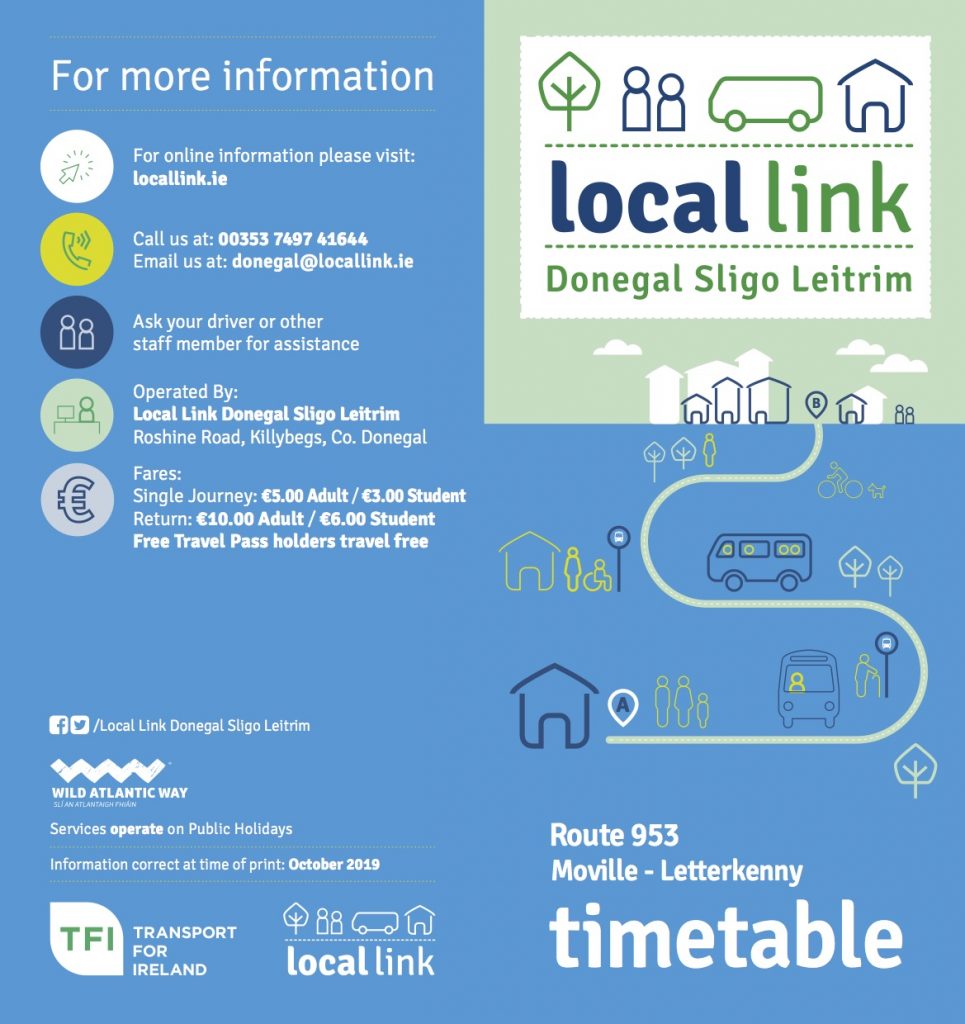 1. Route 953 Moville to Letterkenny – Mon to Sat – 3 return services per day
• via Quigleys Point & Muff
2. Route 954 Moville to Carndonagh – Mon to Fri – early morning & return evening service
• Via Gleneely, Culdaff & Malin Town
• These morning & evening services will connect with McGonagle's Bus & Coach service to Letterkenny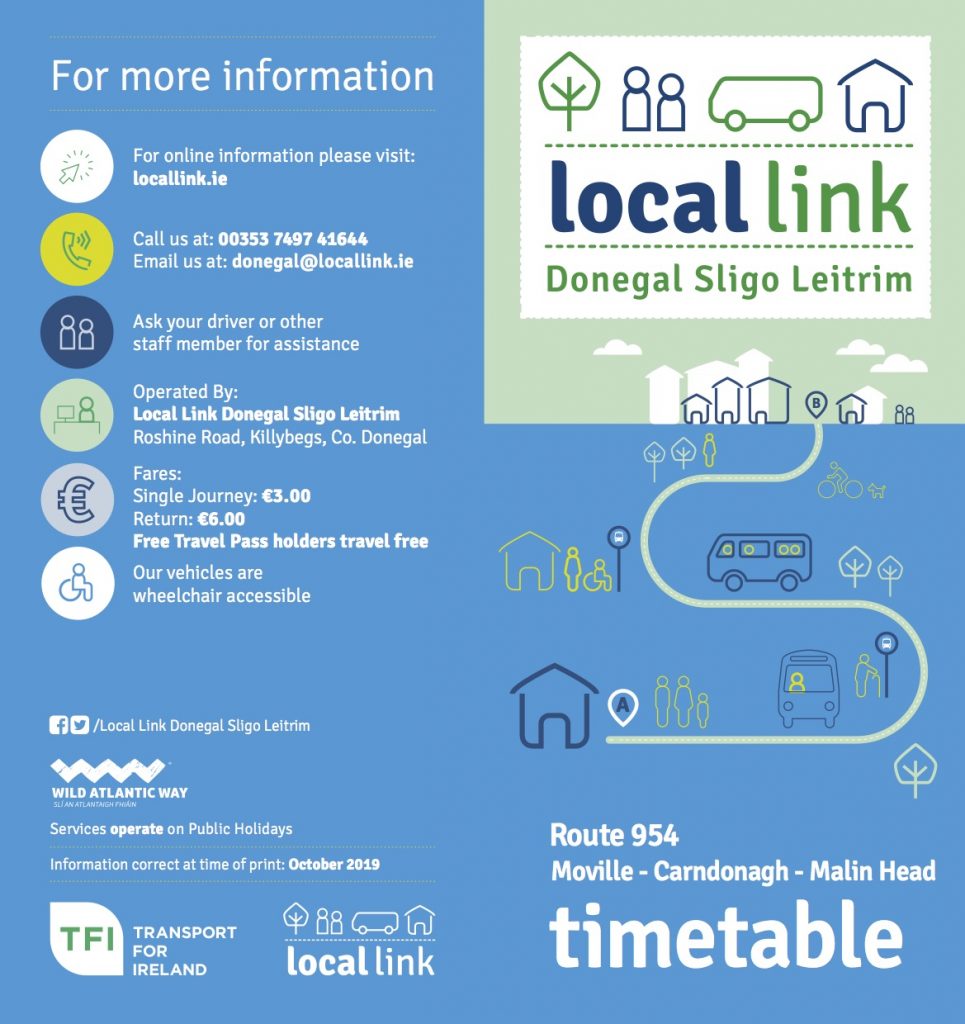 3. Route 955 Carndonagh to Buncrana – Mon to Fri – midday service
• Via Ballyliffin & Clonmany
• This service will connect with McGonagle's Bus & Coach 1.30pm service to Letterkenny
4. Route 955 Buncrana to Carndonagh – Mon to Fri – early evening service
• Via Drumfries
• This service will connect with McGonagle's Bus & Coach 3.30pm service from Letterkenny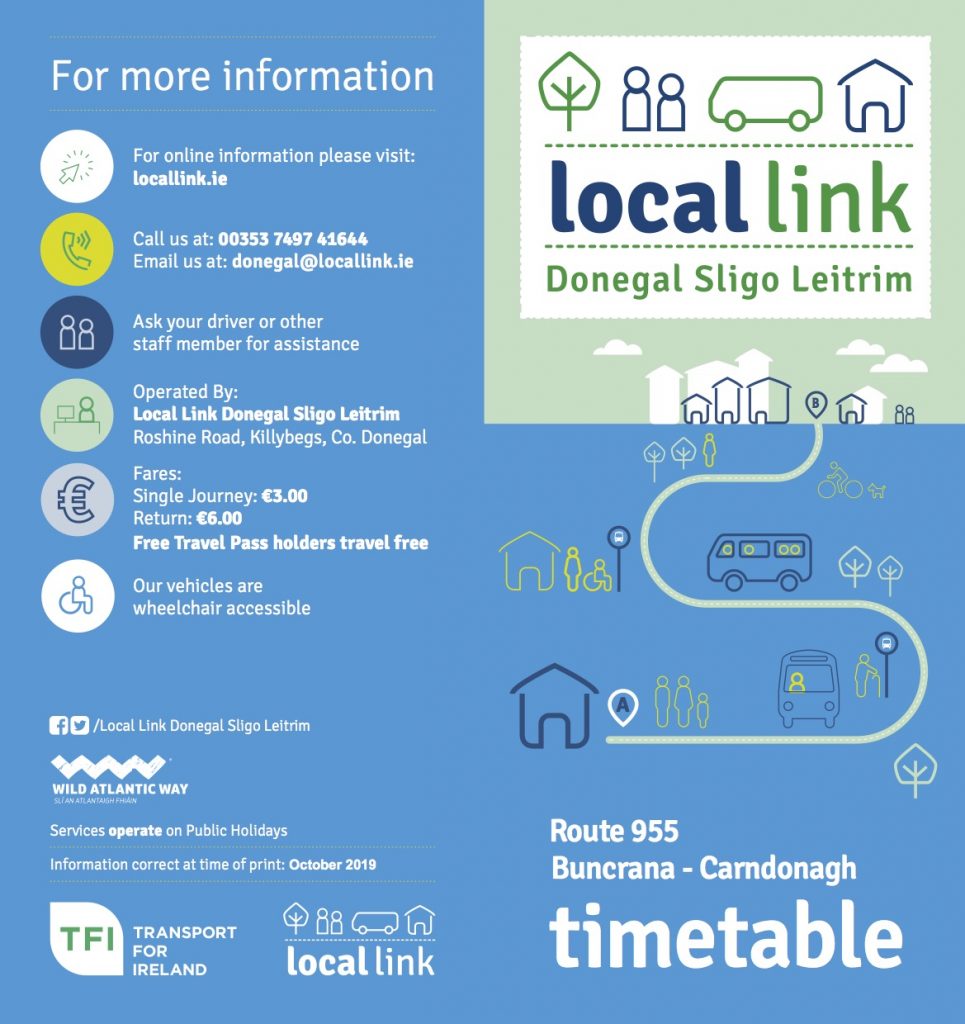 Timetables are available in local papers week commencing October 14th, on our Facebook page: Local Link Donegal Sligo Leitrim, or alternatively, for more information, call 07497 416444.
The above services are in addition to the existing services provided by Local Link in the Inishowen area. As from Monday, 14th October, the areas of Clonmany & Ballyliffin will have public transport services pass through their area 8 times per day, from early morning to late evening.
This includes two demand responsive services. The services will link these rural areas to the larger towns of Carndonagh & Buncrana and allow for connectivity to Letterkenny, Derry and beyond.
A spokesperson for the company said "We look forward to a solid working relationship with the McGonagle Bus & Coach team which will provide connectivity and sustainability for the communities in Inishowen.
"From the response received to date we are confident our Local Link subsidised services will be well supported by the people of Inishowen.
"Our services will be strictly monitored in the coming months and timetables will be reviewed thereafter to ensure we are meeting the needs of the community."
For more information on the above additional services and all other services provided by Local Link in Inishowen, please call 07497 41644 or visit our website at http://locallinkdonegal.ie/timetable/