TERMON PREVAILED after a gutsy showing and survived almost 11 minutes of added time to reach the Ulster senior ladies final.
Termon 1-9 St Macartans 2-5
By Chris McNulty at The Burn Road
Spurred by Geraldine McLaughlin's 1-8 and led by a heroic defensive display, Termon had the narrowest of margins to spare.
First-half goals by Chloe McCaffrey and Colleen McQuaid had given St Macartans the edge for the most part and when the Tyrone side – managed by former Red Hands star and newly-installed Fermanagh boss Ryan McMenamin – hit the first three points of the second half, it didn't look good for Termon.
St Macartans, who were Ulster champions two years ago, led 2-1 to 1-3 at half-time and burst out for the second half with McQuaid, McCaffrey and Slaine McCarroll scoring in a six-minute spell to open up a four-point lead.
McLaughlin kept the board ticking for Termon and twice drew her team onto level terms, with Paula Donnelly kicking St Macartans ahead again in between times.
McLaughlin levelled things up in the 69th minute from a free, but there was still plenty of time for the pendulum to swing.
Referee Yvonne Duffy played over 10 minutes extra with St Macartans having McConnell sent to the sin-bin during those frenetic, nervous closing minutes.
McLaughlin popped a free inches wide with what seemed like a chance to win it but in the seventh added minute, McLaughlin got on the ball via good link-up by Chelsea Gorman and Bridget Gallagher to convert and send the Burn Road crowd into raptures.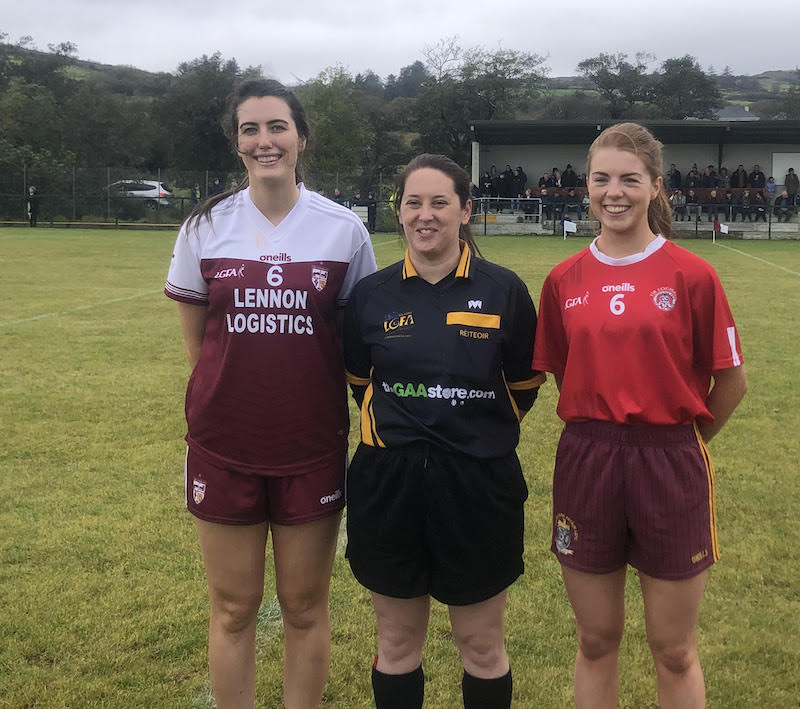 McLaughlin had to work harder than most for frees over the hour, with Duffy feeling the wrath of the big attendance as the tie threatened to descend into darkness at times. There were times when it felt as if frees were a rare commodity and, as the time ticked on, the stage looked to be set for extra time.
However, 16-year-old Gorman – who had a fine outing – and Gallagher carved out the opening and McLaughlin arrowed over to seal a place in the Ulster decider. 
The match winner came just after McCaffrey fired wide down the other end. Forced wide by Mya Alcorn, the angle became too narrow and McCaffrey's effort trailed off.
Termon were without the suspended Eimear Alcorn and the injured Aibhe McDaid, but had some big performances to thank as they squeezed over the line.
Captain Emer Gallagher showed the way when the game was in the melting pot, Evelyn McGinley was magnificent throughout and Nicole McLaughlin manned a tight unit at the back.
Termon were breached after only seven minutes when McCaffrey's free dropped through the palms of the unfortunate Orla Corry and into the net.
Termon, though, hit back when McLaughlin riffled home just three minutes later.
Scores were scarce, but McQuaid saw her attempt float to the net on 22 minutes. A goal that had a stroke of fortune about it, but a strike that was crucial in giving St Macartans a slender advantage at the short whistle.
Donnelly slotted over after Meabh McDaid's tenacious bock denied Tara O'Hagan while McQuaid saw another shot cannon off the upright with Termon scrambling to clear the lines. Ten minutes from the end, McDaid hooked from her goal-line as McQuad seemed to have flicked to the net. McDaid's intervention came with Termon having just inched back to within a point.
Gallagher tucked over and a pair of McLaughlin frees had Termon breathing on the St Macartans necks again.  
Corry – who was included here as Termon opted to play the experienced Maureen O'Donnell in their attack – found sub Lucy O'Flynn with one vital kick-out when Termon just needed the ball.
McLaughlin's leveller came just as the 60th minute arrived and Termon were energised by the score. 
Down the home stretch, the tough questions came. 
As she has done so often in the past, McLaughlin came up with the goods and the Burn Road almost burst its seams as the whistle came and a place in another final – their first Ulster final since 2015. 
Their old nemesis, Donaghmoyne, await in the final. The more things change, the more they stay the same.
Termon: Orla Corry; Chelsea Gorman, Meabh McDaid, Olive McCafferty; Niamh Friel, Evelyn McGinley, Jamie-Leigh Murray; Nicole McLaughlin, Emer Gallagher; Mya Alcorn, Shannon McLaughlin, Jodie McFadden; Maureen O'Donnell, Geraldine McLaughlin (1-8, 7f), Bridget Gallagher (0-1). Sub: Lucy O'Flynn for McFadden (51).
St Macartans: Aoife McNeilis; Grainne McKenna, Shannon McQuaid, Maria Donnelly; Lynda Forde, Niamh McGirr, Slaine McCarroll (0-1); Tara-Meabh McCarroll, Mara McMenamin; Paula Donnelly (0-1), Tara O'Hagan, Cathy Maguire; Chloe McCaffrey, (1-1f) Colleen McQuaid (1-1), Joline Donaghy. Sub: Shauna McGirr for O'Hagan (52).
Referee: Yvonne Duffy.
Tags: