Do your friends and family describe you as a people person? With a caring nature? Passionate about health and wellbeing? Always motivating others to try new things? Then this is the role for you! 
DLDC have an exciting opportunity for unemployed people in North Donegal. The company are currently recruiting health facilitators in North Donegal. To be eligible people need to meet the Tús or Rural Social Scheme criteria.
The health project offers free support to individuals and communities who want to improve their overall health and well-being. 
Siobhan Coyle, DLDC explained, "Health facilitators work with people on a one-to-one basis, helping them identify the health area they want to improve, and provides them with support and motivation to make small lifestyle changes. The role is really suited to a person who enjoys working with people, has an interest in wellbeing or wants a career in health and wellbeing or community work. Full training is provided". 
Jackie Devine was looking for opportunities to gain work experience to gain meaningful employment. We asked her to describe her experience so far:
"I've been involved in lots of different activities, for example group work and promotion at public events. It has really broadened my horizons. I have been able to fit in my time on the project with my family life. The project works around me. Working one to one with clients have given me great experience in developing my communication and interpersonal skills."
DLDC are recruiting health facilitators in North Donegal. This includes Inishowen, Fanad, Rosguill, Derryveagh, Falcarragh, Letterkenny, Milford, Kilmacrenan and Ballyboffey northwards.
The positions are under the RSS or Tus programmes. The Rural Social Scheme (RSS) is aimed at low-income farmers and fishermen/women. The Tús initiative is a community work placement scheme providing short-term working opportunities for unemployed people. 
Siobhan Coyle, explained: ''There are various criteria that people need to meet to be eligible for Tús or RSS. I would advise people contact us directly so that we can go through the different criteria as everyone's situation is different''.
DLDC are holding an open drop-in information session on Monday 21st  October  2-4pm in the DLDC Offices at No.1 Millennium Court, Pearse Road, Letterkenny. For further information contact Laura Duddy 07491-27056 lduddy@dldc.org. The Deadline is Friday 25th October.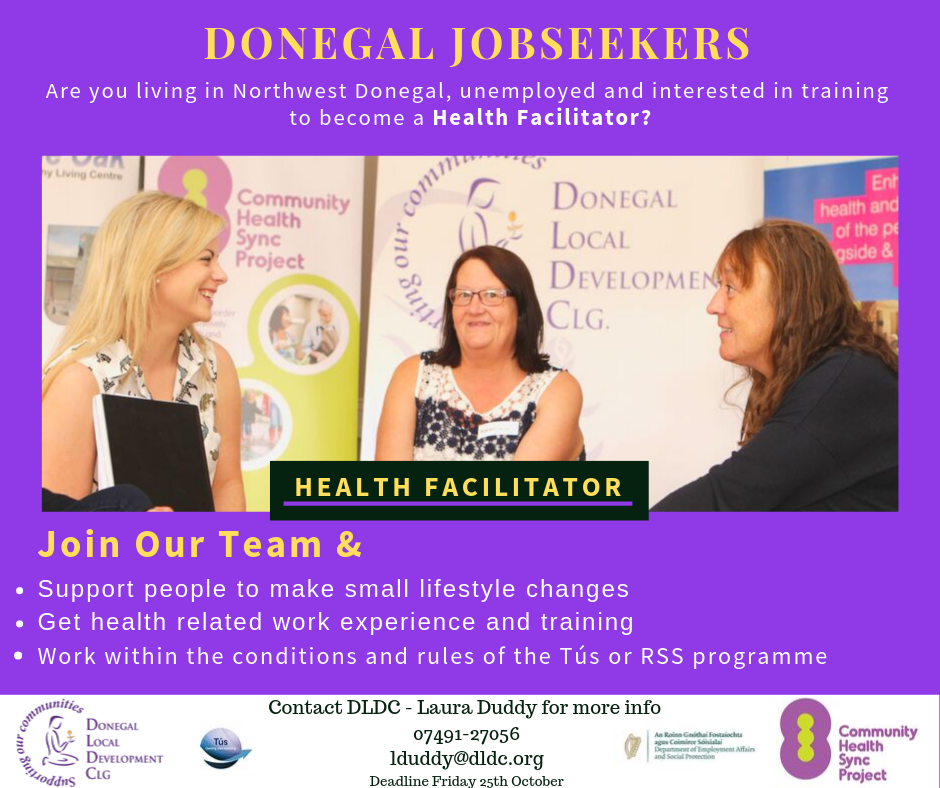 Tags: