Donegal TD Pearse Doherty has hit out at the government over child homelessness after a photo of a young boy eating dinner on the side of a street emerged online.
The photo showed 'Sam', a five-year-old boy, eating food off a sheet of cardboard on the streets of Dublin.
The image was shared by Homeless Street Cafe volunteers after a busy night in the city.
"Can we really accept this?" the volunteers wrote.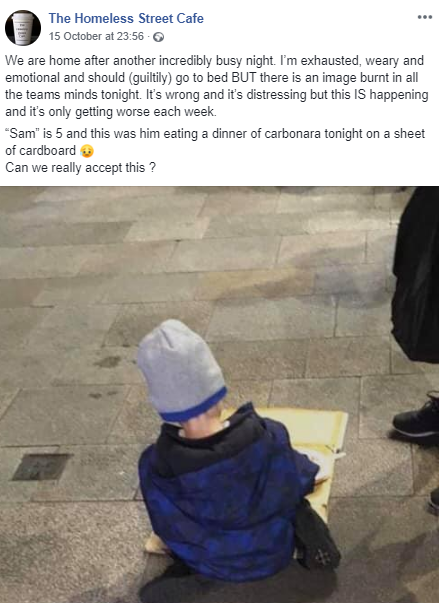 The Facebook post prompted Pearse Doherty TD to raise the issue in the Dáil today, accusing the Government of hiding behind figures instead of tackling the growing child homelessness crisis.
Doherty said: "The volunteer group who met Sam made clear that his mother is trying her best to provide nutritious home cooked meals for her children.
"Like so many parents of homeless children in this State, their emergency accommodation strictly forbids families from cooking meals for their children.
"This is Sam's life. Without a home, he is left without the comfort and security that should be the right of every child.
"That is the life that Fine Gael have condemned nearly 4,000 children like Sam to."
Doherty said that homelessness and the housing crisis in Ireland today is a 'national shame'.
"The moral stain of child homelessness is creating a lost generation of children who are having their childhood stolen," Doherty said.
The solutions to the crisis, Doherty told the government, lie in Sinn Féin's alternative budget:
"Our alternative budget would have invested an additional €1bn in public housing, affordable rental and affordable purchase homes and introduced a rent freeze and refundable tax credit for renters.
"These are the solutions that are needed to deal with the housing and homelessness crisis. Instead, you and your partners in Fianna Fáil chose to ignore these people in a budget without ambition, ideas or much needed investment that would have given workers and families a real break."