Letterkenny Shopping Centre has launched an ambitious new programme to reward their shoppers and support their tenants.
The FREE VIP Loyalty Fob is a smart fob carried by customers which enables participating stores to send personalised offers, discounts and promotions in Real-Time to their customer's mobile. With €100s to be saved in over 50% of Letterkenny Shopping Centres stores, plus over 100 stores based in other shopping centres across Ireland with more joining soon.
It's simple to use – just present your VIP Loyalty fob in selected stores to get discounts and loyalty gifts from participating retailers, plus Perks like free coffee, birthday gifts and VIP treatment.

The scheme was launched in Letterkenny Shopping Centre on Bank Holiday Monday, October 28th.
Speaking to Donegal Daily, Centre Manager Brian McCracken said, "We're very excited to bring this unique scheme to Letterkenny Shopping Centre – offering customers significant savings and VIP perks whilst also giving our tenants an innovative and flexible way to interact with customers, push offers and special promotions in Real-Time to consumers.
"The scheme is powered by Irish tech firm Pearlai and we're the first shopping centre in the Republic of Ireland to employ this technology."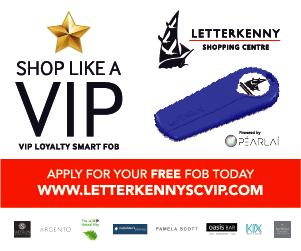 Apply online in minutes at www.letterkennysc.com/VIP, select your favourite stores, and collect your FOB from the Letterkenny SC manager's office.
Your fob is FREE but donations are welcomed for Letterkenny's project charity partner, Pieta House.
Apply online at www.letterkennysc.com/VIP to get your FREE Fob and start saving today!
Tags: