A new leaflet has been launched to welcome young people from Syria to Donegal and provide them with information about local services.
The leaflet was created by the Donegal Youth Service and written in Arabic as part of an inclusiveness project for Syrian families.
The DYS says it aims to help all young people to feel included and welcome to take part in any part of the service, regardless of their race, gender, religion, sexuality, or any other factor.
Youth Worker Frankie McGreevy has been working on the project for the past year. He said: "This leaflet is part of a larger welcome project that has given us an amazing opportunity to work with and learn from Syrian refugee children and their families, who have shown great strength and resilience having survived the Syrian war as well as the perilous journey to get to these shores."
The leaflet which is entirely in Arabic encourages young people to visit Donegal Youth Service and join any part of the service that interests them. Language doesn't need to be a barrier, as advances in technology mean that staff can find a way to communicate with any young person who comes through the doors. Donegal Youth Service have worked with young people from all over the world, and make every effort to ensure they all feel welcome and included.
The project was created in partnership with the Donegal Local Development Company Resettlement Programme, with funding from the Community Foundation for Ireland.
The official launch took place on Wednesday the 23rd of October in Letterkenny.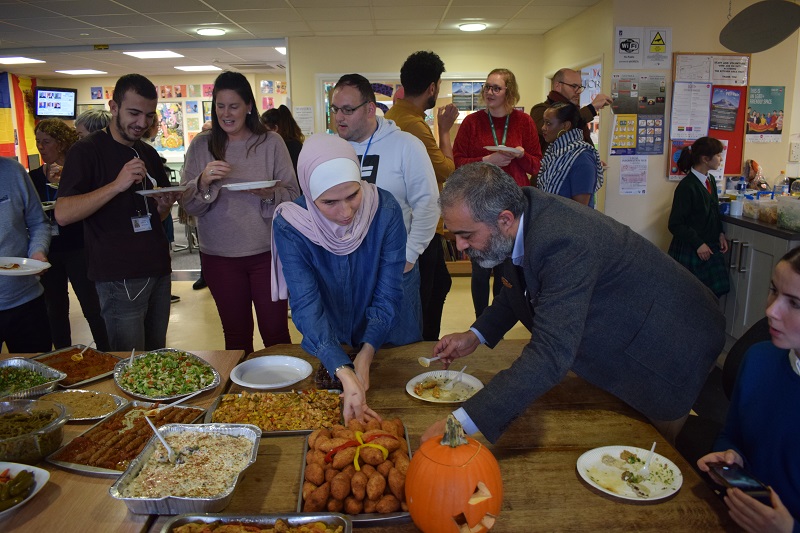 Irish Refugee Food Fair at the Donegal Youth Service in LetterkennyThe launch took place as part of the Irish Refugee Food Fair, an initiative from the UN Refugee Agency (UNHCR) in partnership with Slow Food Ireland which gave asylum seekers and refugees an opportunity to showcase their culinary talents, with events taking place all over Ireland.
Donegal Youth Service was delighted to host the event in Letterkenny, with Syrian couple Nadine Berri and Bilal Abd El Jalil cooking an authentic Syrian feast for the local community.
For a copy of the leaflet, or for more information about DYS programmes and services then please contact DYS on (074) 91 29630, e-mail admin@donegalyouthservice.ie, visit www.donegalyouthservice.ie, or call in to us at 16-18 Port Road, Letterkenny.  Stay up to date on Facebook, Instagram & Twitter.  
Donegal Youth Service is a registered charity.  Registered Irish Charity Number: 20050696. Do you have a fundraising idea? We would love to hear from you!
Tags: