Hundreds of people from Donegal will pull on their running shoes and flashing armbands and hit the streets for a 'Run in the Dark' on November 13. 
The people of Gaoth Dobhair and beyond will be joining in a pop-up edition of the fifth annual run, starting at 8pm from the Amharclann Gaoth Dobhair.
Participants are invited to run, walk, wheel or do part of the route. Everyone is welcome to join in however they can, there will be two laps of the estate but participants can do one if they wish. Refreshments and entertainment will be provided afterwards.
All proceeds from the West Donegal run will do towards the Mark Pollock Trust and the Donegal-based No Barriers Foundation.
The Run in the Dark started as an idea on a notepad and has grown from several hundred people running around Trinity College Dublin (Ireland) in 2011 to a global event of 25,000 people.
Last year, the pop-up edition of the global fundraising movement in west Donegal raised over 350 in attendance and €2600 raised in total.
This year, there will be official Run in the Dark kits for distribution to first 20 finishers.
Suggested donation of 10 euro per adult and 5 per child with no families paying more than 20 euro.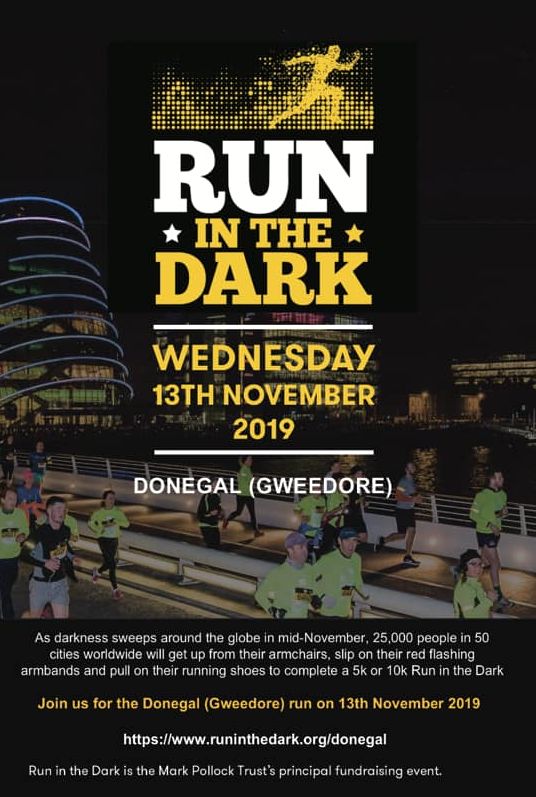 The annual affair fuels the Mark Pollock Trust whose mission is to cure paralysis. Pollock suffered a catastrophic spinal cord injury in 2010 when he fell from a second-storey window that left him paralysed.
Prior to the accident, Pollock had competed in ultra-endurance races across deserts, mountains, and the polar ice caps and was the first blind person to race to the South Pole.
Pollock recently told his story in a joint TED talk with his fiancée Simone George.
Every donation, every step, every study brings the Mark Pollock Trust closer to a cure for paralysis and enabling people to walk again.