Are you a person with a disability? Have you experienced difficulty accessing services related to fertility, contraception, abortion, pregnancy, childbirth or parenting?
The Re(al) Productive Justice project wants to hear from you.
This project is setting out to highlight the reproductive experiences of persons with disabilities in Ireland.
Researchers are visiting Letterkenny Resource Centre on Friday November 22nd to record the personal accounts of persons with disabilities, over the age of 18, who want to talk about accessing reproductive services in Ireland. 
Dr. Áine Sperrin and Maria Ní Fhlathartha from the research team will be in Letterkenny to tell people more about the project, to record Oral History or Key Informant interviews or to take potential participants' details to get in touch at a later date. 
The Re(al) Productive Justice project is based at the Centre for Disability Law and Policy at NUI Galway. Led by Prof. Eilionóir Flynn, the Research Team is comprised of Dr. Áine Sperrin, Dr. Jenny Dagg and Maria Ní Fhlathartha. The project runs from 2019 to 2022 and focuses on experiences across the Republic of Ireland. 
The researchers said: "We want to hear your stories about difficulties you have had based on your disability when you have used, or tried to use, reproductive services. Reproductive services include fertility and contraception – including surrogacy, abortion, pregnancy and childbirth, parenting – including fostering and adoption. Oral Histories will be recorded on a tape recorder. All Oral Histories collected can be anonymous if desired and will be archived for use by researchers in the future."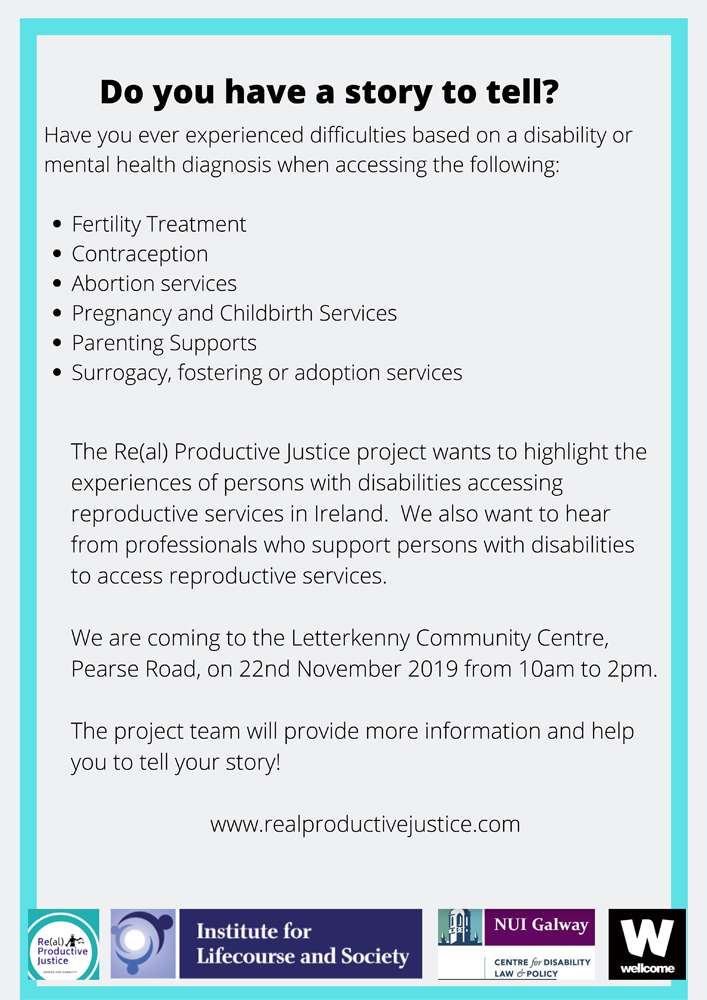 Who can participate?
The project is open to people over the age of 18 who identifies as having a physical, intellectual, sensory or psychosocial disability.
Anyone who identifies as neurodivergent and users and survivors of psychiatry.
We are interested in people with disabilities who live in rural communities, are members of the Travelling Community, the LGBTQI Community, the Direct Provision community and people who have experiences with institutionalisation. 
"Key Informant interviews will determine the impact of legislation and policy on people working in the disability and reproductive services sectors.
"Do you work in the field of reproductive rights for persons with disabilities? 
"Are you a legal, medical or social work professional with experience of supporting a persons with a disability to access reproductive services?
"We also want to hear from you!"
The Re(al) Productive Justice project is coming to the Letterkenny Resource Centre on Friday November 22nd from 10am to 2pm.
For more information see www.realproductivejustice.com or contact the Research Team on realproductivejustice@nuigalway.ie or by calling 091 49 42 72