ROSIE Doherty felt a mix of emotion as she climbed through the ropes at the National Stadium on Friday night.
Boxing can be a lonely business at times, but the Carndonagh woman felt everything but alone.
As she lined up for her National Senior final against fellow Inishowen woman Caroline Gallagher, Doherty felt at one stage as if 'my legs would give way'. 
Three rounds later, Doherty – boxing for the St Francis BC from Limerick – was crowned as welterweight champion; a third Irish title added to the sideboard. Vindication for making the comeback. 
And a promise fulfilled.
"It meant so much for me because I wanted to make my mum so proud," Doherty says.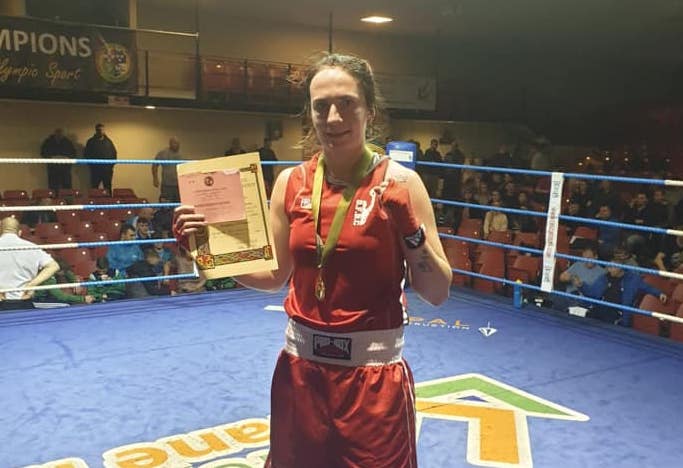 Eileen Doherty passed away in May 2017 after a battle with cancer.
Their world tumbled upside-down and inside-out all at once.
"I I was doing this to make her proud," Rosie says.
"Mum was the strongest person I've ever known. I just wanted to keep pushing and keep achieving. She was such an inspiration for us all. In boxing, you're the only one in there, but I felt mum was with me in the fight.
"That was my first time to box at the National Stadium without mum being there. We always got a picture together in the Stadium, so this time I brought a picture of her with me. That meant so much for me."
In her teenage years Rosie was the Irish Under-18 champion and the National Senior Cadet champion.
College called and, as she studied at Letterkenny Institute of Technology, she hung up the gloves.
Now dong a masters in PE at the University of Limerick, she was tempted back and trains under Ken Moore at St Francis.
"It was hard enough to go back in," she says.
"I just had a passion for boxing; I always did. I needed to get back to the level I was at and, when you want to do that, you just have to dedicate. So, it's straight from college to training, from the library to the gym. That's just the way it has to be.
"It's really good at the club here. They have a nice, family set-up and they made me feel so welcome. I've got a good connection with Ken, the coach and I couldn't have done this without his work and help. I love it here."
It was an emotional night, too, for the St Francis club. It was Moore's first time in the National Stadium since the passing of murder victim Kevin Sheehy – a five-time Irish champion – in July. The undercurrents were plentiful for this one.
That she was up against Gallagher, who she knows having trained at Illies Golden Gloves for a time – ad having had a fight for the club at a tournament in Portugal – added to the strangeness of the occasion. 
She took herself off social media for the build-up and wanted no distractions.
"It was a bit weird alright," she says. "You just have to block that out. I got off social media beforehand and I was working really hard. I've only been in St Francis for about six or seven weeks so I didn't really know what to expect.
"I was happy with my performance, but I know I have so much more to give."
Her boxing teeth were cut at Carndonagh Boxing Club, under the tutelage of the likes of Mickey Crossan, Jim Callaghan and Johnny Mulhern.
She thought at one point as if titles were in the past, but the nostalgia came back as she made her way down the South Circular Road on Friday night.
"I can't explain how nervous I was," she says. "I actually thought that my legs were going to give way. It was first time in the National Stadium in about five years. It was so nerviest-wracking.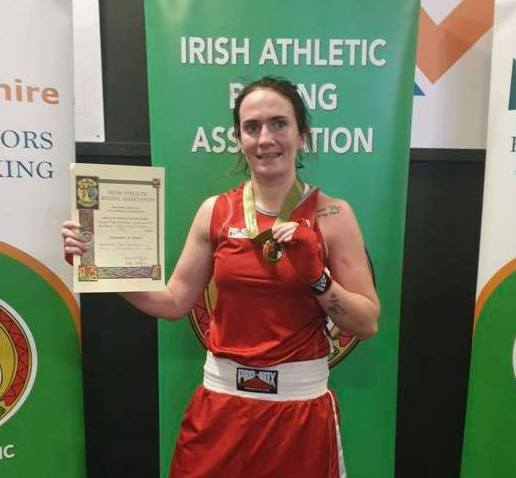 "I really enjoyed it. My legs were completely dead in the third round and Caroline just kept coming at me, putting the pressure on."
Soon, the bell rang and silence filled the old place. 
As Peter O'Donnell, the ringside master of ceremonies, read the result, Doherty's head spun.
"I couldn't even speak to my coach," she says. "I was just stunned. I was happy with how I boxed and had all the different impacts going on. But I just didn't know what to do at the end. It meant so much to me."
As for what's next, she's not quite sure, but does want to 'push on and progress'. "I'm in a really good club and, even though I've only been here a short time, I know I can get better here," she says.
Friday's title, in so many ways, felt a consequence of another focus.
"This was about more than an Irish title," she says. 
"I was doing this for mum. That was my drive."
Tags: