A Donegal man has been named TG4's Singer of the Year.
Gort a' Choirce's, Lillis Ó Laoire, two-time winner of the premier sean-nós singing competition Corn Uí Riada in 1991 and again in 1994 is to be awarded the title.
Lillis now lives in Galway, where he lectures in Irish, folklore and Celtic civilisation at NUI Galway.
O'Laoire was raised in a bilingual family and spoke both Irish and English at home.
He learned traditional songs in school, but his interest in singing truly began during his time at NUI Galway, where he studied Irish and took classes with celticist Breandán Ó Madagáin.
Ó Madagáin taught Irish poetry and texts in relation to music, and O'Laoire became interested in this connection through him.
He started publicly singing in competitions at NUI Galway, organised by the Irish language society at the time and in 1986, began competing at the fleadh ceoil. In 1991 and again in 1994, he won the prestigious Corn Uí Riada singing competition at the Oireachtas na Gaeilge.
Harper Laoise Kelly from Westport, Co. Mayo is announced as TG4's 'Musician of the Year', and is one of the youngest recipients of the main award to date. Laoise will be awarded the title at TG4's Gradam Ceoil gala concert which will take place in Belfast's Waterfront Hall next February.
The other award recipients are Lifetime Achievement Award to Séamus Connolly, Outstanding Contribution Award to Nenagh's Ned Kelly and Composer of the Year to Josephine Marsh.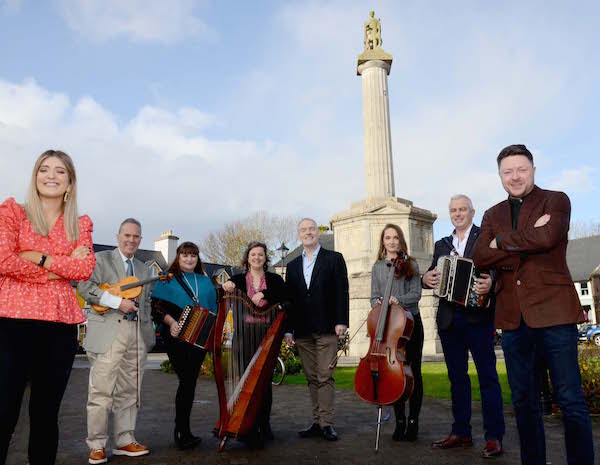 Gradam Ceoil TG4 is 23 years in existence, an awards ceremony that recognises and celebrates the cream of Irish traditional music.
The full list of TG4 Gradam Ceoil 2020 recipients reads as follows:
Ceoltóir na Bliana/Musician of the Year: Laoise Kelly
Ceoltóir Óg/Young Musician of the Year: Sharon Howley
Gradam Saoil/Lifetime Achievement: Séamus Connolly
Amhránaí na Bliana/Singer of the Year: Lillis Ó Laoire
Gradam Comaoine/Outstanding Contribution: Ned Kelly
Cumadóir na Bliana / Composer of the Year: Josephine Marsh
Gradam Ceoil TG4 is the premier annual traditional music awards scheme and academy. An independent panel of adjudicators select recipients each year.
It is not a competition. The Gradam Ceoil recipients are presented with a specially-commissioned piece by leading sculptor John Coll as well as a small stipend.
This year's awards will be presented at the Gradam Ceoil TG4 concert in the Waterfront Hall, Belfast on Sunday 23rd February and televised live on TG4 at 9:30pm, hosted by Doireann Ní Ghlacáin & Dónal O'Connor, the 2020 Gradam recipients will be joined in performance on stage by their own special musical guests in a unique, star-studded line-up of musicians and award-presenters.
TG4 Director General, Alan Esslemont, sais 'Gradam Ceoil TG4 is 23 years in existence, and recognises the best of traditional Irish music, an initiative that TG4 is immensely proud of. I would like to congratulate all of this year's winners. They are the embodiment of traditional Irish music and song, and we are delighted to award them the highest honour in Irish music. Gradam Ceoil TG4 will take place in The Waterfront Hall in Belfast for the third year running, a successful collaboration with Belfast City Council, ILBF, Red Shoe Productions and TG4'.