A NEW book recounting the story of Cavan and Ulster star of the 1960s Charlie Gallagher, which is currently in the national bestseller charts, is sure to be of great interest to GAA fans in Donegal.
'Charlie: The Story of Charlie Gallagher, the GAA's Lost Icon' – written by Cavan-based journalist Paul Fitzpatrick – tells the story of the Breffni attacker who won four Ulster SFC medals and four Railway Cups and was renowned for his charisma and extraordinary scoring feats.
The book recounts in detail Gallagher's many matches against Donegal, where he was a very familiar figure. 
A dentist based in Derry, he had many patients from Inishowen and regularly socialised across the border, with McIver's in Burnfoot a popular haunt.
While his surname suggests Donegal heritage, Gallagher's father was originally from Louisburgh in Mayo. Born in Cootehill on Christmas Day, 1937, Gallagher moved to Derry on graduating as a dentist in 1961 and was employed with another former Cavan footballer, Barney Cully, at the latter's practice in Clarendon St in the city.
Gallagher, who has been described as 'the George Best of Gaelic football', was a well-known figure in the county and nationwide. He regularly featured in the national top scorers list and topped the charts on a couple of occasions.
Among those interviewed for the book was former Donegal goalkeeper Seamus Hoare, a St Eunan's clubman who is regarded as one of the greatest number ones ever to wear the Donegal jersey.
The book charts Cavan's many meetings with Donegal in the 1960s, several of them famously ill-tempered. Gallagher's first medal with Cavan was an Ulster Junior Championship in 1962, beating a Donegal side which included Brian McEniff and Gallagher's own Cootehill clubmate Tony Keyes (a Garda based in Dungloe) in a riotous first-round match.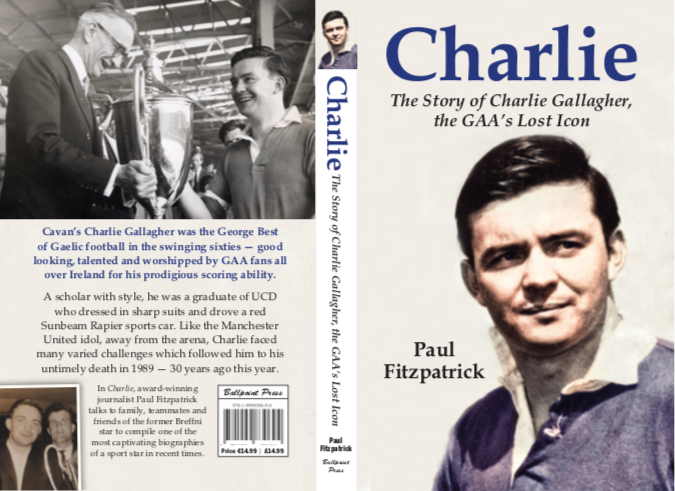 Interestingly, on the Cavan side on that occasion was Ambrose Given, an uncle of Shay Given's, who was then a student in Ballyhaise Agricultural College in Cavan.
Cavan and Donegal met in the Ulster SFC in 1963, 1964 and 1965 in an epic series of matches. In the first of those meetings, a young Donegal side, backboned by  Hoare, midfielder Sean Ferriter and wing-back Sean O'Donnell, a friend of Gallagher's, qualified for the first Ulster final with a 4-6 to 0-5 win.
"The centre stage spot which Charlie has occupied for so long was usurped by a new star," reckoned Eoin McQuillan in The Irish News. "Donegal's Sean Ferriter, a tall, rangy centre half-forward, cut paths of glory for himself through the leaden-footed Cavan defence."
The following year, Gallagher shot Cavan to victory over their foes in the Ulster semi-final at Irvinestown.
"Gallagher's accuracy the deciding factor" read the headline on Dermot Gilleece's report in the Irish Press, which told its own story.
"If Donegal had had Gallagher, the result could just as easily have gone the other way," reckoned the reporter, who highlighted the corner-forward's six-point haul and
his pass for Tom Lynch's winning goal as key.
Cavan went on to defeat Down in that 1964 Ulster final and in '65, it took three games for them to get past Donegal. The teams drew 1-8 apiece in Ballybofey in the first game, 0-14 to 2-8 in the replay at Breffni Park and, back in Breffni again, Cavan edged the decider by 0-9 to 0-8.
"Charlie Gallagher was once again the Man of the Match for through his scoring and prompting, he kept Cavan in the hunt when they seemed ready to crack up," read the Donegal Democrat.
Cavan versus Donegal matches in those years were fiery, known for their physicality. There was some bad blood and scores to be settled.
"In the second drawn match in 1965, I was playing wing-half-forward," recalls Cavan star Phil 'Lightning' Murray.
"After 10 minutes they put a different fella on to me and he said to me: 'I'm here to do a job on you, ya little effer ya. I'll sort you'.
"I didn't pass any remarks. But anyway a couple of minutes later he hit me a box and put me down. I got up and ran after him to hit him back and — now, he was a big fella — he hit me another box and put me down. And down I went like a ton of bricks.
"I got up again and got a couple of kicks at him but John Joe O'Reilly was on the forty and came down. Now, John Joe was a good guardian on the pitch for small fellas like me. And he comes running over and he shouts yer man's name.
"And as he turns round, John Joe hit him a box. And all I could see was blood flying. So at half-time [Cavan manager] Mick Higgins called me over in the dressing-room and he said: 'Do not get involved, they are trying to put you off your game, stay away from him'.
"But yer man came out in the second half and shook my hand and said: 'That's it, there will be no more fighting, look what happened me.' And he smiled, and he was missing his front row of teeth."
More than anything perhaps, Gallagher was known for his charisma and swagger, on and off the pitch.
"Boys like Charlie don't come around too often. I often think he would have been a TV star nowadays. He had that charisma, he attracted people," Seamus Hoare comments.
"When he came into the dance hall in Jackson's in Ballybofey, there was a buzz. 'There's Charlie Gallagher!' sort of thing."
Gallagher set up the Ulster All-Stars touring team. Amazing as it sounds, in the middle of the 1964 Ulster Championship, the Ulster All-Stars played two matches against Dungloe in Donegal on Wednesday evenings, which drew huge crowds. On July 24th, Gallagher shot 0-7 in a draw that the local Democrat newspaper described as "the best exhibition of football seen in west Donegal in many years".
Through his work and football, Charlie, whose wife Maureen was a native of Strabane, built up an affinity with Donegal which endured throughout his life.
The book charts Charlie's childhood, football career and his battle with alcoholism in later years, leading up to his untimely death at the age of 51 in 1989.
'Charlie' is published by Ballpoint Press and is available online and from all good bookshops. Signed copies can be ordered from the author, who can be contacted at paulfitzpatrick09@gmail.com and 086-6648735.
Tags: