This Christmas season Kelly's Centra and Diner of Mountain Top have all your festive needs covered.
Kelly's Diner have recently launched their Indulgent Christmas Menus with something for everyone. Succulent burgers, juicy steaks and even a vegan option or two. All with Saint Nick's approval!
https://kellysdiner.ie/christmas-menu/
Due to customer requests, the diner will be extending its opening hours from next week on, so when the shopping is finished the bellies can get filled. Check out their opening hours: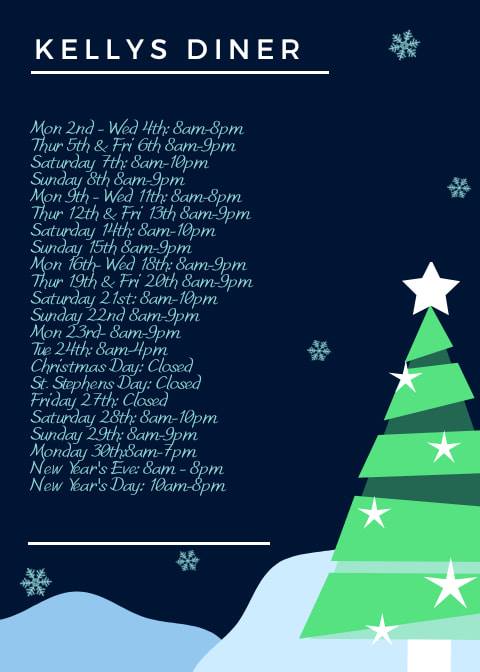 Take the hassle out of the Christmas cooking and order your Christmas dessert from Kelly's Diner. Check out their cracking range below, with vegan and gluten free options also available:
https://kellysdiner.ie/christmas-desserts/
Kelly's Centra will be your one-stop-shop this Christmas with all their seasonal offers catering for all your Christmas needs. Get two for €10 on selected tubbed sweets and 2 for €8 on selected boxed biscuits.
For the Christmas Tipple check out their off licence offerings with Cono Sur wines for only €6, 70cl Gordon's Gin for €17, 1L Smirnoff Vodka for €22 and many more.
If you are stuck for the ideal gift check out their personalised range of gift sets and hampers which are made to cater for all budgets.
Contact their little elf Susan today on 0866065912 to get your custom made hamper and take all the stress out of the Christmas shopping!
For more, follow @kellysdinerlk and @kellys.centramountaintop
Tags: