A festive and celebratory feeling was in the air at Coyle's Centra Raphoe last night for the local launch of Five Farms Irish Cream Liqueur.
The drink, co-created by Raphoe native Johnny Harte, is the world's first premium Irish Cream Liqueur.
It's set to be a popular tipple for many this Christmas, having been added to the Musgrave group's exclusive range this season.
Five Farms will now be available in selected Centra, Supervalu and Mace stores across the country as well as independent retailers. Sales have exceeded a million bottles globally since it launched in 2018 and recent expansion internationally has seen the brand entering new markets in the UK, Austria, Germany, Italy, Spain, Slovenia, Ukraine, Bahamas, Canada and Thailand.
And there was no better place to toast to the success of Five Farms than in Johnny's hometown of Raphoe, where family, friends and Coyle's Centra customers enjoyed a tasting session in store on Friday night.
Speaking to Donegal Daily, Johnny said he was delighted to bring Five Farms home for Christmas.
He said: "We have launched Five Farms all over the world and finally I got home to Raphoe to launch it this Christmas. It's really special to be home. Even though the product originated in another part of Ireland, the idea originated with me, so there's a bit of Donegal in the idea."
Five Farms samples were in high demand last night as guests got to see what makes the liqueur so superior.
The secret, Johnny says, is the 10% whiskey content. Most other Cream Liqueur brands use just 1% whiskey, and the difference is dramatic and delicious.
Five Farms Irish Cream Liqueur is a US-Irish joint venture between the long- established McCormick's Distilling company in Western Missouri and Johnny Harte.
Johnny has been leading the way in the drinks industry for over 20 years. He has been involved in the creation and restoration of a number of legendary Irish Whiskey and Liqueur brands that are now at the forefront of the Irish drinks renaissance, including Tyrconnell, Connemara, The Liberties Irish whiskey and Dubliner Irish whiskey liqueur and Five Farms Irish whiskey liqueur.
The Five Farms story began Missouri in January 2016, when Mick Harris, President of McCormick Distilling, and John Harte decided to break the mould in the drinks market, particularly the Irish cream category.
Their shared ambition was to create the greatest Irish cream liqueur ever made, and so Johnny went back to Ireland. His first stop was a family-run farm in West Cork. Then one farm became five. Over the period of 9 months of robust product development activity, the Five Farms Irish cream liqueur was born.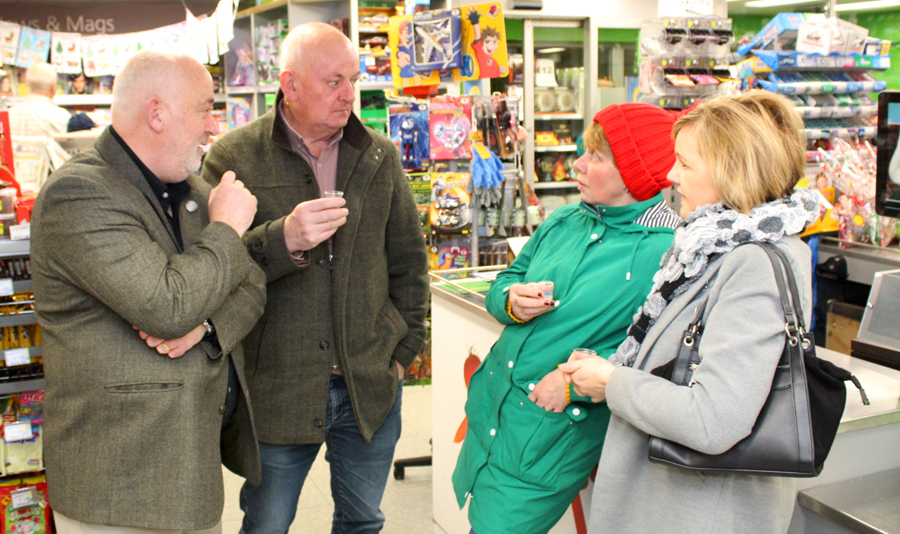 Five Farms is a true farm-to-table product, crafted from single batches of fresh cream sourced and produced in County Cork
The liqueur has already been awarded the highest score ever given an Irish cream, winning the Chairman's Trophy at the Ultimate Spirits Challenge, the prestigious global wine and spirits contest.
Bottles were flying out the door at Coyle's Centra last night after people got a taste of the unique liqueur. With a million sales and counting, it's set to be a very merry Christmas for Johnny Harte!
Tags: