Show off your cookery skills this Festive Season with a Christmas Cookery Demonstration by one of Ireland's top chefs, Brian McDermott.
Celebrity chef Brian will demonstrate how to master the perfect Christmas dinner at home.
He will take the stress out of cooking the most important meal of the year with step by step recipes for the complete festive meal at home.
The event at the Foyle Hotel in Moville includes lots of tips for preparation, cooking and serving plus wine & drink recommendations.
With Top Tips, Spot Prizes, Mulled Wine & More, this promises to be a great night out!
Venue: The Foyle Hotel
Date: Thursday 12th December
Time: 7.30pm – 10pm
Price: €20 per ticket – Book with our Reception Team
* Recipe Booklet for all attendees
* Spot prizes on the night
* Mulled Wine on Arrival
* Gift Shop on the Night with Vouchers, Chopping Boards, Knives, Aprons, Brian's Award Winning Book – Have it signed & many more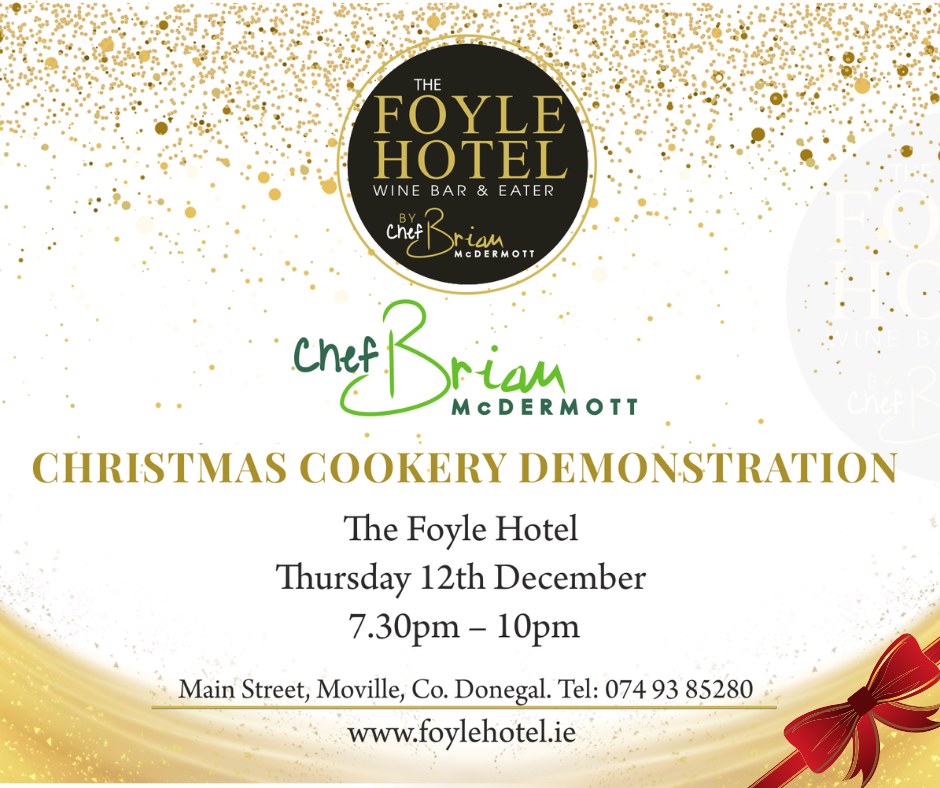 This will be a ticket event with tickets purchased in advance.
Tickets are limited and available at hotel Reception, call our team on +353 (0) 749385280 or email info@foylehotel.ie with tickets priced at only €20
Why not enjoy a pre-show Dinner Offer for Only €50 per couple including a two course meal & wine each. Book a table with our reception team *show starts at 7:30pm
Planning to stay the night?
Our Overnight B&B Package is ONLY €99 for two people including TWO tickets to the Christmas Cookery Demo!
Book Your Overnight Stay here: https://bookingengine.myguestdiary.com/1236/offer/7785/3898/0/2019-12-12/2019-12-13/2/0/1
Contact Our Team
To Book a ticket, dinner or an overnight stay please contact our reception team on +353749385280 or reply to this email.
Please do not hesitate to contact us should you require any further information on the event at www.foylehotel.ie
Tags: