A novel charity draw has been launched to appeal to the generosity of local businesses in the run-up to Christmas.
Businesses are being asked to support charities by 'Paying It Forward' if they win prizes in this year's Bumper Christmas Draw supporting St. Eunans Cathedral Parish Youth Ministries.
Up to €2,000 in prizes have been donated to the fundraising initiative.
The selected four local charities are the No Barriers Foundation, Little Angels Association, Donegal Hospice and St Vincent de Paul.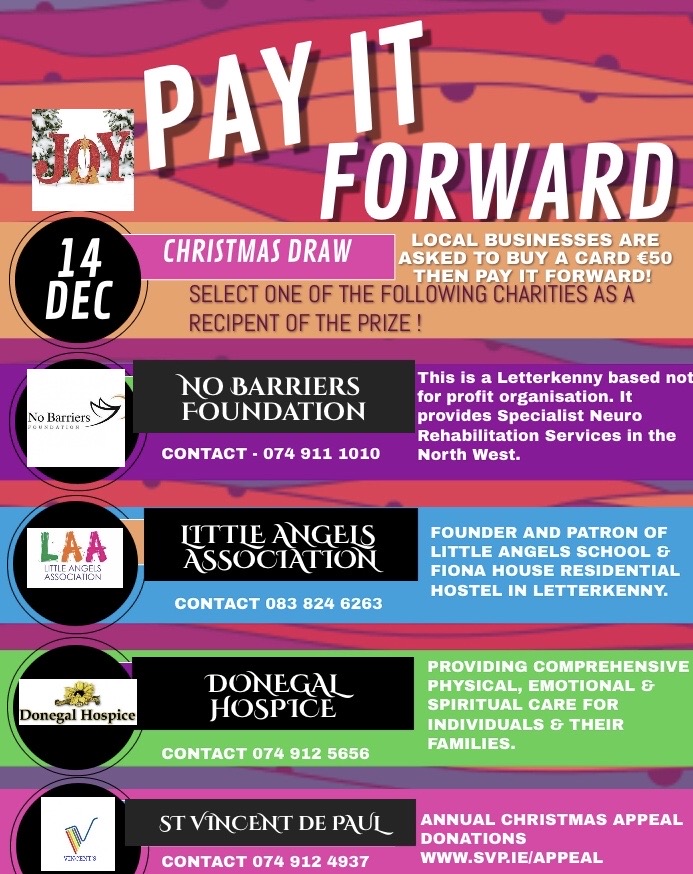 Businesses who enter the draw can nominate any one of the charities to receive a prize. Proceeds from the draw will be donated to the Youth Ministries, while the nominated charities will be in with a chance of winning prizes such as a TV, holiday vouchers and much more.
Tickets are €50 per card and business will be visited by volunteers in the coming days seeking support.
Karen McGlinchey is the organiser of the Pay it Forward draw. She said: "Thanks and appreciation is extended to all our local businesses without whose support, many charities would struggle to be sustainable."
The draw will take place on 14th Dec 2019.