THE TUESDAY NIGHT after Donegal scraped through the 2014 All-Ireland quarter-final, Jim McGuinness crammed his players into a makeshift portacabin at Donegal's yet-to-be-built Centre of Excellence in Convoy, writes Alan Foley
"I know how to beat Dublin," he began, speaking of their daunting semi-final against the back-to-back All-Ireland chasers. "I've been tracking them. It's all bullshit … All this talk of them being the team nobody can beat … It's all bullshit."
Patrick McBrearty had settled a nervy affair with Armagh, kicking the winner in an unconvincing 1-12 to 1-11 victory. A couple of hours later Dublin walloped Monaghan 2-22 to 0-11.
McGuinness skipped the post-match interviews and headed to watch Dublin. Meanwhile, with the lights out, selector Damien Diver sat in the secondary media room under the Cusack Stand in darkness – lit up only by the scattered glare of journalists' mobile phones being used as audio recorders.
A few of the hacks were told McGuinness would take a few questions on the fourth floor but after a chase down the elevators, they were told the Donegal manager had left Croke Park for the Skylon Hotel whilst Dublin were still in their groove midway through the second half. Plenty thought it would soon be lights out for Donegal;  considered secondary at best.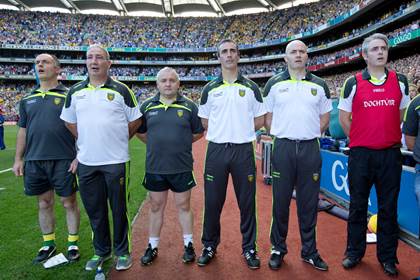 In a space in Convoy where a cat couldn't swing, McGuinness began the breakdown. "They are going to high press," he said of Jim Gavin's team. "Once we are beyond that surge, we are into open country. Other teams find themselves in that space, in the middle of Croke Park and with the noise, the pressure, they think they have to kick the ball … right down the throat of Rory O'Carroll and Johnny Cooper. They're getting nosebleeds."
"The way Jim spoke, he could always fill you with confidence," says Colm McFadden, Donegal's corner-forward and McGuinness's brother-in-law. "But the more and more he broke down Dublin, the more it made sense."
Donegal tirelessly worked on a particular drill that saw a runner, say Ryan McHugh, break from midfield, with his inside options Michael Murphy and McFadden being man-marked, out in front, by one defender each. The 'runner' was encouraged to keep possession unless a kick-pass was definitely on. Support runners would provide supplementary options; safety in numbers if you like.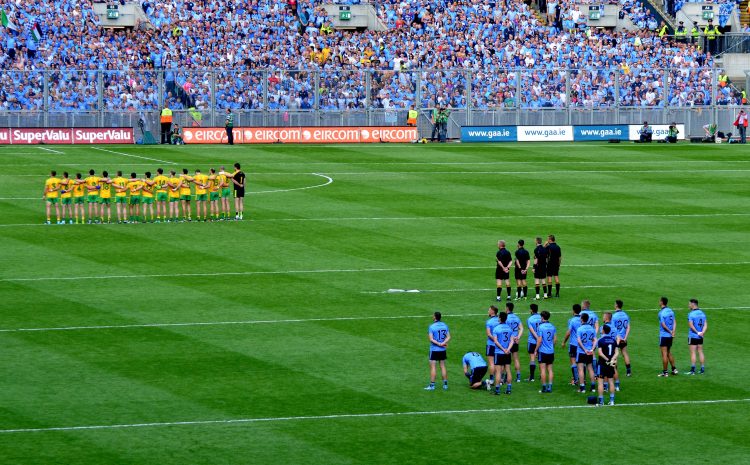 The morning of the semi-final, at Johnstown House in Enfield, McGuinness flipped his chart. "Two or three goals," and "16 or 17 points. That's what it will take."
When Donegal lost the 2011 All-Ireland semi-final to Dublin, 0-8 to 0-6, McGuinness admitted the contest came too early in their existence: "Our development wasn't far enough down the track to be able to compete at that level with Dublin then."
"In 2011 it was about keeping the numbers down," midfielder Rory Kavanagh says. "In 2014, though, the emphasis had shifted. We weren't being told how to stop Dublin – we would see if they could stop us."
The plan, initially, was to stay in the game. McGuinness drew an imaginary U in front of Hill 16 and insisted Donegal defend it with their lives. "Dublin do not score inside of this," he stressed. "Even if they flash over a few from long range, it is not sustainable."
Dublin did. And with Paul Flynn and Diarmuid Connolly particularly majestic, led 0-9 to 0-4 after only 25 minutes. The signs were ominous for Donegal, although Paul Durcan saved from Connolly, keeping the sheet clean. Christy Toye's introduction brought Donegal a competent ball-carrier.
Donegal were deliberate in possession and hanging in at 0-9 to 0-7 down before the sea-change on 33 minutes. From the shadow of the Hogan Stand, Kavanagh boomed a ball into the square towards Michael Murphy that would turn O'Carroll, and from the break McFadden fed McHugh to shoot under Stephen Cluxton.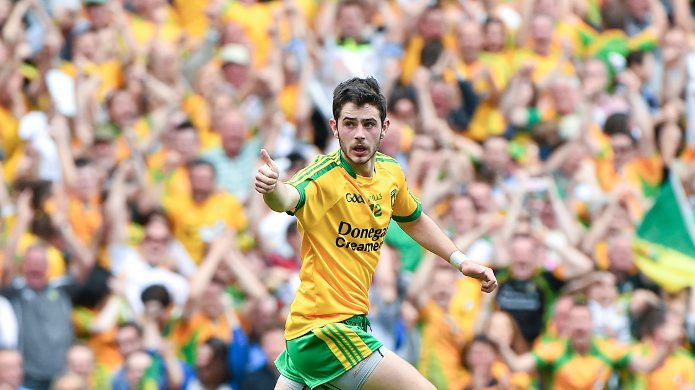 Donegal led 1-8 to 0-10 at half-time and tellingly Flynn and Connolly 's cues were becoming less chalked. Long-rangers were proving unsustainable.
"The big screen happened to show Jim Gavin and Declan Darcy sitting in the stand together and laughing about something. It was probably unfortunate timing, but we noticed it on the sideline," McGuinness later wrote in 'Until Victory Always: A Memoir.'
"I told the players that I wanted to see Jim Gavin out of that f*cking seat in the Hogan Stand and down on the sideline giving his substitutes a rub on the back when he was sending them in."
With a Dublin onslaught expected, Donegal's response was to implement their choreographed strategy. Their diligent defensive priorities coupled with breaks from all corners. Dublin couldn't live with the numeric stream towards Hill 16. Gavin soon left his seat.
McHugh slapped home a second goal when found by Anthony Thompson after Murphy waddled O'Carroll from the square with a dummy-run.
Then, a simple overhead slap from Murphy unhinged the entire Dublin defence and by the time Odhran MacNiallais had laid over to McFadden, who side-stepped Stephen Cluxton to score a third goal, Donegal had five players in the Dublin square.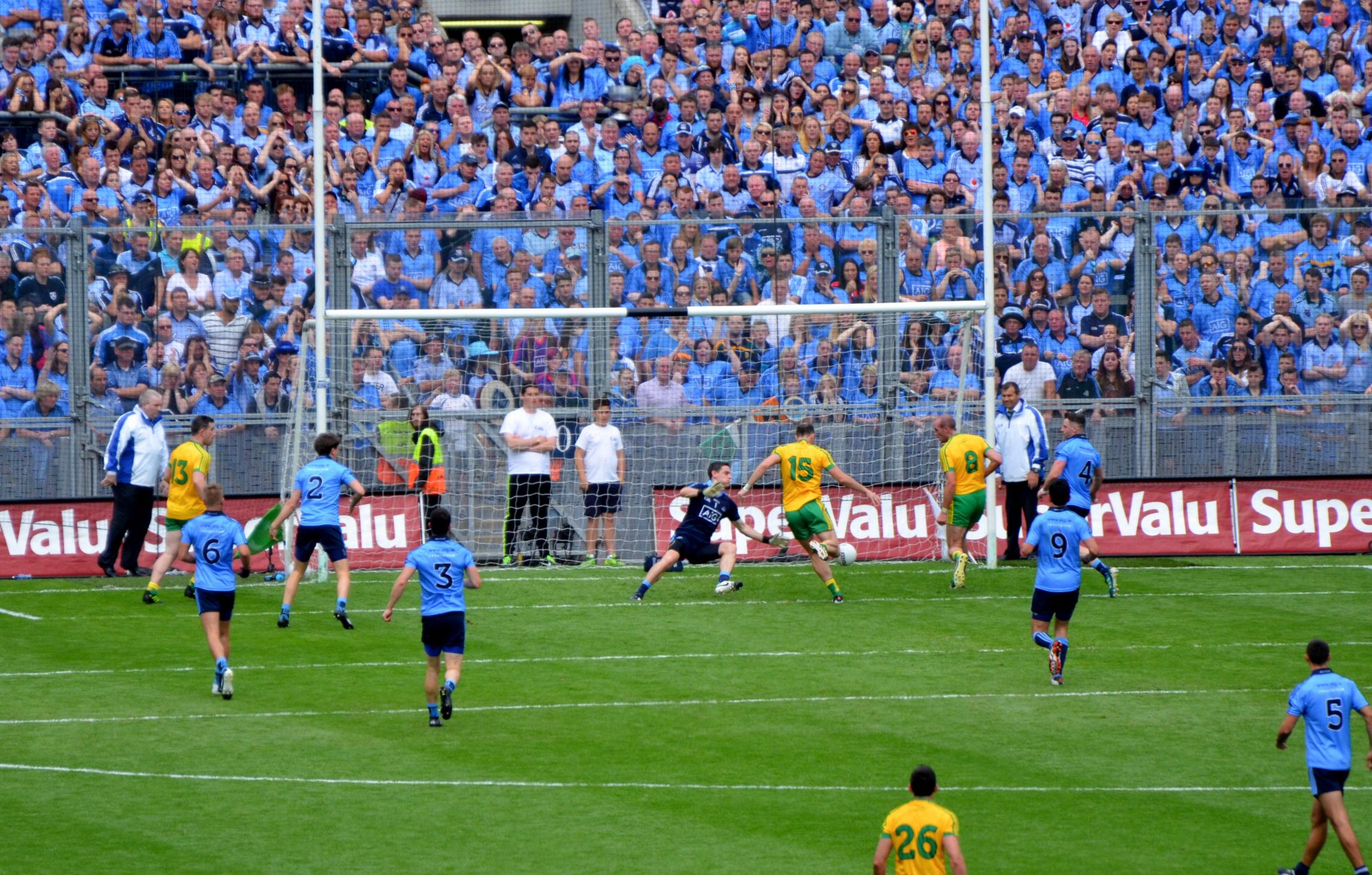 It wasn't until the 66th minute, when Connolly blazed wide by the Davin Stand that Dublin managed to get a second half shot off from inside of Donegal's 20-metre line – the first being the first half goal chance.
Donegal melted Dublin, winning 3-14 to 0-17. The flipchart wasn't far off. "I believe that every game is winnable if you get everything right and you've got the right attitude," McGuinness said afterwards.
Eamon McGee said it was a little like the 'Rumble in the Jungle' when, in 1974 in Kinshasa, Zaire, Muhammad Ali opted to take punches from George Foreman, as means of wearing the then world heavyweight champion out.
Ali then picked his moment to go on the offensive and win with a eighth round knockout. It is heralded as the 'rope-a-dope' technique, which McGee referred to with a broad grin. Foreman's attack wore down his own defence. When it wasn't enough to crack the opponent, he cracked himself.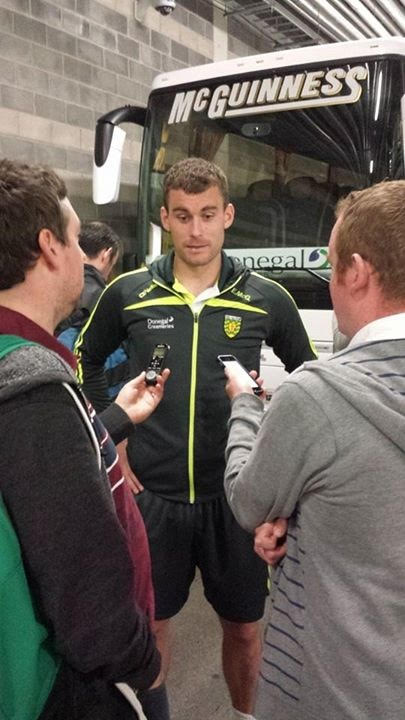 Down where the McGuinness family-run Donegal team bus was, in the carcass of Croke Park, a certain RTE pundit by the name of Joe Brolly was pulling on his helmet as he cycling into Dublin city centre. "On yer bike Joe," could be heard from the team bus and Brolly passed on his congratulations to the Donegal manager.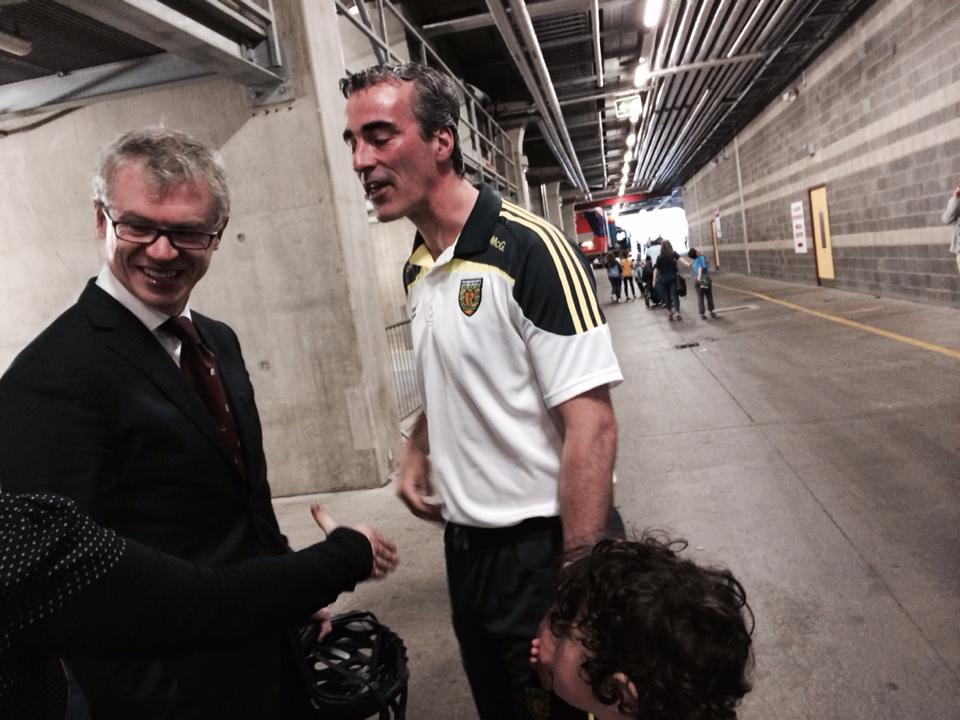 It was to prove McGuinness's last win as manager. Donegal, for all their plaudits, had shown their hand and lost to Kerry in a drab game-of-stares final. Within a fortnight, McGuinness left Glenties for Glasgow. Donegal haven't featured in an All-Ireland semi-final since.
"In football you have to be willing to learn from your mistakes and Dublin certainly did," McFadden adds. "They never were exposed like that again and they haven't been beaten since. You have to hand it to them."
Having stepped aside on Saturday, 2014 was to prove Gavin's only championship defeat in seven seasons. Dublin, distilling their undoubted style with a sprinkling of more substance, would go on to win the next five All-Irelands and nobody, like Ali or McGuinness, fooled the world again.
"Dublin were a very good team in 2014," Kavanagh adds. "But that game made Jim Gavin conduct a root and branch analysis of what went wrong and from then on they began to further forensically dissect their game plan. They soon became a great team."
Tags: