A Donegal baby will be celebrating his first Christmas in full health thanks to the 'amazing' medics who saved his life this summer.
Odhrán Johnston from Carndonagh had a difficult start in life after suffering serious health complications at birth.
Parents Annemarie and Paddy Johnston welcomed their first-born son in June 2019, but his birth became an emergency case when he swallowed and inhaled meconium.
Baby Odhrán was suffering from lung trouble and had a high risk of infection. As a result he developed Persistent Pulmonary Hypertension in the Newborn (PPHN) as well as meconium aspiration syndrome.
He was airlifted from Letterkenny University Hospital to the Coombe Hospital in Dublin, where he was put on a high frequency ventilator which delivered about 600 "breaths" per minute.
"Our poor baby was vibrating in his incubator. He was sedated with a high dose of morphine so he couldn't make a sound or move," mum Annemarie told DonegalWoman.ie.
"It was strange being in hospital. All the other babies were premature and very tiny with one little baby weighing only 400g, Odhrán was the only full term baby there weighing 8lbs 4oz at birth, and to be told by the neonatologist that although Odhrán was the biggest baby in his room he was the sickest it hit us really hard that day to hear that news."
But the little fighter kept strong and on day six he was moved to a regular ventilator.
At nine days old, Annemarie and Paddy finally got the chance to hold their precious son for the first time.
"It was such an emotional moment in many ways and we were so happy because our baby was getting better and was finally out of the woods," Annemarie said.
After two weeks in the Coombe, baby Odhrán was able to be transferred back to Letterkenny. He spent a further two weeks in the neonatal intensive care unit at LUH where he learned to be bottle fed, was weaned off the morphine slowly and learned to breathe by himself without the need of the low flow oxygen.
Odhrán has come on in leaps and bounds in his first six months and his parents are full of thanks to the medical staff who saved his life.
"Odhrán has never looked back since and he is such a happy and content wee man," Annemarie said.
"Paddy and I are so grateful to both the NICU and the maternity ward in the Coombe they even kept me on as a "lodger" after I'd been discharged just so that I'd be close by to Odhrán and we are also very grateful to the NICU and maternity in Letterkenny too we cannot thank them enough they have the most amazing staff."
In recognition of the remarkable work of the Coombe, the Letterkenny Babies community are hosting their annual Christmas jumper party to raise money for the hospital's Neonatal Intensive Care Unit (NICU).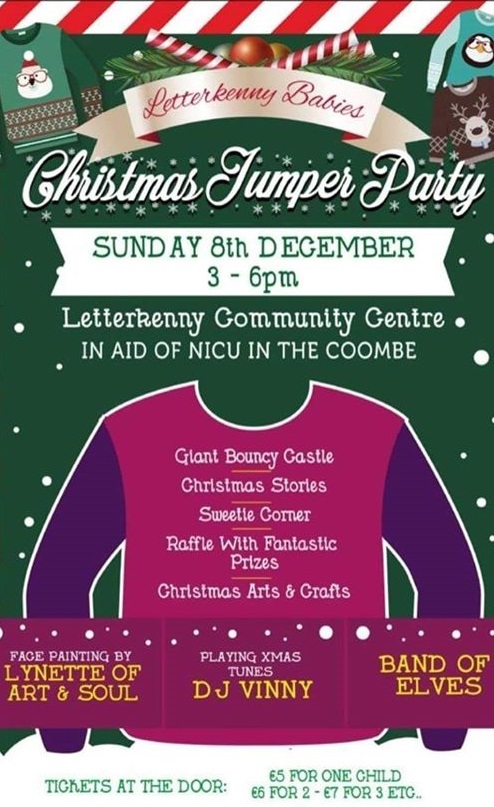 The party takes place on Sunday 8th December in Letterkenny Community Centre 3 – 6pm. All families are welcome to enjoy Christmas celebrations with a giant bouncy castle, music from DJ Vinny, Art and Soul by Lynnette face painting, elves to play with the kids, sweets and so much more. Plus, there will be a quiet room with Christmas stories, arts & crafts.
Annemarie and Paddy are delighted that the proceeds will be donated to the Coombe on behalf of baby Odhrán.
"We are so delighted to give back a little something to the Coombe to show how much we appreciated their hard work and dedication," Annemarie said.
Annemarie also raised over €1,000 for the Coombe in July as a birthday fundraiser. The response was phenomenal, she said, and it is hoped that this weekend's party can be a similar success for a vital cause.
Everyone is welcome to come and support the Letterkenny Babies Christmas Jumper Party on Sunday afternoon.
Cost of entry to the party will be €5 per child and one euro for every subsequent child thereafter – €6 for two, €7 for three, etc. There will also be donation buckets for the face painting and treat stands and a raffle with great prizes donated by local businesses.
Anyone wanting a raffle sheet or willing to donate a raffle prize can message the Letterkenny Babies page here: Letterkenny Babies