Donegal Deputy Pearse Doherty has denied he has been hypocritical in his stance on the handing out of 14 aquaculture licences for Ballyness Bay.
The Sinn Fein TD has been a vocal opponent of the plan in recent months and even raised the issue in the Dail this week.
Despite strong local objections to the plan, the licenses were granted on Wednesday night.
Deputy Doherty said he now plans to appeal the granting of the licenses.
However, a letter has now emerged from June, 2016 written by Deputy Doherty to Minister for Agriculture, Food and the Marine, Michael Creed.
In the letter, Deputy Doherty asks the Minister about the timeline for the assessment of licenses for Ballyness Bay.
In the letter (seen below) Deputy Doherty states "I am writing to you concerning the assessment of Ballyness Bay in Co Donegal for the purpose of determining the licensing and management of aquaculture activities at the site.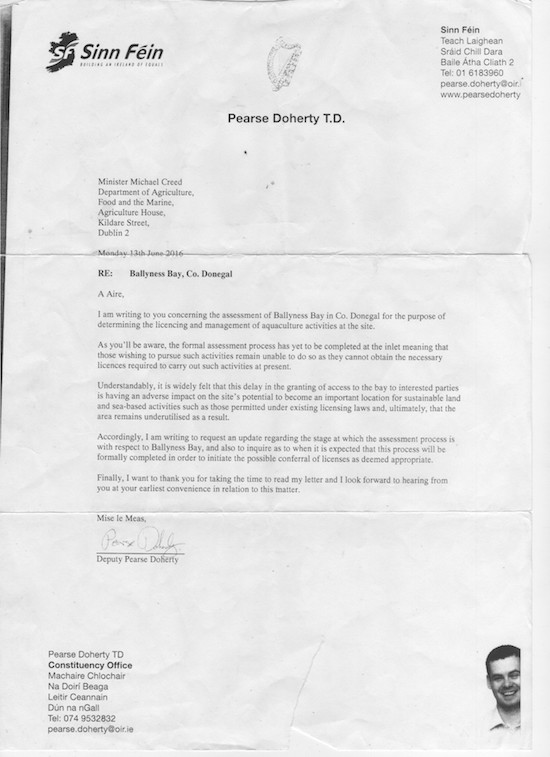 "As you'll be aware, the formal assessment process has yet to be completed at the inlet meaning those that wish to pursue such activities remain unable to do so as they cannot as they cannot obtain the necessary licenses required to carry out such activities at present and understandably, it is widely felt that this delay in the granting of access to the bay to interested parties is having an adverse impact on the site's potential to become an important location for sustainable land and sea-based activities such as those permitted under existing licensing laws, and ultimately, that the area remains underutilised as a result.
"Accordingly, I am writing to request an update regarding the stage at which the assessment process is with respect to Ballyness Bay, and also to inquire as to when it is expected that this process will be formally completed in order to initiate the possible conferral of licenses as deemed appropriate."
However, speaking to Donegal Daily, Deputy Doherty denied that he was in any way lobbying the Minister to grant the licenses for Ballyness Bay.
"This is certainly not the case and I am not being hypocritical here. At this time there was an assessment taking place and this letter was merely to ascertain the situation at Ballyness Bay," he said.
He said he had initially been approached by one local applicant and had made initial representations on the matter.
However, that individual chose to then lobby Galway TD Eamon O'Cuiv on the matter.
Deputy Doherty stressed that he was not against aquaculture but that each application had to be viewed on its merit and its impact on the locality.
He added that he and others had been successful in appealing a similar application in Cruit and would do so again on this occasion at Ballyness Bay.
Tags: