A Donegal mother will be appearing on RTE's Tastes Like Home tonight to show that home cooking is the best, no matter where you are in the world.
Ann McClay, who lives at Grianán of Aileach in Burt with her husband Jim, has four children. Two are now living in the US who were both in need of a taste of home.
With the help of celebrity Chef Catherine Fulvio, Ann was able to pass on her best dessert recipes for her daughter and son to enjoy in Maine and New Hampshire.
Tastes Like Home airs tonight (Monday) at 7.30pm on RTE One.
The programme will begin in Donegal, with Ann meeting Catherine to tell her about her daughter Monica, who emigrated from Ireland over 20 years ago and James, who moved over 7 years ago.
Ann agrees to teach Catherine Fulvio, how to make her children's favourite anytime "Apple Pie", as well as their childhood Christmas treat "Snowballs".
Catherine then travels to Portland to meet James, a Child Protective Services worker, and experience the local food culture. They hit the road to the next door state of New Hampshire to visit James' sister Monica, who lives in Pelham and is an accomplished chef and School Nutritionist Assistant.
Talking food and family on camera was an unforgettable experience for Ann McClay. She said: "I would just like to say as far as the show is concerned I loved every minute of it, it was a great experience one I will never forget you guys were so nice and made me feel so at ease a great team to work with and Catherine is a gem it felt I just had a bunch of friends in my home."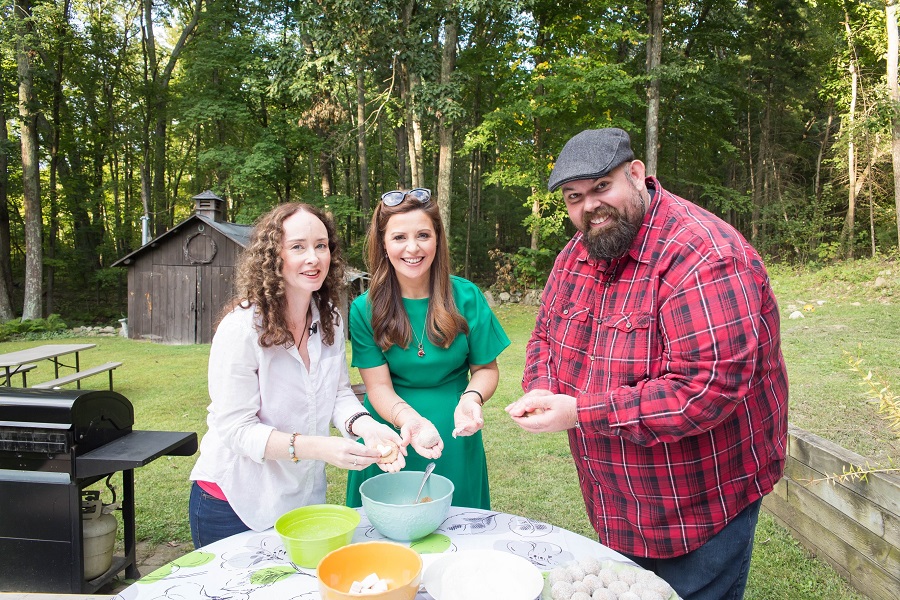 Monica Cote, Catherine Fulvio and James McClay on Tastes Like HomeAnd having a taste of mammy's baking from thousands of miles away was a special moment for James and Megan.
James said: "I had an absolutely amazing time filming Tastes Like Home. Catherine and the entire crew were wonderful and made the experience so much fun. The food was out of this world, it was like they delivered the apple pie straight from my Ma's kitchen."
Megan added: "My time spent on Tastes Like Home was a great experience. I was a little anxious at such a great chef Catherine Fulvio coming to my home but the whole team made me feel relaxed straight away. We had lots of fun all day and, then, getting back home to the aromas I knew from childhood in my mother's kitchen being recreated here in mine was truly magical. Finally, we enjoyed Apple Tart like mammy's in America! Thanks Tastes Like Home."
Tags: