A Christmas dinner with a difference will be taking place in Donegal Town on Christmas Day this year.
Donegal Town's first ever Christmas Day Community Pot Lunch invites everyone to gather to share a feast of food and company.
It's an opportunity to connect with old friends and meet new people while enjoying a special Christmas experience out of the house.
The idea began with Donegal woman Sara Anderson, who recognised that Christmas dinner can be a time when people are at their loneliest.
"There may be different reasons why Christmas day might not look like the traditional family scene around the table for you," said Sara.
The event, she says, is for people who might be alone, or they are a single parent looking to spend time with adults for a day, maybe they have stressful family relationships, or they are not feeling mentally or physically great or they simply want to do something different. If the thought of cooking Christmas lunch or doing Christmas day at home fills you with dread, then you are very welcome to join the lunch.
"Whatever the reason, we would be really happy to have your company at our first Christmas Day Community Pot Lunch, at 2.30 in Donegal Town."
The venue has yet to be confirmed.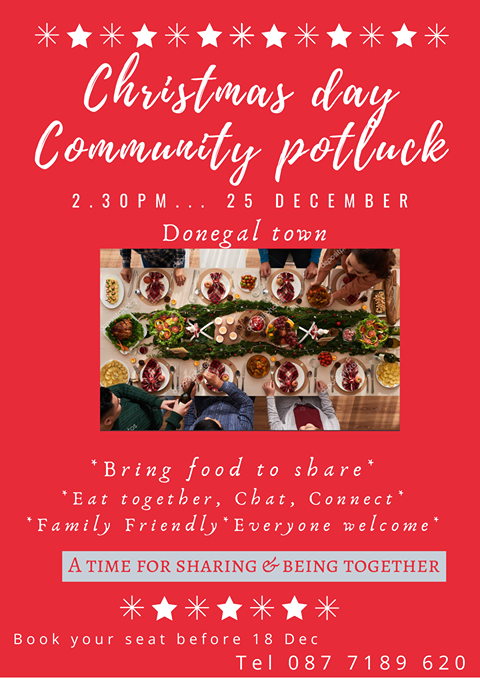 The festive feast will be a shared effort, Sara says:
"Like the last pot lunch, it is a co-created event. We all create the event together. We all bring along food to share for our festive feast. We decorate the room, (venue to be confirmed), transform the space so we have a beautiful festive atmosphere, put the food out, eat our fill and have lots of chats and laughs with old friends and new friends.
"When we are all done, we all work together to wash up, clear the space and go off home, nurtured and full, thinking that was a wonderful special Christmas Lunch we all shared together.
"Everyone is really welcome. Car Pooling is encouraged. If you can't drive, we will find a lift for you. Please spread the word."
Over 14 people have so far signed up to join the dinner and have decided what they are bringing to eat. It is hoped that the dinner will be a great eclectic feast for all.
If you would like to come along, call Sara at 087 7189 620 or message her on Facebook before 18 December to book your seat so they have a good idea of numbers.
Tags: