A positive new initiative has brought 60 Newtowncunningham businesses together to say thank you to their customers this year.
The businesses of the village teamed up to offer a super Christmas raffle last weekend, where customers who shopped local were entered to win fantastic prizes.
The idea was spearheaded by local businesswoman Tanya O' Donnell of Wash and Spin as a way of giving something back to the customers who keep local businesses thriving.
"Newtowncunningham is a great community and without the support of local customers I wouldn't be in business. I felt that my customers are always saying thank you to me and felt it was time we showed our appreciation for their custom" said Tanya.
Local shops, restaurants and service businesses were delighted to get involved.
Each time a customer made a purchase they had the opportunity to put their name on a ticket and put in the shop's raffle box. Sixty lucky winners were drawn on Saturday, with the help of the popular Joe Cannon as MC checking his typed up list, Martin Sharkey making sure that every business's tickets were in the right order, and Tanya recording the name on each ticket drawn.
Joe Cannon praised Tanya and the businesses saying that this was the start of what he hoped would be an annual event. "Sometimes it might take a wee while to get off the ground but it has the potential to grow bigger," said Joe. 
"Thanks to every single business that participated and to all our fantastic customers," said Tanya.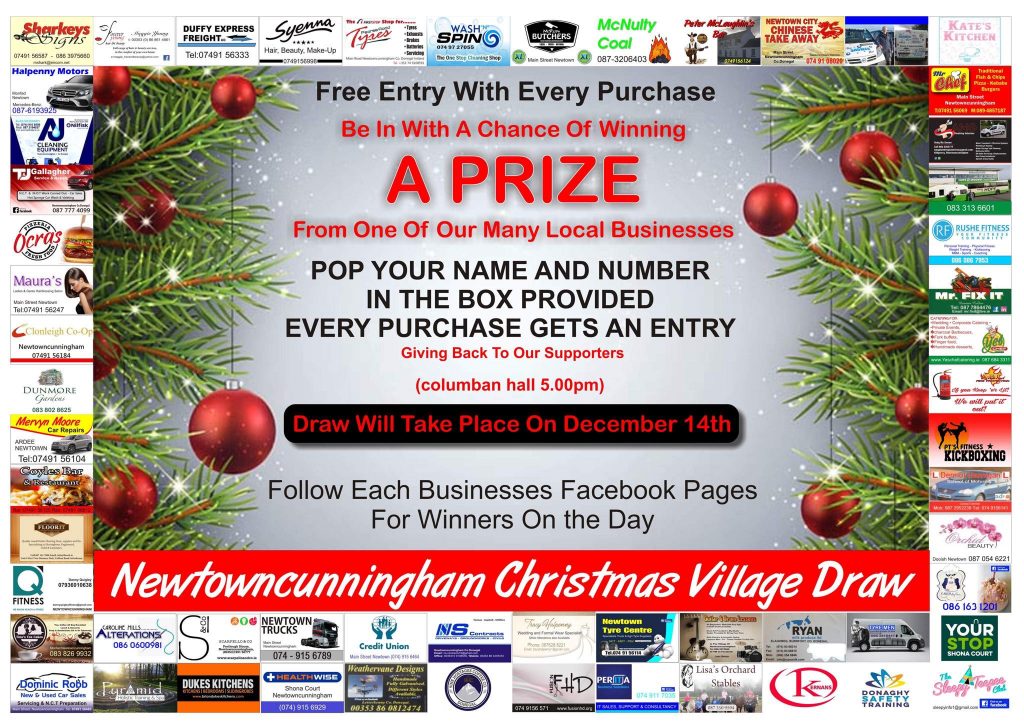 Betty Holmes, who is passionate about Newtowncunningham, was invited to draw out the winning tickets for each business overseen by Joe and Martin.
"Tanya is an amazing business lady and deserves so much praise for this initiative," said Betty.
Betty extended her thanks for the invitation to be part of this amazing event with a few words on the excellence that exists in Newtowncunningham. She stressed the value and importance of shopping local and how the business owners knew their customer's faces and vice versa. Everyone is on a first name basis which makes it a valued and personal service. 
She also pointed out the lack of traffic jams and no bother getting parked as another advantage of shopping local. 
Betty finished with a quote from Mahatma Gandhi
A customer is the most important visitor on our premises. 
He is not dependent on us. 
We are dependent on him. 
He is not an interruption in our work.
He is the purpose of it.
He is not an outsider in our business. 
He is part of it. 
We are not doing him a favour by serving him.
He is doing us a favour by giving us an opportunity to do so. 
 The results for the community Christmas draw are as follows:
Mauras Hair Salon: Assumta Mullen
9ine Hostage Coffee: Aloisha Devenney
Mr Fix It: Lawrence Kennedy
ABC Fire Protection: Clare Crockett
AJ Cleaning: Charlene Whoriskey
AMG plumbing: Damien Coyle
Cakes By Ann: William Gill
Caroline Mills Alterations: Callum Doherty
Coyles Bar: Isobel Hegarty
Clonleigh Co-Op: Linda Bonner
Credit Union: Jack Mc Corckey
Dukes Kitchen: Ann Ross
Dominic Robb: Eithne Dalton
Donegal Harvest: Shaun Cullen
Duffys Express: Oliver Clarke
Donaghey Safety: Thomas Hegarty
Dunmore Gardens: Treasa Stafford
DQ Fitness: Darina Friel
Dermot Hannigan School of Motoring: Jasmine Murray
Fusion Hair Design: Fintan Mc Glinchey
Floor It: Fly Mc Daid (Lisa Mcdaid)
Forever Young Hair: Ruby Mc Corckell
Halpenny Motors: Kieran Kelly
Health wise Pharmacy: Grace Gallagher Lisa Gallagher
Hope Drop Inn: Shane O Doherty
Kate's Kitchen : Helena Mc Laughlin
Kernans: Rose Coyle, AnneMarie McGee
Lisa's Stables: Harry Toland
Luke Sharkey: Thomas Logue
Mervin Moore: Cynthia Eaton
Mr Chef: Orla Tourish
Mc Daids: Martina Dowds
Mc Nulty Coal: Barry Long
Newtown Tyre Centre: Callum Doherty
Newtown Trucks: Charlene Mc Gee
NS Contracts: Josh Cullen
Newtown City: Betty Holmes
Ocras: Emma Dillon
Orchid Beauty: Alma Mcdaid
Peter's Bar Mc Laughlins: Pauline Clarke
Pearse Road Tyres: Damien Mc Glynn
Perita It Solutions: Amanda Callaghan and Amelia McFarland
PTS Kickboxing: Cathal Gough
Pyramid Holistic Spa: Jeannette Murray
Rushe Fitness: Lorraine White
Ryan Milk: Jamie Mc Kinney
Scarpello Bakery: Pat Shea
Syenna Newtowncunningham: Derek Toye
Annemarie McGee Slimmingworld: Kevin Mc Gettigan
Tyre Men: Fiona Connolly
Shower Man: Denzel Browne
Sleepy Teepee: Threasa Mc Grath
Tracy Halpenny Alterations: Cathy Brown
Tina's Teacakes: Aaron Mc Laughlin
Trinity Court: Maggie Young
T&J Car Services: Gerard Sniff
Wash N Spin: Eammon Rowe
Weathervane Design: Pauline Edwards
Your Stop: Vanessa Donaghue
Yes Chef Catering: Daphne Hannigan-Mclaughlin
Sharkey Signs: Deborah Toland