James O'Donnell and Iggy are fast becoming one of Donegal's most famous duos. 
James, a photographer from Falcarragh, and his sidekick Iggy, a nine-year-old border collie, have been putting Donegal on the map in recent years with their adventures, stories and photos. 
Their social media stories have attracted people to Donegal that have never been before, all because they want to meet Iggy and James for a pint in the Shamrock.
James now thinks of himself more as Iggy's secretary than her owner – such is her level of fame! Many people have meeting Iggy on their bucket list and she is only too happy to be an ambassador for Donegal and local tourism.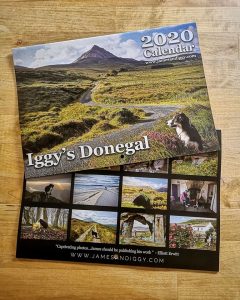 James recently turned his passion for photography into a business and has launched a stunning scenic calendar for 2020.
'Iggy's Donegal' is selling quickly in local shops and online – and James has been blown away by the demand. To think that Iggy's photos will be hanging in offices and homes all over the world, from Japan to Australia to the US, he says, is a fantastic experience.
You can get yours for the New Year now on jamesodonnellphotography.bigcartel.com
This is James' (and Iggy's) My Donegal…
1) What is your favourite place in Donegal and why?
The Derryveagh Mountains. Having lived in London for almost 20 years, it gave me a much greater appreciation of the landscape that surrounds Falcarragh and Gortahork. 
The allure of the seven sisters is hard to beat. Myself and Iggy, my ever-present sidekick like to hit the hills quite a bit.
(2) Who is the one person in Donegal that you look up to and why?
Iain Millar of Unique Ascent. I first met Iain a couple of years ago when he supervised my mountain skills assessment. 
I was already well aware of his place in the abseiling and rock climbing world, so as a keen hiker myself it was great to have met him. 
I've since undergone intensive mountain leader training with him, plus abseiling and rock climbing and I hope to achieve my ML qualifications next year. Iain has been excellent for advice in general and tells you how he sees it (with no BS!!!) 😀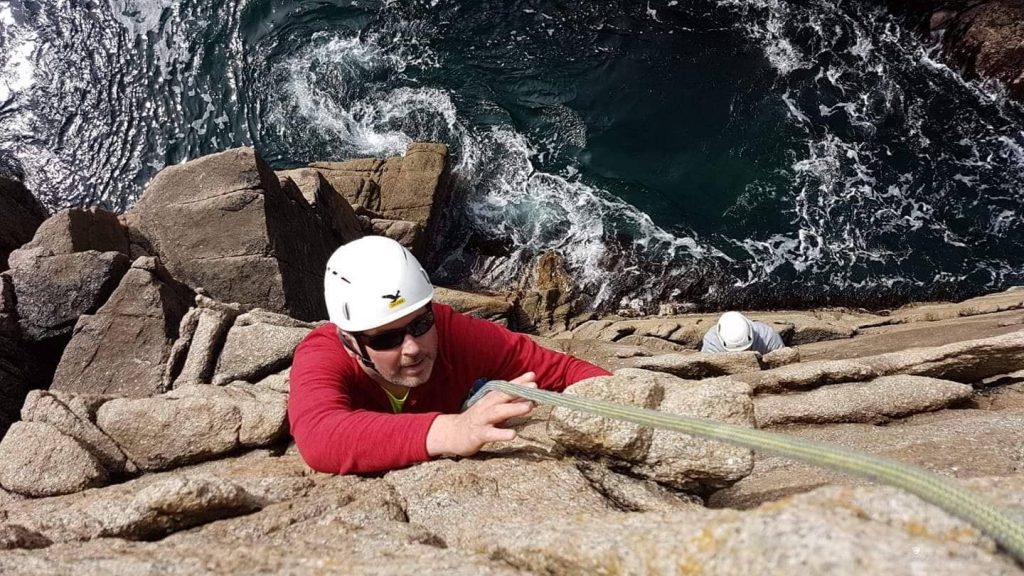 (3) What's your happiest Christmas memory in Donegal?
This is a quite recent one. I was best man at my younger brother's wedding last Christmas. Joseph got married to Shiobhan in Ards Friary. Shiobhan also was the person that introduced me to Instagram, where my photograph sharing all started seven years ago. It was also the first time in years that all brothers and sisters were together for Christmas.
(4) If you could change one thing about Donegal what would it be?
To stop our beaches and bays being destroyed by industrial-scale aquaculture.
(5) What has been Donegal's proudest moment in recent years?
Up there would have to be Donegal being called the 'Coolest Place on the Planet' and Donegal Airport at Carrickfinn, being the Most Scenic in the World.
(6) If you found a magic wand that allowed you to grant one wish for Donegal, what would it be?
To stop the rapidly growing industrial sized aquaculture shellfish farming along our coast.
(7) What is your favourite Donegal-made product?
I love my 'Bogman Beanie' by Anna Campbell and my good friend Brenda Hewitt's fantastic hand woven work with Donal Sweeney Rathlin Knitwear. 
(8) Who is Donegal's greatest ambassador around the world and why?
It's hard to single out one person, but I think we're all ambassadors really. If it's a simple hello, some craic over a pint, help with directions, advice on what to do and see, when we encounter visitors, can go along way. 
Hopefully these experiences of our renowned hospitality continues to spread around the globe.
(9) What is your earliest memory associated with Donegal?
Growing up in Falcarragh in the 70s. When the town was busy with tourists. I found myself getting to know them My mother back then did B&B so I feel proud now as an adult that this is where I've found myself – meeting tourists.
(10) What has been the biggest compliment you've ever received?
I've enjoyed sharing my photography on social media for the last 7 years and I recently put together a calendar on local shots, with Iggy taking centre stage in most of them!
The calendar has gone to Japan, Australia, New Zealand, North America, Canada, throughout Europe, Africa and Britain and in Ireland the support has been fantastic. That has been an amazing compliment but just a few days ago, after lots of conversation, I've been officially invited to the United States. A gentleman called Elliot Erwitt and close friend Samuel Holmes have teamed up to bring me to the States next year. Both men are members of the famous Magnum Photos Group and Mr Erwitt has photographed Marilyn Monroe on many occasions, including the moment her skirt blew up by the air vent. 
To have these gentlemen, not only look at my work and talk about it, but to ask me to America is the greatest compliment ever. Mr Holmes, at the age of 95 wants to visit Falcarragh to meet Meself and Herself and to see the stunning natural and unspoilt beauty (including Ballyness Bay) which inspired my photograph.
(11) Who is your favourite Donegal sportsperson of all time?
As a goalkeeper myself (GAA growing up and then soccer in London). I have to go with Packie Bonner.
(12) What is your favourite Donegal restaurant/bar?
The Honeypot in Letterkenny and the dog-friendly Shamrock Lodge in Falcarragh.
In fact, Meself and Herself will be visiting the Honeypot on Thursday 19th December for their customer appreciation night. It's a great chance to get a calendar and people can meet Iggy and get her paw-tograph.
(13) What is your favourite Donegal saying or expression?
Saying hello to someone by just saying 'Yes'.
(14) What is the biggest challenge facing the people of Donegal today?
I suppose we have to see how this Brexit debacle pans out, with us being the six counties' largest neighbour.
(15) What is your favourite food that you associate with Donegal?
Fish n Chips from Something Fishy in Falcarragh!
(16) Is there anything that really annoys you about Donegal or its people?
Thanks for this question! Yes, the use of fog lights at all times of the day/night with no fog anywhere to be seen. Why? 
Also not wearing reflective gear when out walking. 
I personally feel the Wild Atlantic Way left Falcarragh off the map – that has pushed me a little bit to share more from the area. If people see photos from here it might encourage them to come for a day or two.
Okay… rant over!
(17) Who is your favourite Donegal entrepreneur?
That's hard to single out one, as there are so many people making a go of it in Donegal. 
But locally, a young fella by the name of Shaun McMullan started a car valeting service recently to fill his days off from his many jobs. So to support him in getting his business off the ground I dropped my car up to him and I'm delighted with the end result. That's entrepreneurship right there!
(18) If you had a hundred million euro to improve something in Donegal what would it be?
Healthcare, education, infrastructure, and a pavement in between Falcarragh and Gortahork. 
(19) Where's the most unusual place you've logged on to Donegal Daily?
Top of Errigal Mountain!
(20) Nomination for best dressed Donegal person?
That's a hard one to call too! But it's a close call between Messrs Manus Kelly and Mickey O'Donnell – both Falcarragh men.
(21) Is there anything about Donegal that you are very proud of? (example: our culture/language)
I'm very proud of the fact that I live in the Gaeltacht and that we have islands and their communities along with Cloughaneely, Gweedore and the Rosses parishes.
(22) What is the most rewarding thing about what you do?
Through my photographs I've engaged with people from all the continents on the planet, apart from Antarctica. Though Iain Miller lived there once, so I'll claim all seven so!
Follow James and Iggy on Facebook : www.facebook.com/JamesODonnellPhotography and on Instagram: www.instagram.com/james_odonnell_photography
Tags: