Letterkenny woman Nuala Carr is the Cool Planet Champion for Donegal, and this month she is sharing her top tips on how to have a climate-conscious Christmas:
Christmas is fast approaching. The excitement is building, as kids (and adults) eagerly await Santa's arrival. It is easy to get caught up in the commercialisation of Christmas without stopping to think about the true meaning of the festive season and the celebration of the birth of our Lord. It's a time to spend with family and friends, to slow down and recharge our batteries!
This Christmas, if you are giving presents, think of gifts that can reduce the commercialisation of Christmas and reduce unnecessary packaging and waste. This may not work for all the presents you want to give, but it may work for some.
Why not try these alternative gift ideas?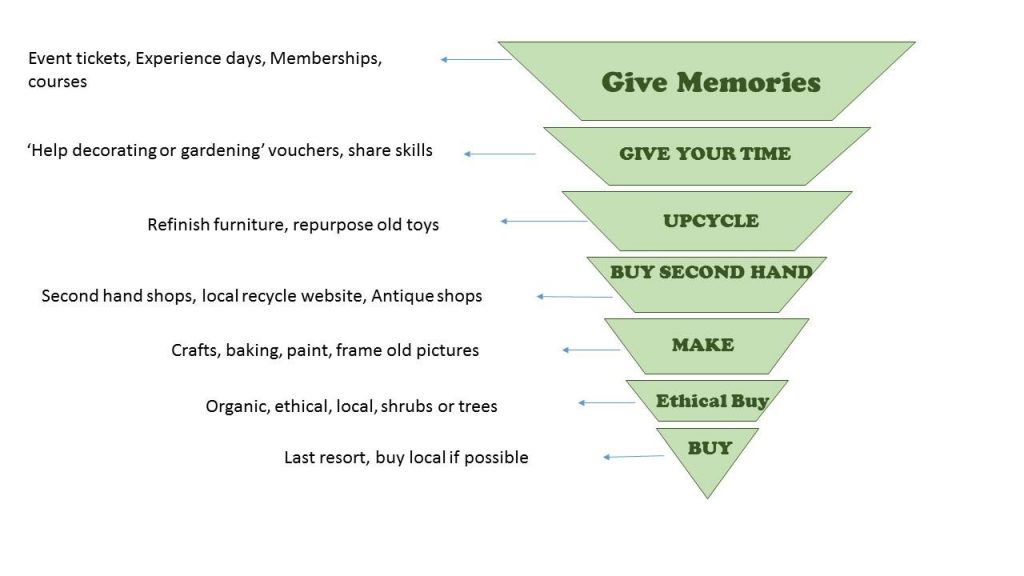 Graph inspired by justlittlechanges.com – check out this website for many more tips. 
For sustainable Christmas present ideas, check out a great local company –  www.thenaturalcompanyireland.com
---
Nuala Carr has many years of experience in industry as an environmental consultant, having trained as an ecologist in the University of Ulster, Coleraine. She has worked as a project manager for engineering companies, managing the environmental impact assessment and planning stages for infrastructure projects, such as onshore wind farm developments.
Nuala is now carrying out research on the social acceptance of marine renewable energy through Queen's University Belfast.
Should anyone wish to learn more about climate change, please contact Nuala to arrange an informal talk or presentation for your local school, community group, business or organisation.  Email: nuala.carr@gmail.com