A strong second-half performance which saw them outscore their opponents by 1-07 to 1-02 gave Four Masters a much deserved victory in this Division One League Final at Hibernian Park in Burt.                         Indeed Termon's second goal came deep into injury time in a game that they never really showed the form that has brought them championship success in Donegal and a place , after two victories . in the semi-final of the Ulster Minor Championship against Kilcoo in Belfast on St.Stephen's Day.                                                                                                                      Termon got the perfect start with a goal in the opening minute , Mark Gallagher blasted to the net after a super fetch by Bobbie McGettigan and pass from Aaron Gallagher.                                                                                                                             Killian Faulkner , who was impressive throughout,  opened Four Masters account in the 4th minute . We then had a long delay in play after Four Masters forward Carl McCarry fell awkwardly and twisted his knee , after medical attention Carl was removed on a stretcher  and replaced by Mark Jordan.          Eoin Gorrell pointed for Masters to leave a point in it in the 18th minute and then we had to wait until well into injury-time before Termon's Ryan McFadden kicked two excellent points to make it 1-02 to 0-02.                                                However Four Masters had the final say of the extended half when Killian Faulkner hammered to the net after Termon keeper Emmet McGuire had save brillantly to deny Mark Jordan but could do nothing to prevent Faulkner's follow-up and finish , at  half-time it was 1-02 apiece with both teams guilty of two many wides and balls landing in the keeper's arms .                                                         Charlie Collins was in Hibernian Park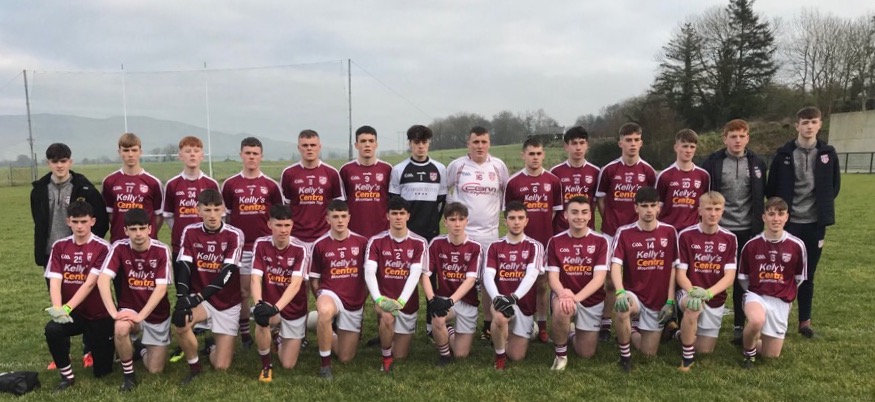 Termon almost repeated their first-half start with a goal inside a minute , Ryan McFadden's long ball found Bobbie McGettigan on the edge of the square but his fisted effort came back off the crossbar.                                                                         A minute later Shay Travers free gave Four Masters the lead for the first time in the game , a lead they would never lose.                                                                   Another fast moving Termon attack looked as if it could produce a goal but Four Masters Captain Brian Peter Gallagher made a vital interception to deny them.   The action swung quickly to the other end and Killian Faulkner reacted quickest when a shot hit high up on a post but his piledriver hit the inside of the far post when a goal looked certain.                                                                                              Faulkner and Joe Leape then kicked fine scores from play for Masters , Ryan McFadden replied quickly for Termon and at 1-05 to 1-03 it was still anyone's game.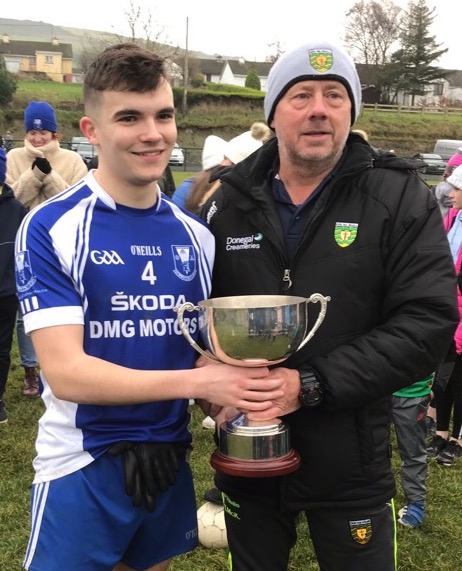 The winning of the game was confirmed in a two minute spell from the 52nd minute as Shay Travers , Joe Leape and Alex McCalmont all kicked excellent points from play to give Four Masters a five point lead , a huge advantage given what had gone before .                                                                                                                       Jamie Grant pointed for Termon but Travers replied and then Mark Jordan set up midfielder Richard O Rourke to blast the ball low past Emmet McGuire in the 59th minute , 2-09 to 1-04.                                                                                                     Termon kept trying and were rewarded with a Jamie Grant goal in injury-time but it was too little too late on a day when even if they didn't bring their best game they were beaten by the better team on the day.                                                  They will be looking for a much improved performance against Kilcoo in the Ulster Semi-final in Belfast on Thursday next.                                                               This was both an excellent performance and result for this Four Masters squad which team captain Brian Peter Gallagher pointed out had achieved nothing of note at Under-Age level until the management of John and Kevin Sinclair and their back-room team came on board.                                                                                   With only five of the squad over-age for next year we will be hearing more from this Four Masters group of players .                                                                                            Four Masters  ; Oisín Bryson,  Christopher Gallagher , Diarmuid O Donnell , Brian Gallagher , Ultan o Grady  , Darragh Geary , James McHugh , Senan Quinn , Richard O Rourke ( 1-00 ) , Carl McCarry , Alex McCalmont ( 0-01 ), Eoin Gorrell ( 0-01) , Joe Leape ( 0-02),  Shay Travers ( 0-03 ), Killian Faulkner ( 1-02).                                                                                                                                                                       Subs ; Mark Jordan  for McCarry ( 14mins ) , Kyle O Neill for Leape ( 55mins ).             Termon ; Emmet McGuire , Evan Coleman ,  Jamie Grant ( 1-01 ),  Mark Toye ,  Conor Black , Caolan Gallagher , Conor McFadden , Jack Alcorn  , Ryan McFadden ( 0-03 ) , Bobbie McGettigan  , Steve McDaid  , Aaron Gallagher , Mark Gallagher ( 1-00 )  , Stephen Black , Conor Cassidy.                                                                                                                                                                                     Subs ;  Luke McGarvey for Aaron Gallagher ( 33mins ), Manus O Donnell for Conor McFadden ( 42mins ), Aaron Reid for Ryan McFadden ( 56mins).                                                                                                                                                                                     Referee ; Shaun McLaughlin.